Timberwolves at Suns: Looking to get back on track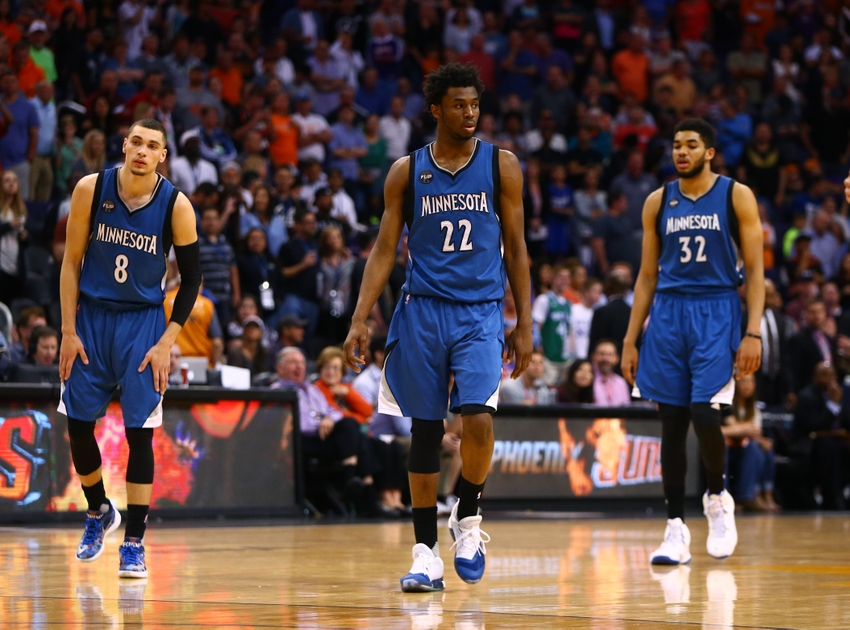 The Timberwolves have a lot of work to do in order to get back on track this season, and they have a good chance to do that against the Phoenix Suns on Friday night.
The 4-10 Timberwolves travel to the desert to take on the 5-11 Suns on Friday night.
The Suns were supposed to be bottom-feeders this year as they continue a roster upheaval and welcome a head coach in his first full season in Earl Watson. The Wolves, on the other hand, were expected to compete for one of the final playoff spots in the Western Conference.
And we're not quite 20 percent of the way through the schedule, so there's absolutely still time to right the ship. But there isn't a ton of sand left in the hourglass in terms of making the postseason, and head coach Tom Thibodeau knows it.
(Yes, we'll address the "rumor" perpetuated by Ric Bucher and explained rather adeptly by Kurt Helin of NBC's Pro Basketball Talk. That's coming later on Friday.)
Saturday night in Golden State, on the back-end of a back-to-back set on the road, no less, won't give the Wolves more than a snowball's chance in hell of nabbing a 'W', so they must look to Friday in Phoenix for that opportunity.
The preview lies ahead…
Minnesota Timberwolves Preview
Record: 4-10 (3-4 home, 1-6 road)
Starting Lineup
PG – Ricky Rubio (5.6 PPG, 7 APG, 4.4 RPG)
SG – Zach LaVine (19 PPG, 3 RPG, 2.5 APG)
SF – Andrew Wiggins (23.9 PPG, 4.1 RPG, 2.1 APG)
PF – Gorgui Dieng (10.3 PPG, 8.7 RPG, 2.6 APG)
C – Karl-Anthony Towns (21.3 PPG, 9.4 RPG, 2.4 APG)
Key Reserves
The Wolves bench continues to struggle, even after the returns of both Brandon Rush and Shabazz Muhammad.
The former looks old and injured and the latter can't hit a corner three-pointer to save his life. Both are better players than what they've shown of late, of course, and one wonders how much the strange rotation has affected their respective abilities to prepare and perform at the highest of levels.
Adreian Payne continues to provide energy minutes and not much else, and Cole Aldrich has been basically what he has been over the past few years, although he struggles to be effective when the ball-handler in the pick-and-roll (often rookie point guard Kris Dunn) isn't playing well, either.
While the bench hasn't been very good, the starters have struggled even more over the past few games, so it's tough to blame the 4-10 start entirely on the reserves. Of course, they still must be part of the solution…
Phoenix Suns Preview
Record: 5-11 (2-3 home, 3-8 road)
Starting Lineup
PG – Eric Bledsoe (18 PPG, 5.1 APG, 5.9 RPG)
SG – Brandon Knight (12.4 PPG, 2.6 RPG, 3.2 APG)
SF – Devin Booker (19.3 PPG, 2.7 RPG, 2.4 APG)
PF – Marquese Chriss (6 PPG, 3.1 RPG, 0.5 APG)
C – Tyson Chandler (7.1 PPG, 12.3 RPG, 0.5 BPG)
Key Reserves
The Suns will reportedly welcome back Tyson Chandler, who has missed the past few games while tending to a personal matter. That will either push Chriss or Alex Len to the bench, and although Len has played much better than the rookie to this point, Chriss is a better fit at the 'four' alongside Chandler.
Head coach Earl Watson has had a starting lineup in flux during the opening 16 games of the Suns' season, but has done a nice job with the misfit pieces that call Phoenix home. A recent injury to T.J. Warren has forced a pair of natural point guards in Bledsoe and Knight to play side-by-side again and has given second-year wing Booker more minutes at the 'three'.
The Suns still play veterans Jared Dudley, Leandro Barbosa, and P.J. Tucker in addition to Chandler in their rotation, but much of the rest of the players who will see the floor are painfully young — Booker (age 20), rookie Chriss (19), rookie Dragan Bender (19), and backup point guard Tyler Ulis (21) are a slightly-less-regarded young group of players than the Wolves, but to this point have played better as a team.
Three Things to Watch
1. TImberwolves' Effort Level. It's actually quite concerning that this is already a 'thing to watch' in Game 15 of the season under a new coach, but here we are.
The Wolves have already been beaten-down by their third (and sometimes, fourth) quarter failures, and until fans see them react differently to the challenge, this is a fair concern. And with head coach Tom Thibodeau remaining one of the most demanding (and vocal) coaches in the NBA, one of two things seem certain to happen: it'll get straightened out in a hurry, or the players will quit on the coach and things will go downhill even faster than they have been to this point.
2. Karl-Anthony Towns vs. Tyson Chandler. Assuming that Chandler makes his return, Towns will face a stiff challenge on the offensive end of the floor.
Even though the former Dallas Mavericks great is in his age-34 season, he's still an outstanding rebounder and a very good one-on-one and team defender. Towns struggled in his largely indirect match-up with Anthony Davis on Wednesday, and it is important for him to bounce-back in a big way on Friday in Phoenix.
3. Timberwolves point guard play. Yours truly called out Minnesota's point guard play before the last pair of losses, and things went from bad to worse in New Orleans on Wednesday.
In a match-up that should have allowed Ricky Rubio and Kris Dunn to succeed they both struggled mightily. Things get more difficult against the dynamic duo of Eric Bledsoe and Brandon Knight, and the Wolves need Rubio and Dunn to step-up if they're going to get their season back on track.
(To Rubio's credit, he knows this. Clearly.)
Game Prediction
This is absolutely a tough one to figure.
The Wolves should be the better team, hands down. And if they play like they did (for the most part) against Philadelphia last week and even Boston earlier this week, they'd probably be okay.
But then again, this game is on the road, and the Wolves collectively quit over a span of just a few third quarter moments last time out. What should make us think that tonight will be any different?
I'll be Debbie Downer and say that the slide continues tonight. Final score: 109-105.
More from Dunking with Wolves
This article originally appeared on