Timberwolves at Nets: A winnable road game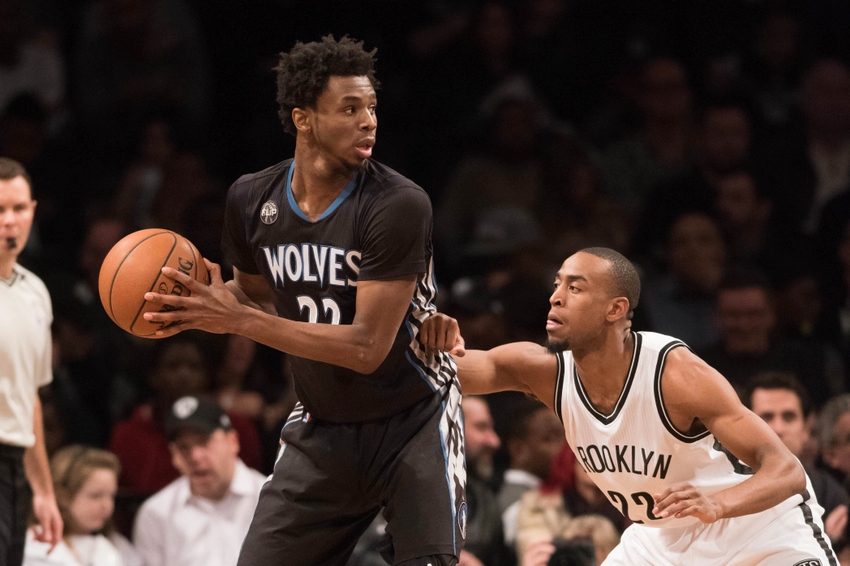 While the opening two weeks of the season definitely have not been the start the Timberwolves or their fans were expecting, Tuesday presents a real chance for the Wolves to get back on track.
The Timberwolves' record sits at a confounding and disappointing 1-4 through five games, with three close losses, and one blowout tilt per column.
But there is a chance to right the ship with a two-game road trip visiting two sub-.500 teams before they head back home for a four-game home stand.
The road trip starts against the 2-4 Brooklyn Nets on Tuesday night in Barclays Center, which was built using some of the shadiest practices of eminent domain in American history. (Hey, it's election day, gotta throw some shade at the powers that be, right?)
That being said, it's a beautiful arena and has one of the sweetest courts in the NBA. Zach Lowe of ESPN ranked it fourth on his list of NBA court designs. The Nets also darken the crowd and put a spotlight on the court during games which gives the folks watching on TV a look unique to any other arena, albeit similar to L.A.'s Staples Center when the Lakers are playing.
Unfortunately, all the New York flash and pizzazz hasn't helped this dumpster fire of a team over the last two-plus years. Since the Nets' last full year with Kevin Garnett in 2013-2014, they've gone 34-51 at home and 61-109 overall.
The Nets haven't completely won over the fans of Brooklyn since their move from New Jersey in 2012 and a typical night in their arena consists of hundreds (if not thousands) of fans from the opposing teams.
While Timberwolves fans aren't notorious for taking over opposing teams' arenas, you can expect very little of a home court advantage for Brooklyn tonight. There aren't high expectations for the Nets this season and any hope for the team has been sucked out by the fact they owe next year's first round pick to the Celtics in the disastrous KG-Pierce trade a few years ago.
Seriously, this team has no talent and no hope for acquiring any talent other than overpaying someone in free agency. They are the George Costanza of the NBA. Your 2016-2017 Nets everybody!
Despite all this, they've been pretty competitive this season. They've played the #5-#8 seeds from last year's Eastern Conference playoffs to a 2-2 record, including two close losses.
The Wolves must not expect a cakewalk, especially considering the their inability to play a full 48 minute game against NBA-level competition  so far this season; their lone win was against a depleted Memphis team.
More from Dunking with Wolves
Which brings me to my first thoughts on the Wolves first five games. Look, everyone who's followed team so far knows about their struggles in the third quarter. In their four losses they've been outscored 121-61(?!?!) in the third quarter but only lost those games by a combined 30 points, including a 20-point loss in Oklahoma City.
It'd be very easy to just say that all they need to worry about it coming out of halftime with urgency and emphasizing winning the third quarter. To me, however, that is completely short-sighted. Sure, their ineptitude in that particular quarter could be a sign the team started to believe their own hype a little too much and would slack off after gaining first half leads.
But the particular quarter in which they're struggling mightily is irrelevant to me. The bottom line is this team needs to play energized, disciplined, and unselfish basketball for the full 48 minutes in order to win games without taking any quarters off. They're simply not polished nor deep enough to win otherwise.
It might even be a good sign of their talent that they've been such a disaster for an entire quarter of the games but they've still almost pulled out three of their four losses.
The biggest key for me tonight isn't any particular quarter or individual performance. It's if this team can be fully engaged for an entire game (you know, like the playoff caliber team that they hope to be). If they do that, they'll get the win tonight because they are playing a less-talented team — especially when considering the Nets will be without their starting point guard in Jeremy Lin.
If not, Brooklyn has proven it can compete with good teams and will provide a bigger challenge than they appear on paper.
The Wolves simply need a win tonight to get their season back on track. Let's see how this young team responds to some early season adversity.
This article originally appeared on