Why Tim Duncan is the greatest NBA player of this generation
Barring something extraordinary, we've almost certainly seen the last regular season game for the greatest NBA player of this generation. As dominant as he was, the 2016 version is a broken shell who can hardly get up and down the court. Somehow, however, he summoned some well of inner strength in his final game of this year … to sit on the bench and not play at all.
There will be no retirement tour for San Antonio Spurs big man Tim Duncan, whether he calls it quits at the end of the playoffs or comes back for one more year. This is the way he wants it — sneaking out the backdoor while his team continues to win games.
Think about it — the Spurs have won 50 or more games in every season of Duncan's career (other than the 50-game season in 1998-99, of course, when they won 37). That kind of consistency has helped Duncan snag five NBA championship rings and given him a chance at a sixth this season.
And it's largely why Duncan is the greatest player of his generation.
Right. Kobe Bryant. We know; we get it. The Black Mamba was amazing. We're not saying anything else. Five titles, third all-time in scoring, nine All-Defensive first team selections, two Finals MVPs — the list goes on and on.
Yet Kobe himself would tell you two things matter in this world: Rings and wins. Duncan's equaled Bryant on the former; as for the latter, he's one of only three players in NBA history to have won 1,000 regular season games. Kobe's got about 850. That's good, and there would have been more if he hadn't been injured or if he could have worked things out with Shaq or if any of a number of things had gone differently.
They didn't, though, because Kobe is who he is. He destroyed relationships and used borderline sociopathy to fuel his game. After all, that's what Michael Jordan did. And Kobe wanted to beat MJ by being MJ.
Thanks to Phil Jackson, he had every opportunity. Bryant succeeded in a system originally built for Jordan by being a close-enough clone to make the triangle work. Even when Kobe broke off from the triangle and took over games, he was ripping straight from the Jordan playbook. As Jackson has said before, in late-game situations with the Bulls, his system became "Trust MJ." With the Lakers, it was, "Trust the guy who wants to be MJ (if Shaq is pouting)." And that's a great system.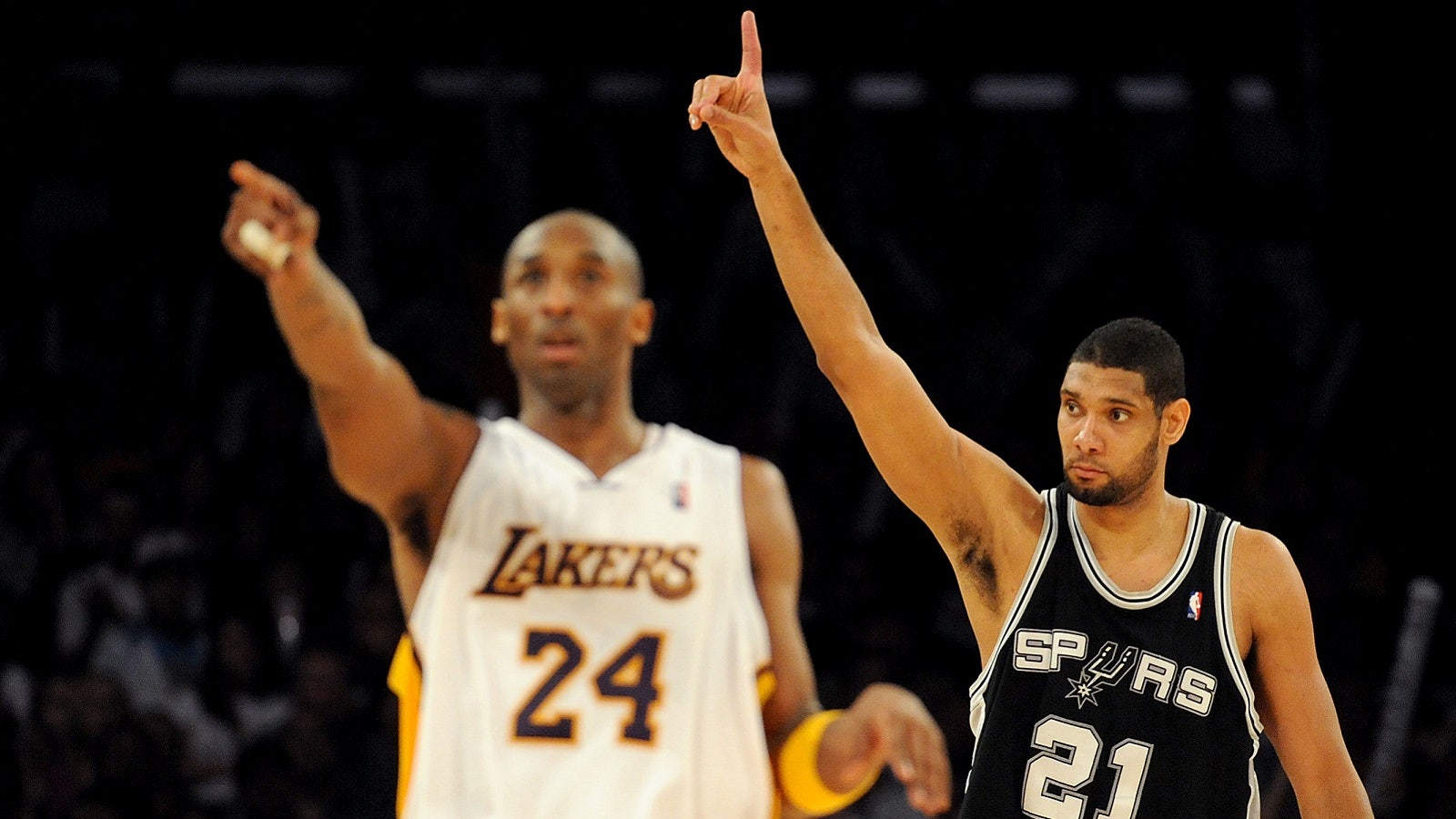 Duncan? He is the Spurs' system. One might be inclined to put that in the past tense, but what the Big Fundamental has done for his organization goes so far beyond what he's still doing on the court. San Antonio has been the NBA's model franchise because it has changed with the times, and Duncan is the one constant that has enabled that innovation. We herald versatility in today's "positionless" game, yet we overlook how Duncan might be the most versatile player of his era.
Quick, what position does Tim Duncan play? Trick question — no one knows. He's the greatest power forward of his time who's admittedly a center and has played wherever his team needs him. If you really want to define Duncan, go old school. He's a pivot; everything revolves around him.
It starts on defense, of course. In 2003-04, the Spurs had arguably the greatest defense ever, allowing nine points per game less than the league average. The league took one look at the havoc teams like the Spurs (and, to be fair, the Detroit Pistons) had wrought and decided it needed to change the rules to inject some offense back into the game.
No, seriously. In 2002, you may recall the NBA loosened its rules on zone defense — but the league didn't adjust how physically players could defend one another. The Spurs, in turn, designed a defense that suffocated opponents. Duncan controlled the paint, since he was free to roam from spot to spot on the court so long as he made a token effort to defend someone every three seconds. San Antonio's perimeter players, meanwhile, literally steered ball-handlers into Duncan's waiting arms. There, they froze. They were forced to pass the ball back out and watch the shot clock trickle down before a desperate heave.
One of the lamest arguments in the Duncan/Kobe debate is that Duncan was outdone by peers like Kevin Garnett in blocks per game and other basic defensive metrics. What that superficial understanding of basketball ignores is how many shots never happened because of that San Antonio system. Duncan was such a force that teams literally could not create looks in the paint against him — so there were no shots to block. The NBA was right where the Spurs wanted it: controllable, predictable and in the palm of their hands.
After that 2004 season, the league had no choice but to loosen the hand-checking rules if it wanted the product to survive. That's largely because of Duncan. Athletes who literally change the game are once in a generation, right? And at the height of his power, Duncan by himself in the middle was enough to make a defense even better than one with Duncan and David Robinson. That's insane.
Then 2010 came. The Suns swept the Spurs, then the Grizzlies unceremoniously eliminated San Antonio in 2011. For any other player, that would have been the end. Old dogs don't learn new tricks and all that.
Duncan is not most dogs. Because of his versatility, his coach was able to completely revamp how the Spurs approached the game. Gregg Popovich took the better elements of that Suns offense that roasted San Antonio and introduced them to the Spurs, but he modified the system to work around his star. Still a stout defender — because you can't win a title without a top-10 defense and a top-10 offense — Duncan became the conductor of a precision offense that requires incredible timing and mind-boggling chemistry.
And it's boring as hell. NBA diehards will tell you it's not, because they're diehards. Okay, fine; it's gorgeous and whatever. Let's be honest, though. It's boring. Duncan sets a million screens, and they're all perfect. Great. And everyone cuts all over the place to the perfect spot and makes passes to open areas where their teammates will be, not where they are, and yaaaaaaaaaawn.
Few people outside of the greater Texas area are taking Duncan's basketball career over Kobe's. Bryant is the memorable one. He gets the lists and the celebrations and the videos and all of it. He deserves it, too. Kobe was spectacular. His numbers will always be more eye-catching. He scored way more points, and that's the bottom line when we judge individual players, for better or for worse.
But Duncan was a machine at his peak as well — especially in the playoffs. Like in Game 6 of the 2003 Finals, when he was two blocks shy of a quadruple-double. Who cares if it was against the Nets? Getting anywhere near a quadruple-double in the NBA Final is ludicrous. Or remember Game 3 of the round before that against the Mavs? Duncan had 34 points, 24 rebounds, six assists and six blocks. Before he crushed the souls of Phoenix Suns fans with a 3-pointer in 2008, he was already well on his way to 40 points, 15 rebounds, five assists and three blocks. There was his dominance of the Knicks in Game 1 of the 1999 Finals, too, of course.
Even in defeat, Duncan came up huge for the Spurs. He shut down Shaq and scored 40 while playing all 48 minutes in a loss against the Lakers in 2001 and gave LeBron James' Heat all they could handle at 37 years old with 30 points and 17 rebounds in 44 minutes during Game 6 of the 2013 Finals. Perhaps if he had been on the floor at the end of regulation, he'd already have six rings.
That's truly the number that matters in judging greatness, though, once you've established a certain threshold of individual success. Duncan's undoubtedly surpassed that personal bar. Now he's looking at what might be his last chance to tie Michael Jordan's banner count.
Unfortunately, he's probably going to have to settle for five, because the greatest player of his generation stands as a microcosm of his league.
Everyone in the NBA playoffs must reckon with the inevitability of the Golden State Warriors. The defending champions are the overwhelming favorites, which tends to happen when you win 73 games. Golden State has shown its dominance of every potential postseason foe during its impressive regular season run, particularly the Spurs and Duncan.
Frankly, he's yet to show that he can stay on the floor with this team, which might be for the best. To beat the Warriors, you have to consider everything — particularly ideas that go against the status quo. The Spurs have indicated what they'll do on offense against Golden State. They want to negate the Warriors' switching on defense by working the ball in the post. It's a strategy we first saw work quite well when the Clippers took a huge first-half lead on the Warriors in November, only to get stagnant in the second half and blow the game.
The Spurs don't want the ball to stick in any situation, regardless of whether they're flying around the perimeter or pounding the rock inside. With their post-oriented offense, guys need to be cutting at precise moments, allowing the lane to stay free for the San Antonio bigs to make quick moves to the rim.
But Duncan doesn't do "quick" anymore, and the Spurs know it. So if Golden State goes small or even small-ish with four wings and Andrew Bogut, Duncan's not starting. Period. San Antonio will pivot to its own wing-based strategy built on Kawhi Leonard and LaMarcus Aldridge post-ups, and will try to punish Golden State for going small. In turn, they'll hope to force Steve Kerr to put big men back in the game, allowing Duncan to impose his will down the stretch.
How can you bench a future Hall of Famer? It's a lot easier if he understands it's about the greater good. Duncan wants that ring, and if he is to win his sixth title, it will happen because of elite teammates like Leonard and Aldridge — because as Kobe will tell you, it takes elite teammates to win a ring.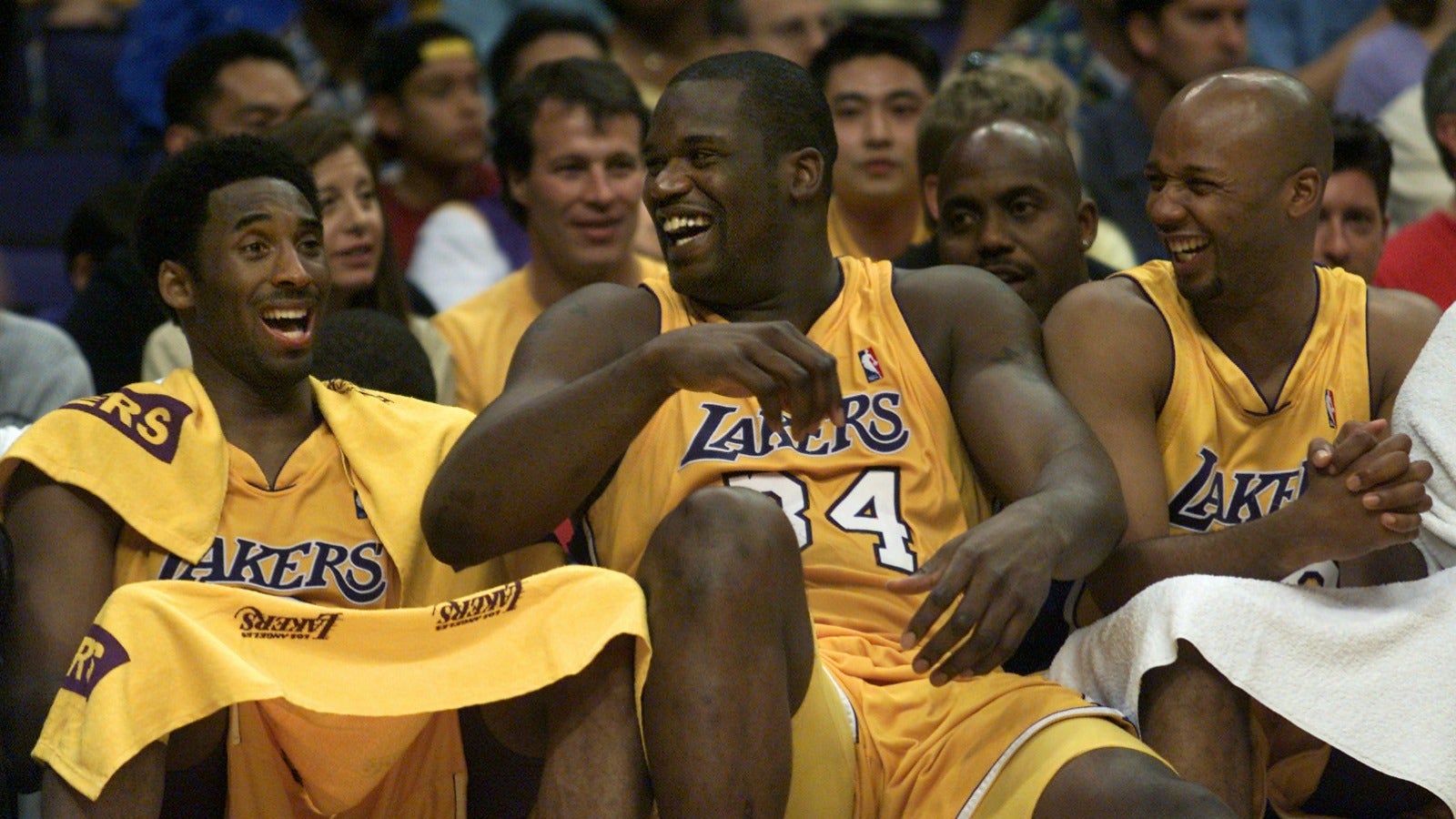 The Spurs will need Danny Green to stop being icy and start getting hot. Tony Parker has to score more points per game than his jersey number. Manu Ginobili must make Klay Thompson question if he's as good as we all think he is. Golden State is better in the large scale; the Spurs must win in the margins by relying on the sum of their parts. It's true for any team that hopes to take down the Warriors.
In a nice bit of kismet, San Antonio can rely on those players thanks to Duncan. Yes, it's because he took pay cuts to give his team room to improve and stay stockpiled with talent. More than that, though, he gave the Spurs a culture. Popovich can yell at anyone and hold them accountable because he knows he can yell at Duncan. The soul of an NBA team starts is its most important player, and the essence of the Spurs is discipline, accountability, playing the right way, and—€"this is getting boring again. Let's move on to Kobe because he's more fun.
The other outstanding player of this generation brought winning back to Los Angeles and made the Lakers glamorous once more. Kobe also leaves the team in worse position than he found it when he joined. A franchise that had once missed the playoffs just four times in 40 years will probably go four straight seasons without a postseason berth, assuming next season is anywhere as bad as the previous three.
Could Kobe have done anything differently? Maybe not. His injuries were unfortunate, of course, and it took multiple people to burn the bridges that went up in flames in LA over the years. He's not completely at fault. But he decided to take every dollar that he'd earned in his recent contract negotiations, too.
That's fine. Every person should. Get that money, people. In a league with a salary cap, however, that decision has consequences that mean the difference between wins and losses. Five titles were worth it, because the Lakers are all about rings. They've also known lean times. It's part of chasing the biggest fish. Sometimes, you come up empty. That's the story of Los Angeles.
Duncan continued the storied tradition of his team, too. The Spurs trail only the Lakers in all-time franchise regular season win percentage, 60.2 percent to 59.9 percent. In a fitting bit of symmetry, they've missed the playoffs four total times in over 40 seasons in San Antonio. Unlike the Lakers,the Spurs will be back in the postseason for the foreseeable future. The league has passed Duncan by, we're sad to say. It will come as no surprise if he hangs it up at the end of this season. For now, there are more important considerations. Duncan's 18th playoff run starts on Sunday.
San Antonio probably won't get the greatest NBA player of his generation a sixth ring. But we're saying there's a chance.