Thunderous Thoughts: The Real Reason Why Russell Westbrook Stayed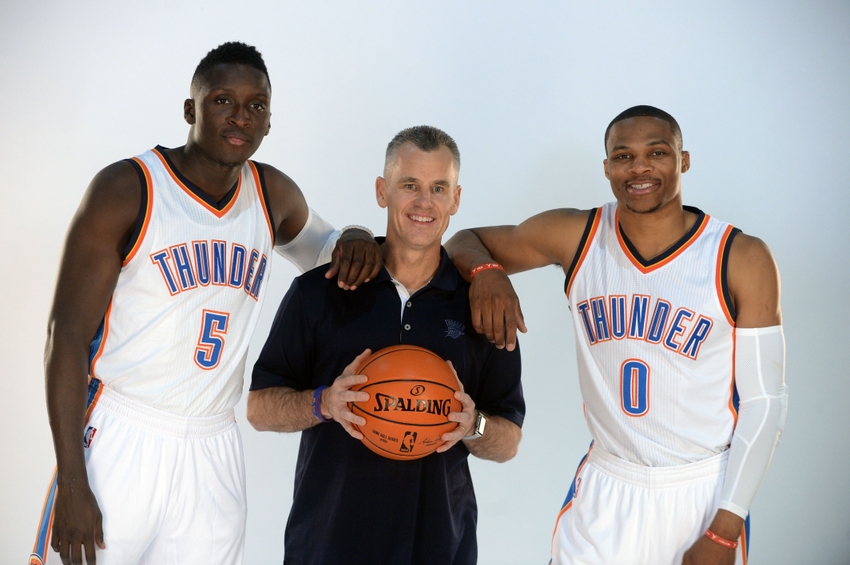 Why Sam Presti kept Russell Westbrook and other Oklahoma City Thunder thoughts from the week.
"What's next?"
That's what Russell Westbrook asked Sam Presti after Kevin Durant announced that he was leaving for Golden State. That's why Russell Westbrook is still a member of the Oklahoma City Thunder.
Had Westbrook asked Presti, "what now?" chances are we would be watching D'Angelo Russell and Brandon Ingram in Thunder blue this year.
"What now?" Why think about the now when the future is what matters? Why worry about winning now when building a team that can potentially compete in five years is far more important? What *is* now if not a day to look ahead?
Presti loves young guys on controllable contracts. Rookie deal? Need a change of scenery? Go ahead and book your plane ticket to Oklahoma City. Don't worry about needing a place to live. Presti has the Rookie Shelter already set-up for you. The lease on your place at the Rookie Shelter expires when your rookie deal is up and you become a Restricted Free Agent. If you don't sign an extension below market value, you'll be traded for a different player on a rookie deal who needs a change of scenery.
"What's next?" That's the way to think in Oklahoma City. Ask not what you can do for your team now. Ask what you can do for your team in two to three years.
Want your voice heard? Join the Thunderous Intentions team!
Other Thunder Thoughts and Observations
*I floated a trade that would see OKC acquire Carmelo Anthony for Enes Kanter and Cam Payne. I have no sources, it was just a random idea. After seeing Melo and the Knicks play OKC on Monday, I'm not sure I want him on the team. He's obviously a great scorer, but the ball stops every time he touches it.
It was obvious that the Thunder had no answer for Kristaps Porzingis, and Derrick Rose was getting to the rim at will. Neither of those things matters to Melo, who wanted to go one-on-one with Andre Roberson every time he touched the ball. Adding Carmelo would be like getting a lesser version of Kevin Durant.
*It warms my heart to see Jeremy Lamb play well. I'm still bitter that he was never given a chance over Billy Donovan, a head coach who gives literally every player a chance.
More from Thunderous Intentions
*Regular Season Billy continues to baffle me. Alex Abrines was coming along nicely, and then Anthony Morrow took his spot in the rotation. Morrow has been great in the last few games off the bench (HE ONLY HAD SIX POINTS BUT WAS +20 AGAINST WASHINGTON!), but why completely freeze Abrines out? I'd like to see a lineup with Westbrook, Abrines, and Morrow. Defensively, it would be a liability, but if you want spacing for Russ, Abrines and Morrow on the floor together provide that spacing.
*Honestly, Abrines should be taking Semaj Christon's minutes. Let Oladipo run the second unit. Sorry, but Semaj is not good and the sooner Cam Payne gets back, the better.
*Only the power of Scott Brooks screwing up late could be greater than the power of OKC screwing up late.
*I knew Russ was going to have a bad night when he was friendly with Brooks prior to the game. He actually smiled. I guess a fourth straight triple double isn't exactly a "bad game" but he shot poorly and was out of control for the majority of the game.
*Everyone is all in on Victor Oladipo now, right? It took him a couple of weeks to find his footing, but he looks extremely comfortable in his role and he's been playing some outstanding basketball the last few weeks. The next step for Oladipo is getting to the rim and free throw line a bit more.
This article originally appeared on