Thunder Rumors: Rudy Gay, Klay Thompson and Enes Kanter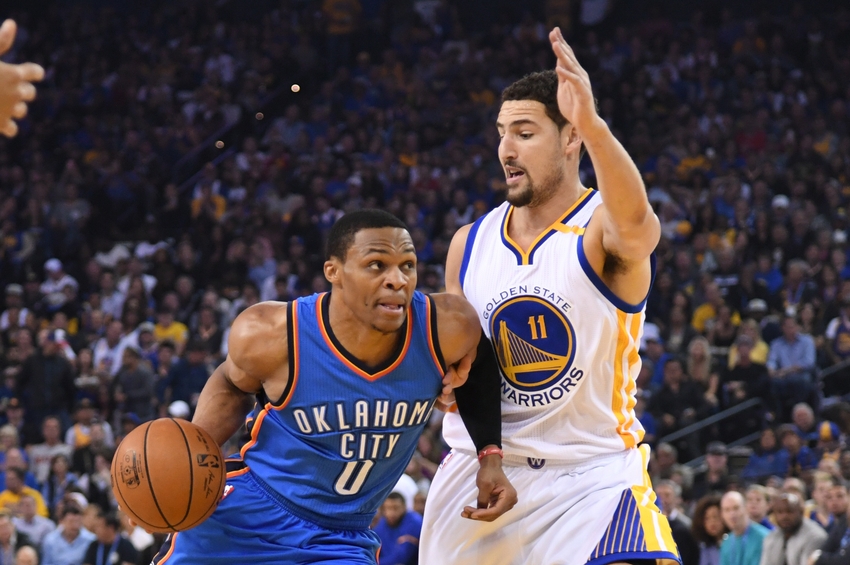 With the 2016-17 NBA season now well underway, the trade rumor mill has begun churning out fresh names. Having started the season in a roller-coaster fashion, it comes at no surprise that Oklahoma City Thunder rumors are at the top of everyone's list..
You always got the sense Sam Presti's summer work was never finished. That a jigsaw piece was missing from a nearly-complete puzzle. It therefore seems highly probable that those upstairs for OKC will have something in the pipeline.
Rudy Gay the crowd divider
The small forward has gained a sour reputation over the years, with people suggesting that the franchises he leaves end up a lot better without him. For example, since leaving the Toronto Raptors in 2013, the side reached the Eastern Conference Finals for the first time.
But that hasn't stopped Gay being linked with the Thunder once again. It seems that Presti is keen to add a better shooter on the wing, and with the 30-year-old having averaged 42.4 percent beyond the arc this campaign, he seems like a match.
Gay will leave the Sacramento Kings at the end of the season at the latest, so his franchise would always rather trade him now. It's that or lose him for nothing.
But what would the deal mean for OKC's starting-five? Well interestingly, it would see Victor Oladipo slide to the the bench.
If rumors are to be believed, then Vic, a two-way guard, was always meant to play as a sixth man. It seems that Andre Roberson would slot back into shooting guard, and Gay would lead the wing in the three spot.
A play for Klay?
Perhaps the most interesting trade rumor of the past week surrounds Klay Thompson. One minute he was part of the NBA's 'Superteam', the next he's reportedly being ousted for being a third wheel to Steph Curry and Kevin Durant.
To acquire Thompson, OKC would need to shift some of their core talent, but it could be a risk worth taking in some people's eyes.
It's reported that Steven Adams and Oladipo would be those going the other way, which makes the deal seem ever more outlandish, seeing as the duo recently committed their futures to the Thunder.
Want your voice heard? Join the Thunderous Intentions team!
But if Sam Presti is truly searching for a player who can shoot from deep, then one of the 'Splash Brothers' seems like a perfect solution, on paper at least.
The 26-year-old is tied down to his contract for another three years, in which he is set to earn a steadily-increasing sum in the mid-high teens each year.
The shooting guard boasts career averages of 18.4 points off 42 percent three-point shooting.
Taxi for Enes?
Little players personify OKC's roller-coaster start to the season more than Enes Kanter. The big man started the season badly, with many suggesting his performance against the Golden State Warriors was the nail in the coffin of his Oklahoma career.
But since then, the 24-year-old has achieved returns of 20, 24, and 16, as well as three games with at least ten rebounds.
It still seems like Kanter may be shifted on, if not for his wages, for his inability to sit well in Billy Donovan's set-up.
More from Thunderous Intentions
It was always expected that if Kanter went, it would be as good leverage for the 'big deal'. But now, it seems like he could leave on his own in exchange for rotation players.
It's reported that the moustache-baring Turk could head north to Canada and to the Raptors, in a deal that would see Terrence Ross and Patrick Patterson go in the other direction.
Ross, a small forward, has averaged just over ten points per game so far this season from around 19 minutes of play, making him a useful and effective wing player off limited minutes.
Meanwhile Patterson, 27, boasts a solid 6.1 points and 5.5 rebounds with an efficiency rating of 8.46.
The power forward scored 13 in the Raptors' win over OKC last week, whilst also setting up another three buckets.
This article originally appeared on