Thunder Rumors: Oklahoma City linked with Dirk Nowitzki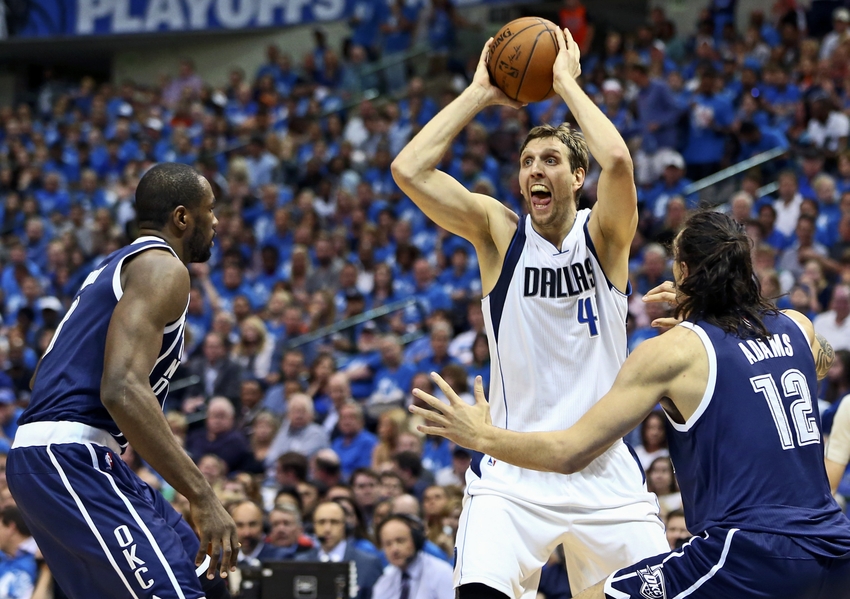 The Oklahoma City Thunder rumor mill has churned out another interesting idea, this time surrounding Dirk Nowitzki and the Dallas Mavericks.
If rumors are to be believed, then the Oklahoma City Thunder could be about to offload some of their dead weight in a deal with the Dallas Mavericks. Coming the other way? Dirk Nowitzki.
Sources have reported that the 38-year-old German would join OKC after almost two decades with the Mavericks. Going to the Texan franchise would be Enes Kanter, Nick Collison, Cameron Payne and Kyle Singler.
The deal would therefore leave OKC's roster a lot thinner on the floor, but would set up the possibility of future trades while also getting the likes of Singler off their books.
What's more, the deal would bring in valuable experience to a young and fairly inexperienced OKC roster, with the German having played in over 1300 regular season games across his 18-year career in the NBA.
However Nowitzki, the 2007 MVP, has only seen his numbers lower year-on-year, and this season he has only managed 12.2 points per game. This is only a fraction of his 22.0 career average.
What's more, the power forward is one of the NBA's highest earners, having signed a fresh $25 million dollar, one-year contract with the Mavs over the summer.
Nowitzki's earnings for the 2016-17 season are only topped by seven other players in the league. The only other one of them over the age of 30 is LeBron James.
Want your voice heard? Join the Thunderous Intentions team!
Dirk missed out on his side's win over the New Orleans Pelicans on Sunday with injury, and expected to remain on the sidelines until the turn of the month with the Achilles problem.
The big man is the Maverick's all-time leading points scorer with 29,527. The figure is the highest of any active player in the NBA, and sits sixth on the NBA all-time point scoring chart.
More from Thunderous Intentions
This article originally appeared on