Thunder Fall to Pacers in OT, 115-111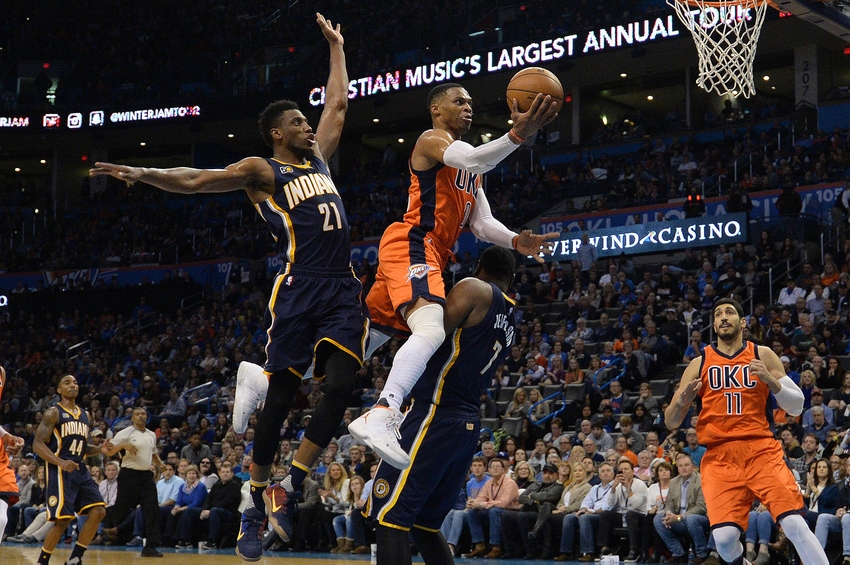 Before the season began, there were a few ideal losses we marked down during the OKC Thunder campaign.
This was not an ideal one. At all.
Oklahoma City hosted the shorthanded Indiana Pacers, who did not dress Paul George or C.J. Miles for tonight's affair. Easy win right? Wrong.
What transpired in the first quarter was the complete opposite of what we expected as the Pacers jumped on Oklahoma City early with a flurry of points of turnovers and complete onslaught in the paint (18 points in the paint in the first). The Thunder could not simply hold on to the ball and the Pacers continually made them pay for the free gifts.
Thunder defense getting sliced up. Twelve points in the paint on eight made baskets. 18-14 Pacers at first timeout 5:23.

— Erik Horne (@ErikHorneOK) November 21, 2016
The Thunder finally did that thing where they wake up in the second half and realize they should beating a team playing without it's only superstar. A whole lot of Kanter-Westbrook action later, and OKC found themselves in a position to do what they do best, get stops and score.
Thunderous Intentions

23h
OKC Thunder Looks to Win Third Straight Against Indiana Pacers
Then Russ did Russ things.
Overtime in OKC courtesy of this Russell Westbrook trey https://t.co/SAfz3nNIqC

— The Cauldron (ICYMI) (@CauldronICYMI) November 21, 2016
A Jeff Teague three point shot and three-point play eventually iced the game and capped off an overall disappointing night for Billy Donovan's crew.
Top Performers:
Jeff Teague (IND): 30 points, 5 rebounds, 9 assists
Russell Westbrook (OKC): 31 points, 11 rebounds, 15 assists
Game Notes:
Six Pacers scored in double figures, including double-doubles from Glenn Robinson (16 points, 11 rebounds) and Thaddeus Young (20 points, 11 rebounds)
Jeff Teague had himself a game. You sort of knew his load would have increased because of injuries, but OKC did an awful job staying on him.
Russ with his fifth triple-double of the season.
Pacers shot 50% from three (11-22) while OKC shot a dismal 28% (10/36)
Next Up: @ Los Angeles Lakers on Tuesday night
More from Thunderous Intentions
This article originally appeared on