Three takeaways from Golden State vs New Orleans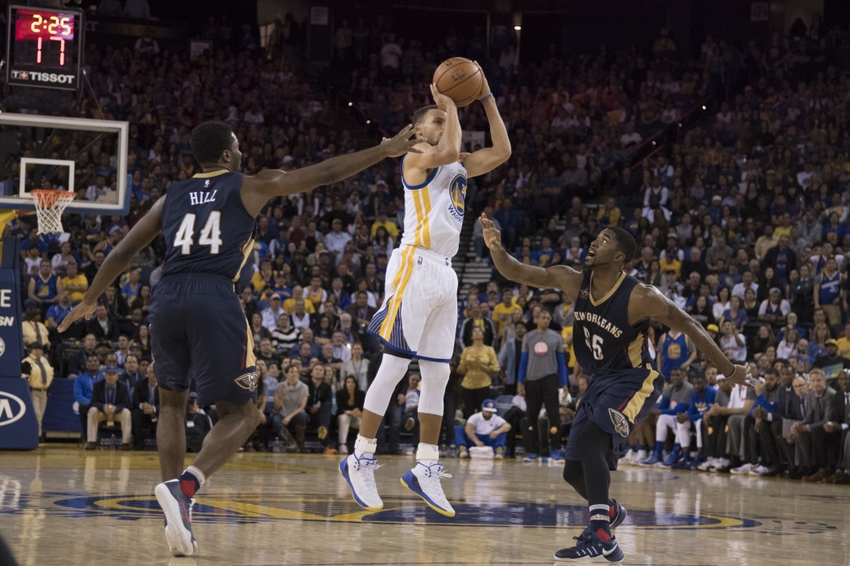 What stood out from the Golden State Warriors defeating the New Orleans Pelicans on Monday night?
After a disappointing loss to the Los Angeles Lakers on Friday night, the Golden State Warriors were back having fun again on Monday night. The Warriors defeated the Pelicans 116-106 and they came away with a huge victory at home behind a record night from Stephen Curry.
Curry set the NBA record with 13 three-point field goals in a game and everyone at the Oracle Arena went wild. It was exactly what the team needed after a dud of a game on the road. With the big win in hand, here are three takeaways from the game on Monday night.
3. Fan wins free haircuts for everyone
A bit of a random takeaway, but it's always a fun time when fans compete in competitions on the court. Sometimes they can win a lot money and others they can hook up the entire crowd with a reward.
One fan had a chance to win everyone at the Oracle Arena a free haircut on Monday night. That's right, if he was able to make a free throw and a three-point field goal, all fans in attendance would be able to redeem the win for a crew cut, bowl cut, fresh cut or any cut of their choice.
It's quite the random giveaway but everyone in Oakland is going to be rocking a fresh cut for days around town now. This fan seemed confused about where he was supposed to be, but he sank the shot for the win and to get his dome cleaned up.
2. Klay Thompson is finding his way
Slowly but surely, Klay Thompson is getting back on track. He finished with 24 points against the Pelicans and had one of his better nights of the season. After starting the season slow, it was a positive sign for Thompson.
His three-point shooting isn't completely back to form yet, as he shot just 2-7 from beyond the arc, but he was looking more comfortable within himself. On shots that weren't threes, Thompson went 9-13 and had a good night shooting the ball.
His night is going to come where he just shoots absolutely lights out, but the best thing he can do right now is keep shooting the basketball. The Warriors will play a struggling Mavericks team on Wednesday night, which should give Thompson another great opportunity to get going.
The game was all about Stephen Curry on Monday night, but Thompson is due for one of those ridiculous quarters. The Mavericks have struggled early this season and they are just the team Thompson needs to play against.
1. Stephen Curry is unreal
What else is there to say about Stephen Curry. Just when you think you have seen it all from him, Curry continues to dominate on the floor. On Monday night, Curry set the NBA record with 13 three-point field goals in a game.
That's absolutely ridiculous and the fact that any player can possibly pull off a feat like that is impressive. Everyone expected him to pull off the record at some point, but no one was expecting it after a game where he missed every three he shot.
A new streak has started for Curry and he has began it in style. What's even crazier is that it wouldn't be a shock at all if he breaks his own record again. He's quickly racking up just about every type of shooting record there is and he's not looking back.
The only question at this point is what record is he going to take down next? It's hard to see anyone coming close to taking his shooting records when it's all said and done. He's young and taking down every record in sight.
More from Blue Man Hoop
This article originally appeared on