Three Realistic Trade Offers that the Philadelphia 76ers Should Consider Making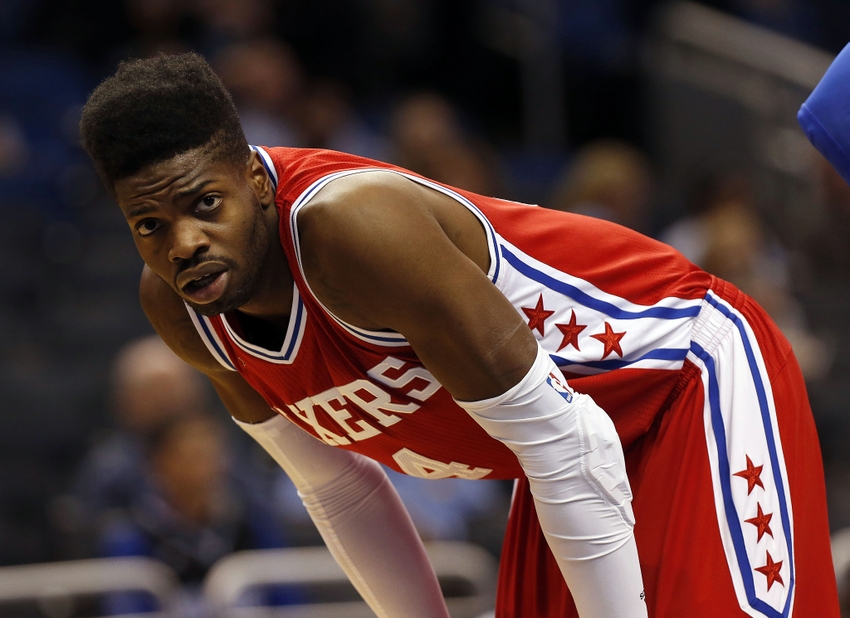 It's just a matter of time until the inevitable takes place; will Bryan Colangelo and the  Philadelphia 76ers finally make a trade, or is staying status quo their priority right now?
From the moment that Nerlens Noel was traded to the Philadelphia 76ers, moments after being drafted sixth by the New Orleans Pelicans in 2013, Sixers fans have been spoiled with a bevy of second-round draft picks, incoming salary dumps, and lovely pick swaps. To a point, it has made us desire to see a trade just for the hell of it. Trades are fun, but as much as we all wish Vlade Divac could be the general manager of the other 29 franchises, transactions do need to make sense for both teams.
After starting 1-8, and getting completely abused on national television by the Houston Rockets, the Sixers should be in no way panicking to add talent, just for the sake of building wins to avoid humiliation. The goal, which has been to build the strongest foundation possible, is scheduled to blast off (relevant NASA pun) at the start of the 2017-18 season. Assuming the Sixers use their cap space and land one or two lottery picks, Philadelphia should be spoiled with many headlines.
More from The Sixer Sense
So, when the time actually does come, what should the Sixers do? Here are three realistic trades that Philadelphia should look into, considering the needs of their trade partners. Of the three trade ideas, number one will be considered the headline move, number two is somewhat of an impactful trade, and number three is a minor deal.
Note: RealGM's NBA Future Drafts Detailed is a helpful, and informative tool when scanning through teams' future draft picks.
Trade Offer #1
Philadelphia 76ers get
Marcus Smart, 2019 Los Angeles Clippers 1st Round Pick


Boston Celtics get
Nerlens Noel
Reason: Right now, the Sixers need to get what they can for Nerlens Noel, without settling until completely necessary (the trade deadline). Other teams are going to do the best they can to rip the Sixers off right now because it's quite obvious that the upper hand does not belong to the Philly, and Noel is "injured." The inevitable needs to happen. Nerlens loves Boston, the Celtics want to compete right now, and a Noel-Horford combination would be extremely interesting at the four and five. To balance the trade, Boston would add the LA Clippers' 2019 first, which at this rate will be close to an early second rounder. Lastly, the Sixers need guard help, and Marcus Smart, who is more expendable now because of Jaylen Brown's existence, would be an ideal test; especially when the alternative is losing a young, athletic big man for nothing.
Trade Offer #2
Philadelphia 76ers get
Wade Baldwin IV

Memphis Grizzlies get
Robert Covington
Reason: Right now, the Memphis Grizzlies are 23rd in 3-point percentage at 32.2. With Mike Conley, Marc Gasol, Zach Randolph, Chandler Parsons, Tony Allen, and Vince Carter, the Grizzlies would be adding an extremely solid 6-8 man in Robert Covington, who has the potential, as we all know, to start. The Sixers would be receiving the 17th pick in the 2016 NBA Draft, Wade Baldwin IV, who is off to a slow start, but would provide an interesting piece at guard moving forward.
Trade Offer #3
Philadelphia 76ers get
Patrick Patterson, 2019 Toronto Raptors 2nd Round Pick, 2020 Toronto Raptors 2nd Round Pick


Toronto Raptors get
T.J. McConnell
Reason: At first glance, this trade seems counterproductive for the 76ers. They have a glut of big men on their roster and need guard help, especially at the point; but is T.J. McConnell really an answer going forward? Jerryd Bayless is already about to begin his rehab assignment with the Delaware 87ers, and Ben Simmons should be dealt a large portion of he ball handling duties starting sometime in January. Also, no offense to T.J., but the Sixers would have no problem going 10-day contract shopping for point guards, if need be. This trade would make sense for the Raptors because they're currently 28th in the NBA in assists per game. Why not give TJ a run?
I know we all would love to add an elite talent like Paul George or Jimmy Butler, and that very well could happen, but it'll obviously be costly. With outgoing value in mind, would it be worth it? The Sixers could be in position next summer to add talent via cap space, not assets.
This article originally appeared on