Three Potential Non-Carmelo Anthony Trades for Doc Rivers and the LA Clippers
Andrew Miller/FanSided via Clipperholics

Fansided
With the LA Clippers going through a rough patch, we take a look at some potential players that could benefit the team and Doc Rivers can get them.
The Clippers are having a rough time of it at the moment with injuries. Doc Rivers has been trying to make due with what he has.
Blake Griffin has already missed 20 games this season. Although he's come back looking as deadly as ever, the team will likely continue to struggle in the absence of their All-Star floor general. Chris Paul is due to be out at least another 3-4 weeks.
The February 23rd trade deadline is fast approaching. As always Doc and the Clippers' management team will be trying to find a way to squeeze maximum value out of what they have.
Assets
Austin Rivers is probably the best moveable asset that Los Angeles has, (never thought I'd say that one) outside of the core 4 of Blake Griffin, DeAndre Jordan, Chris Paul and J.J. Redick. His ability to defend positions 1 through 3 has been huge in keeping the Clippers treading water in the absence of their superstar due in Griffin and Paul.
Jamal Crawford is a name that pops up in trade talks every single year without fail. But after signing a 3 year $42,000,000 contract at the age of 36, moving him will be no easy feat.
Luc Mbah a Moute is one of the leagues most underrated perimeter defenders. He has finally found some consistency with his 3-point shooting. This could make him an attractive piece for a team looking to make moves.
Wesley Johnson and Alan Anderson could provide a little wing depth for a team struggling at that position. However, they would be unlikely to fetch a great deal in return. Anderson has thus far played a very limited role with the Clippers. Johnson has struggled with consistency on both ends of the floor, shooting a career low 27% from 3.
Mo Speights and Raymond Felton have been crucial in the Clippers resurrected bench unit this season. For that reasoning, LA would take a lot of convincing to part ways with them.
The Clippers other problem is that the rules do not permit consecutive first-round picks to be traded without taking back one in return. This means Doc Rivers wouldn't be able to use them to sweeten the deal like he's done with several other trades in the past. With this all in mind, there are still a few options for Los Angeles to re-tool for the upcoming playoffs.
Wilson Chandler, Denver Nuggets
The LA Clippers have needed a two-way small forward for years, and Wilson Chandler has always been near the top of their list. The difference this time around however, is that according to Sam Amick of USA Today, Chandler has grown frustrated with his role coming off the bench. This happened after Nuggets head coach Mike Malone made the decision to return Kenneth Faried to the starting lineup alongside Danilo Gallinari.
Chandler is an extremely versatile defender and even with his 6'8″ frame has the capability to stick with much smaller guards and put up a good fight in the post against bigger bodies.
The argument could be made that Wilson Chandler is actually a much better fit with the Clippers than Carmelo Anthony. Chandler is a very capable 3-point shooter, averaging 34% on the season. With the likes of Griffin and Paul demanding much more attention from the defense, the quality of shots would be far higher. In a small-ball capacity, Chandler would fit perfectly into a Paul-Rivers-Mbah a Moute-Griffin line-up to match with the Warriors style of play.
The deal looks great for the Clippers on paper. But, the reality of it is that there would probably need to be some substantial moves before this deal could go down, unless Denver was willing to take on the undesirable contract of Jamal Crawford. A potential deal with the likes of Phoenix, centered around Brandon Knight going to Denver along with a Clippers pick, Jamal Crawford and Diamond Stone to the Suns and Wilson Chandler to Los Angeles could happen.
The deal would likely have to involve a third team.
Aaron Afflalo and Matt Barnes, Sacramento Kings
Aaron Afflalo
Afflalo is another player the Clippers have shown interest in acquiring before the trade deadline in previous years.
He's having a down year in terms of his scoring output. It's at its lowest since his second year in the league. The Los Angeles native would still be a welcome addition to the Clippers' bench unit. Having the capability to come into the game and provide 20 minutes of accurate 3-point shooting and perimeter defense will always be a hot commodity.
Pairing Afflalo with Raymond Felton, Alan Anderson, Brandon Bass and Mo Speights gives a versatile mixture of two-way reserve players. All of the Clippers backup players are interchangeable with the starting unit and Afflalo would be no different.
Matt Barnes
The other Sacramento Kings player that Doc Rivers should think long and hard about, is Matt Barnes.
The chances of the Clippers management team making the trade to bring Barnes back to Los Angeles are slim. This is especially true considering the fact that it was a binary decision to sign either Wesley Johnson or Matt Barnes, and they chose the former.
But, Barnes brings a different style to the team and Johnson isn't considered a key piece for the Clippers; his scattered playing time and consistent struggles are evidence of that.
In his last 5 games for Sacramento, Barnes is averaging 11 points,11 rebounds and 4 assists on 44-39-89 shooting splits. On the season, he has 7.5 ppg, 0.7 apg and 5.3 rpg on the season. He is still a very capable and willing defender.
The Kings are short on wing depth at the moment due to injury, so Wesley Johnson or Alan Anderson would likely be the best options outside of Jamal Crawford to entice Sacramento into a deal.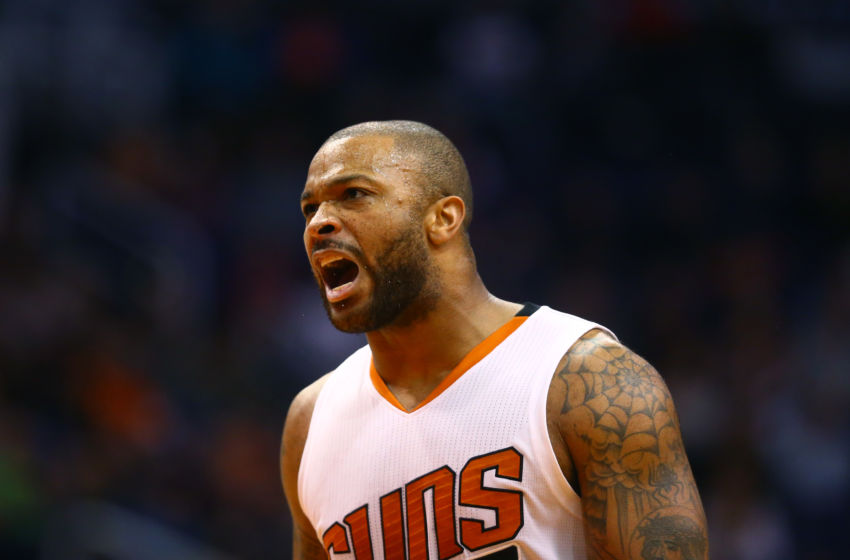 P.J. Tucker, Phoenix Suns
The Clippers already engaged with the Suns about a potential deal a couple of weeks ago.
Marc Stein of ESPN first reported "The Clippers have offered a future second-round pick for Suns forward P.J. Tucker — who is said to have a not-so-secret admirer in Doc Rivers — but sources say Phoenix is holding out for a first-rounder in exchange for the rugged defensive specialist"
At this point, using yet another 1st round pick to acquire a player that brings a serious amount of toughness and defense doesn't seem all that bad.
Tucker, who is currently in his 5th year with Phoenix just doesn't fit in with the rest of the team anymore. They are in the middle of a complete overhaul of their roster to build around the young stars.
Blake Griffin and P.J. Tucker have a… lets say "colourful" relationship. The 31-year-old swingman was ejected from a game back in 2014 for allegedly punching Griffin during an on-court altercation. With his affordable $5.3m, expiring contract and ability to guard taller players, Tucker would fit very nicely with this LA team. His underrated rebounding and post defense would give the Clippers another small-ball option to counteract the Warriors line-up.
This article originally appeared on