Three Most Positive Takeaways From Utah Jazz Win Over Nuggets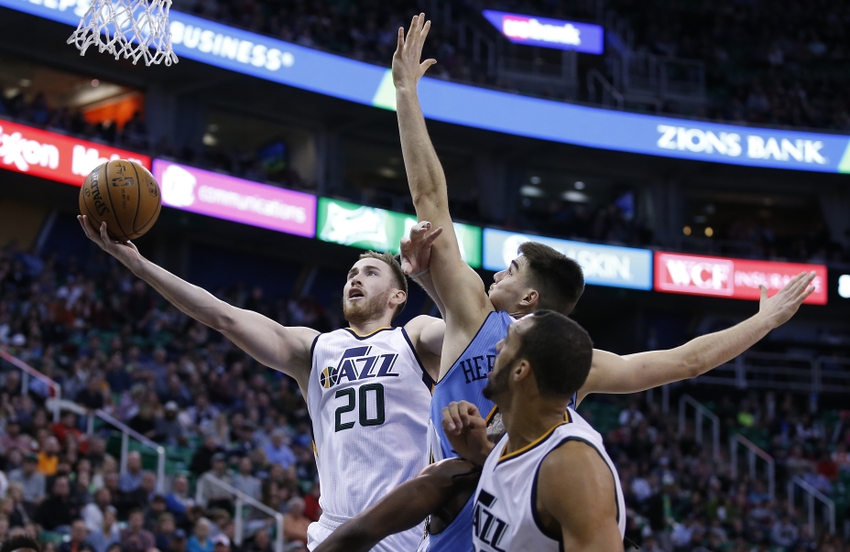 The Utah Jazz got back on track with a win on Wednesday and there were a few very reassuring aspects to their performance.
The Utah Jazz's win on Wednesday over the Denver Nuggets was a long time coming. After dropping four straight contests in miserable fashion, it was very refreshing and reassuring to see the Jazz get back on track and finally take care of business with a wire-to-wire 108-83 win.
In the previous match-up against the Nuggets, the Jazz looked slow and tired and were essentially doomed after the first quarter of play as Denver ran them out of the building.
However, the script was flipped on Wednesday as Denver came into Vivint Arena on the second night of a back-to-back to face a Jazz team that was coming off of two days rest. And while this may have been a major contributor to Utah's dominant win, they simply looked like a different team and much more like the one we expected to see this season.
Of course as Utah now sits at an even 8-8 on the season, there's still plenty of work to do. However, they certainly showed significant progress in Wednesday's win and displayed several reasons to feel optimistic moving forward.
While there were a number of things that went right in the victory, the following were the three most encouraging signs for this Jazz team moving forward:
George Hill's Seamless Return
After an eight-game absence in which he was desperately missed, George Hill finally returned to action on Wednesday night against the Denver Nuggets. Seeing the way his thumb was bandaged up and considering how long he had been out, there were definitely a lot of questions surrounding his return.
Will his shot be affected? Is he risking re-aggravating the injury? Will he be the same George Hill that came up so big for the Jazz earlier in the season?
Fortunately, the answer to the latter of those three questions was a resounding, YES!
Despite the extended absence, George Hill didn't skip a beat in his return to action as he put up a team-high (tied with Gordon Hayward) 22 points and continued his incredible shooting going 61.5 percent from the field and 50 percent from deep.
On the year, Hill is currently shooting 55 percent from the field, 44.2 percent from deep and 85.7 percent from the free throw line, a mere 4.3 percent on his free throw shooting away from reaching the highly acclaimed 50-40-90 club. To say that he was missed would be a tragic understatement.
But stats alone don't tell the full story. Hill's veteran presence, ability to control the flow of the game and relentless effort on both ends of the floor have been the glue that has kept this team together and has made them a formidable opponent.
His nearly seamless return to action in Wednesday's win was an incredibly positive takeaway and should have Jazz fans feeling good again about what's in store for the team.
Boris Diaw Gets Going
It was a rough start to the 2016-17 NBA season for Boris Diaw. Not only has he been dealing with a lingering leg contusion, but he had looked awful in his first six games as a Jazzman. Hopefully the injury was a leading contributor to that and we will see an improved Diaw throughout the season moving forward as he gets healthier.
Because he certainly looked like a different player in Wednesday's win over the Nuggets than what we had seen so far this year. Through six games, Diaw was averaging just 2.2 points per game on 23.8 percent shooting from the field and 12.5 percent shooting from deep.
We got more of the box score that we had expected out of the 13-year pro on Wednesday as he went 4-of-7 from the field and 1-of-2 from deep to finish with 11 points, three rebounds, three assists and no turnovers. He, for once, didn't look lost on the court and aside from missing a pair of shots close to the basket, provided a solid offensive lift.
In essence, Diaw did exactly what the Jazz signed him to do. He played a smart, clean game, provided an offensive lift off the bench, and made his teammates better with good passing and firm decision making.
It was a night and day difference from what he's shown so far.
In his defense, he has been battling the aforementioned injury and of course I can't imagine the kind of adjustment it must take to go from a Spurs team to any other in the league, so hopefully Diaw's latest performance is an indication that he is getting more comfortable and that we should continue to see improvement moving forward.
Two 30-Point Quarters
The Jazz offense had been absolutely brutal during their four-game losing streak. Most notably in the loss to the Bulls, the Jazz were ineffective at moving the ball and simply couldn't find a way to get the ball through the hoop.
Luckily, that all changed on Wednesday night as the Jazz put up an incredible first quarter that saw them get off to a 14-0 lead and end the period with a staunch 36 points. While they faltered somewhat in the second quarter, Utah came charging back in the third quarter where they put up 31 points and essentially sealed the deal before the period's end.
It was a breath of fresh air to finally see Utah's offense clicking on all cylinders. The two thirty-point quarters were demonstrative of just how efficient and versatile this team can be when they're playing to their highest potential.
And it was great to see Utah break that thirty-point mark in a period, especially given the low number of points they've managed to put up in some recent games. They managed to get up to 32 points in the fourth quarter during garbage minutes in the loss to Houston (who isn't known for their defense) on Saturday, but before that they hadn't had a thirty-point quarter since the loss to the Hornets on November 9th.
So while logging that many points in a quarter can be a misleading stat and not a guaranteed indicator of success, more than anything it was good to see the Jazz offense produce in such a way that it made those two high-scoring quarters possible.
Hill's return to action certainly helped the offense and it seems reasonable to expect we'll see a more cohesive bunch moving forward after what was on display in Wednesday's win.
More from Purple and Blues
Utah returns to action on Friday against the Atlanta Hawks in what will definitely be a good measuring stick of how much Utah has improved since its four-game slump. Will the team officially revert back to its winning ways of the five-game road trip? Or was the win against the Nuggets nothing more than a momentary resurgence?
We'll have to hope that the former is the case, because the Atlanta Hawks are off to a solid start and present several match-up challenges across the board. These three positive takeaways were all great signs that the Jazz are headed back on the right track, but they'll need to be sure to sustain that level of play moving forward if they hope to climb their way back up the standings.
All stats courtesy of NBA.com
This article originally appeared on