This Will Be Kyrie Irving's Season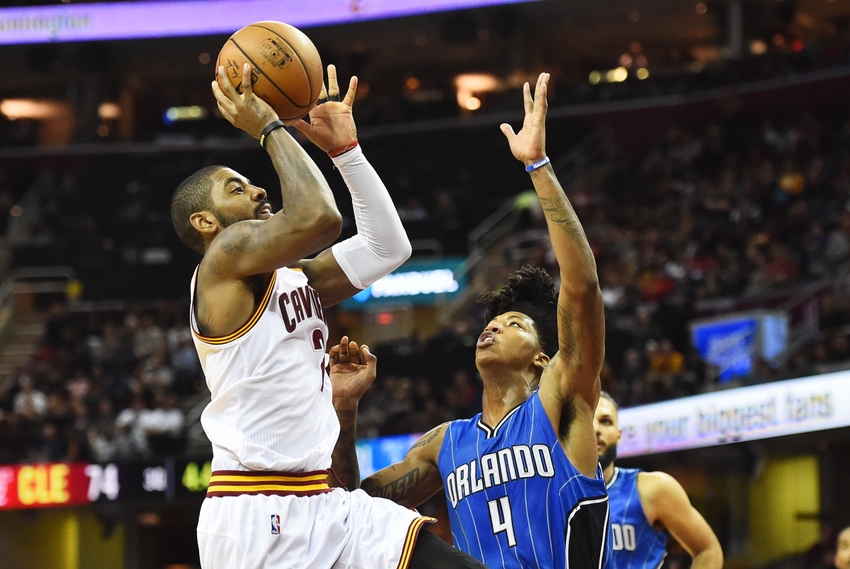 After injury-plagued years and missed opportunities, Kyrie Irving, now an NBA champion, will further his success this season.
With less than a minute left in Game 7 of the NBA Finals, Kyrie Irving hit the shot of his career, a crucial three-pointer over Stephen Curry. His shot not only gave the Cleveland Cavaliers a much-needed lead, but it was a huge part in the Cavaliers winning the championship.
"The shot," as it was later called, will be remembered as one of the greatest plays in NBA Finals history.
But the year before "The Shot" happened, Irving was watching the 2015 NBA Finals from the hospital. Irving was out for that season's Finals after suffering a left knee injury in the first game.
During the 2015-16 season Irving still suffered more injuries before winning the championship. He averaged 19.6 and 4.7 assists. And although those numbers don't compare to previous years, it during the postseason that Irving's capabilities began to shine.
Irving averaged a career-high of 25.2 points and was 44 percent from the three-point line.
Along with a combined score of 82 points with LeBron James in a Game 5 win in the Finals, which was the most my any two teammates when facing elimination, Irving's ball-handling skills and range were full on display.
Irving has not missed a beat this season with that same skill set. So far, Irving is off to a tremendous start this season. He is averaging 25 points and 50 percent from deep. Irving impeccably looks unstoppable on the court.
In the season opener, Irving finished the night with 29 points, four assists and two steals. He was also 4-for-7 from three-point range. He scored a game-winning three in the Eastern Conference Finals rematch on Friday night against the Toronto Raptors to give the Cavaliers a 94-91 win.
He ended that night with 26 points and better than 50 percent from the three-point line again, going 5-for-9.
Irving's increased ability to shoot threes this season is due in part to opponents limiting his ability to get inside the paint. He has only taken 20.6 percent of his shots from inside the paint, which is a decrease from last season.
But Irving has undermined that tactic with his mid-range and three-point shots.
"Whether it be iso situations or pick and rolls with myself and Bron, teams are packing in the paint," Irving said after Cavs' practice Monday, according to Cleveland.com.

"For me, it's about being smart and efficient in the spots I'm in. That midrange pull-up, they're giving it to me, I'm consistently just going to pull it and try to make it. Playing in that in-between game, for right now."
His success of currently being the leading scorer for the Cavaliers amid opponents' plans proves that Irving is clearly hard to stop on the court. And his Cavaliers head Tyronn Lue also seems to believe so.
"Like I've always said since I've taken over, Kyrie is unstoppable," Lue said after the Cavaliers beat the New York Knicks in the season opener according to USA TODAY Sports. "I don't think one defender can guard him one-on-one. In the pick-and-roll he's unstoppable. He has no offensive weaknesses so for this team to be successful I need him to be a scorer and be in attack mode the whole time."
While it is unlikely that Irving will win MVP this season because of the small-ball competition, there is no doubt that he is among the premier guards in the league.
This article originally appeared on