The Women behind the Warriors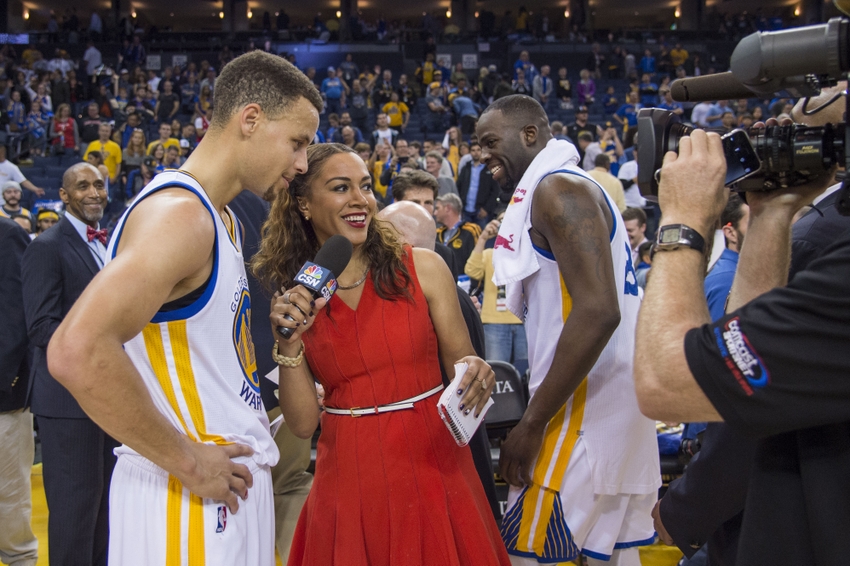 As a country, we've made strides in women's rights over the last few decades. There's still a lot of work to do especially in the sports world and how men treat them. It's important to recognize and elevate those brave women who are breaking down boundaries.
Draymond Green, NBA and WNBA stars, and San Antonio Assistant Coach Becky Hammon have all come together to work with an organization called "Lean In." The goal is to inspire women to educate themselves and grow in the workplace and society in general. The league launched #LeanInTogether, which points out the responsibility men have to support the women in their lives.
Far too often we see women being talked about in terms of how they relate to men. The Chicago Tribune came under fire during the Olympics when they tweeted out a headline in which they referred to a Bronze medalist as the "wife of a Bears' lineman." While it's clear that they wanted to make her accomplishments relevant to their city and demographic, it was in poor taste. There are other ways to do it. She has a name.
It's situations like that Tweet that make it so important to emphasize the great work women do. As men, we need to champion women. It's up to us to stand up for injustices because they impact us all. Women's rights are human rights.
In light of all of the disgusting rhetoric surrounding the Presidential election and the horrific mishandling and incompetence of a billion dollar organization following vile revelations, we felt it was important to highlight some special women. We wanted to look at some incredibly talented and hardworking individuals that either work for the Warriors' organization or are a part of DubNation.
Let's look at some of the amazing women behind the Warriors.
Jennifer Cabalquinto
Unless you've studied the Warriors' media guide really closely, this isn't a name that you're going to recognize. But you absolutely should. Jennifer Cabalquinto is Golden State's Chief Financial Officer.
As of February 2015, there were 58 women CFOs in Fortune 500 companies. Now, the Warriors aren't a Fortune 500 company, but it's clearly not easy for women to get into a position like that. Cabalquinto is obviously great at her job.
She will be entering her fourth year as the Dubs' CFO. According to her listing in the media guide, "she oversees all day-to-day and long-term financial planning and accounting for the organization." Basically, she's a pretty big deal. She is also working closely with the development of the Warriors' future arena in San Francisco.
Cabalquinto was invited to the White House in October 2015 for the first ever "Celebration of Filipino American History Month." It was her great work as the Warriors' CFO that earned her an invitation to the nation's capital. She cites it as her proudest professional achievement.
She gave BizJournals.com her ideas on how to help women in business succeed, saying that "mentorship and sponsorship of other women, but also coaching male colleagues to help them see the unconscious bias they may be exhibiting – in a non-threatening way, of course." It's a valuable idea that shows everyone's responsibility.
The Warriors are the the best franchise in basketball. That doesn't happen without a great CFO. Cabalquinto entered a realm primarily dominated by men, used her very expansive background, and owned it.
Julie Phayer
Again, Julie Phayer might not be a name that you instantly recognize. But you're definitely familiar with her work. And it's some of the best in her field.
Phayer is the Digital and Social Media Coordinator for the Warriors. In simpler terms, she's @warriors. She's behind a lot of the great content we get from Golden State's social media accounts.
Teams and brands are starting to figure out that they need to connect with their fan bases. Generic updates are not enough. It's extremely necessary to build a connection with people and provide fresh, engaging content on a regular basis.
This is what Phayer has done, on a larger scale than anyone could probably have imagined. All eyes are on Golden State. They have 2.52 million followers on Twitter, more than teams like the Cleveland Cavaliers and Boston Celtics.
The Warriors, as an organization, are ahead of everyone in terms of utilizing technology. Social media is an important aspect of that in today's world. And it's more than just giving final scores and stats.
It's about exciting a fan base. It's about creating a shared identity and building a community. It's about having fun. Phayer does all this while remaining extremely professional (which can be tough).
The Dubs' social media guru has found a perfect balance of fun and professionalism. box score updates and .gifs, and Julie and Golden State. She finds ways to insert herself and her interests (Zayn, Montell Jordan, etc.) while representing the organization wonderfully.
Phayer is a master at what she does. She's gotten in on the ground floor of the future. She's changing the game one emoji at a time.
Rosalyn Gold-Onwude
Rosalyn Gold-Onwude is a national treasure. Since she started appearing on Oracle Arean's sidelines, it felt like the Bay Area's days with her are numbered. That's how good she is at her job.
I actually wrote about her before because she deserves all the recognition she gets. It's hard to find another individual that works as hard as she does. She puts in the hours to be the best at whatever she does.
Gold-Onwude's Twitter bio is more complete than most resumés. Her body of work in her young career since graduating from Stanford in 2010 after an outstanding college basketball career is already impressive. How many people have won an NCAA Defensive Player of the Year award and  an Emmy?
She is to media what Steph Curry is to basketball. They are perfectionists, consistently and constantly honing their craft. With all of her jobs and assignments, I'm like 95 percent convinced that Gold-Onwude doesn't sleep or even take a break ever.
The sports world is not easy for women to break into. And when they do, their work has often been trivialized, brushed off and not taken seriously. She is breaking down every stereotype.
She's not the only one. Women like Doris Burke and Kristen Ledlow are elite and helping make a difference. Gold-Onwude, with her infectious charisma and unparalleled work ethic, has become a leader.
She is not only an inspiration and leader for women; Ros Gold-Onwude has set a standard of quality work that men need to strive for too. She's the absolute best at what she does.
Mary Babers-Green
We've all scrolled through Twitter and then read a hilariously honest tweet. That was most likely Mary Babers-Green, giving her thoughts in the only way that the Green family knows how. She does it truthfully, letting the facts do the talking for her.
But she'll defend her son, Draymond, as long as she can, warding off Twitter trolls left and right. It's a sign of their close relationship. Mary and Draymond are a package, supporting and looking out for each other at all times.
Babers-Green doesn't let herself be silenced, an issue that women face. She doesn't back down from anyone, doing everything from taking on strangers trying to agitate her to calling out Coach Kerr! It was a tough summer for her son who found himself caught up in a few incidents, but she handled it extremely well.
But it's not all about just having fun with her. She understands that there is work to be done. That manifested itself in her pushing Draymond to become the man and the player he is. That manifests itself in her using her voice to stand up for certain causes.
Anyone that has ever been apart or is apart of physical or mental abuse.. I feel your pain! Speak out' please don't be silent! #MANorWOMAN

— DrayMom (@BabersGreen) October 19, 2016
She worked with her son in order to promote the NBA's "Lean In" initiative. Recently, she took to Twitter to talk about abuse. She encouraged survivors of any kind of abuse to speak out and look for support.
Mary Babers-Green is an example of a strong woman who's not afraid of expressing herself.
Wanda Durant
I sat in front of my computer trying to hold back tears. I watched as Kevin Durant–the recipient of the 2013 NBA MVP–got choked up talking about the strongest person in his life. Fighting tears, his trembling voice managed to say "you the real MVP."
Wanda Durant is the real MVP. Her story is incredible. It's one of sacrifice and perseverance.
Durant was 21 with a newborn and a three year old. She worked two jobs to support her family. A teary-eyed Kevin spoke to his mother in front of the whole world and said:
"We wasn't supposed to be here. You made us believe. You kept us off the street. You put clothes on our backs, food on the table. When you didn't eat, you made sure we ate. You went to sleep hungry. You sacrificed for us."
A single mother in Washington, D.C. working to provide a good life for her children. A beacon of hope and an example of what it means to work for something. She never gave up and she didn't let her kids do it either.
She's taken situations that could break down even the strongest individuals and turned them into triumphs. Durant supported her children and herself during tough times. She now is trying to empower other women to do the same.
She is a businesswoman, involved with organizations such as Community Kinship Coalition Parents Network, and Positive Tomorrows just to name a few. She is a motivational speaker, inspiring women, including single mothers, to "follow their dreams and set life goals" (from WandaDurant.com).
Durant is a fighter that has taken control of every situation that life has tested her with.
Ayesha Curry
Far too often, athletes' significant others are put into a box. Their value is perceived as only exclusive to how she relates to her husband. They are relegated to the sidelines.
Curry is building her own empire. She's taking over the social media and culinary world. In just the last few months, she's become a New York Times Best-Seller and has her own TV show on the Food Network.
She's becoming a brand and doing it her own way. She's done it on YouTube and on a blog. She's now on bookshelves and television. In addition to that, she's sold her own olive oil and helped design moccasins for children.
Curry has become a savvy businesswoman, taking advantage of all the opportunities presented to her. She's handled the spotlight with grace (excluding one minor slip up). It's not easy raising two children while living under a microscope as your husband goes to work sometimes thousands of miles away.
She's become an influential figure in the year 2016. She's handled scrutiny and the negativity and fetishization surrounding her two daughters perfectly. What's most impressive is that Curry has somehow found time to also create her own business while raising a family.
She uses her platform to spread positivity. She's utilized a variety of mediums to express herself creatively, sharing her passions with the world.
This article originally appeared on