The Wilson Chandler Trades, Part I: The Eastern Conference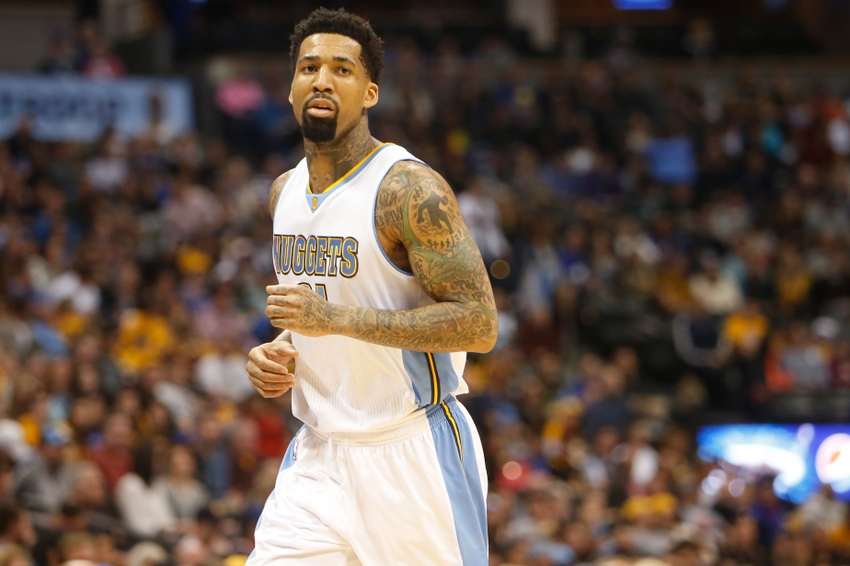 Wilson Chandler has played well in his time with Denver, but he may be underutilized in this upcoming season as a second string SF behind Danilo Gallinari.
Denver Nuggets fans would be sad to see him go, but sending Wilson Chandler to another team might be a smart move for the Nuggets.
Obviously, they would be after something of their own. Fortunately, most teams have something worth trading for. With Danilo Gallinari apparently locked into Denver for the foreseeable future, Chandler's talents would likely be better utilized elsewhere. Chandler would have to be used in contingency with other players at times.
These are not the Chandler-only trade options of the Eastern Conference. But, every trade involves Chandler, and centers around the Nuggets' current position of owning expendable talent.
As we move through the Eastern Conference, the realistically viable Chandler trade options are revealed. If an Eastern Conference Chandler-trade went down, then it would probably look like one of these.
Atlanta Hawks
ESPN's NBA Trade Machine Results: Hawks Unaffected, Nuggets Unaffected
The Trade Machine suggests some balance to this trade. Similarly, at around $25 million, the inherent payroll assumptions would be nearly identical.
Why the Hawks would do it:
For Gary Harris. After a rocky start, Harris showed great improvement in his second season. His game is well rounded, and at 21 years of age, he has become one of the more promising young SGs in the league. The Hawks only have two SGs on their roster, in Kyle Korver and Tim Hardaway Jr. Korver is 35, and Hardaway seems more fit for a bench role. Locking down Gary Harris as a young but essentially proven SG to move forward with could be the push that makes a Millsap trade worthwhile.
Chandler and Faried are both very athletic forwards that would make for solid additions to the notoriously fast-paced Hawks offense. While both players have starter credentials, they would probably make better contributions as a Hawks bench-duo. The Hawks would lose their veteran play-makers. But perhaps the depth and versatility they would acquire has a greater value. This especially applies when the future in considered.
Why the Nuggets would do it:
They would have Paul Millsap as their starting PF.
If that's not enough for you, consider this; a starting 5 of Emmanuel Mudiay, Kyle Korver, Danilo Gallinari, Paul Millsap, and Nikola Jokic. Will Barton would still come off the bench, but he'd likely average more minutes, shot attempts, and points than Kyle Korver.
Does that not sound like a recipe for success?
With Darrell Arthur, Thabo Sefolosha, Jameer Nelson, Jusuf Nurkic, and a trio of stud rookies anxiously awaiting their court-time, every single position would be solid. Faried and Chandler are both talented, but expendable. After this trade, the Nuggets' talent would be better spread out. They would also have a stronger starting 5, and a more clear bench rotation to boot. The Nuggets would be in great shape.
Boston Celtics
ESPN's NBA Trade Machine Results: Celtics Unaffected, Nuggets Unaffected
Another trade forged in balance. However, this would cost the Celtics about $2 million, which is hardly off-putting.
Why the Celtics would do it:
They would have an excellent sixth-man in Chandler. The Celtics seem pleased with the play of Jae Crowder, and aren't likely to get rid of him any time soon. So, swapping out a rookie SF (Brown) and a second/third string PF (Jerebko) for a proven and more-than worthy backup for Crowder's SF spot (Chandler) could save them time and effort.
The Celtics' starting 5 would go untouched, but they would have Wilson Chandler as their first bench option. He would be a versatile, proven, and well-rounded addition to Boston's roster. At very little cost too.
Why the Nuggets would do it:
Jerebko is capable of spreading the floor as a PF. The Nuggets seem to be after players like this. While Jerebko is no star PF, he may be a welcome addition to Denver. With Will Barton as their reigning and deserving 6th-man, the Nuggets could afford losing Chandler as a bench option. Adding Jerebko in his place would be a very low-risk option. Plus, who knows, maybe Jerebko would see a late blossom in Denver.
Rookie SF Jaylen Brown would be in great company with the young Denver Nuggets. He could become a valuable addition to their young core of Mudiay, Harris, Jokic, Nurkic, Murray, Beasley, and Jernangomez. If these young players had a few years to calibrate as a unit, they could turn into a seriously impressive force.
Brooklyn Nets
ESPN's NBA Trade Machine Results: Nets -1 Wins, Nuggets Unaffected
The Trade Machine suggests that the Nuggets would come out of this trade with the slight advantage. This may be true, but the Nets could be in a better position moving forward.
Why the Nets would do it:
The Nets lack widespread talent. With the recent addition of Louis Scola, the floor for small ball has been opened up. By adding Chandler and Faried, they would expand upon that potential. Both players could see starting roles in Brooklyn, with Scola at the center spot. Losing Lopez would be rough, as he essentially is their team right now.
However, he hasn't really gotten them anywhere. There isn't much room for the Nets to further sink, so taking the risk of trading Lopez for Faried and Chandler might be a no-brainer. They'd really have nothing to lose. The Nuggets could also throw in Jusuf Nurkic if the Nets wanted him. It wouldn't effect the trade much for either side.
Why the Nuggets would do it:
The would have Brook Lopez, a very talented center, and potential All-Star.  His addition to the starting 5 would likely bump Nikola Jokic to either starting PF, or a bench center role that matches Lopez's minutes. If Jokic was benched, he'd have more time to develop in two ways. The first would be as a player. The second, would be as a member of the Nugget's young core. He would get more playing time with the Nuggets' rookies, which could be vital to their future success.
A benched Jokic would mean Darrell Arthur at starting PF. Much of this would depend on Jusuf Nurkic's involvement in the trade. Either way, the Nuggets would have a fantastic addition to their team in Lopez.
Charlotte Hornets
ESPN's NBA Trade Machine Results: Hornets -1 Wins, Nuggets Unaffected
This trade would be of low-risk, as no involved player is crucial to the success of either team.
Why the Hornets would do it:
Both Hawes and Belinelli are inconsistent. They are low-producers for the team, and swapping them out for Wilson Chandler, who would likely become the Hornets' sixth-man, would cost them very little. Chandler has starter credentials and plays with much more consistent production than Hawes and Belinelli combined. The Hornets would lose some depth, but gain a better player.
Why the Nuggets would do it:
While Hawes is no starting PF, his ability to spread the floor could be useful. The Nuggets wouldn't need to play him much, but having Hawes on reserve in case of injury wouldn't hurt. Having Belinelli as a bench option clearly poised behind Will Barton would allow the rotation to be less crowded with talent. That sounds like the opposite of what a team should do, but with so many young players that need developing, it may simply be in the Nuggets' best interests.
This trade would probably mean Darrell Arthur playing some SF and PF off the bench. Both Hawes and Belinelli would be very low-use options for the Nuggets. Still, either one could come in handy in the wake of injury. Both player does also possess the potential to have a couple nights of big production here and there. The Nuggets wouldn't be quick to trade Chandler to Charlotte. They can get more for him from other teams. Still, this option wouldn't hurt the Nuggets' chances of success.
Chicago Bulls
ESPN's NBA Trade Machine Results: Bulls Unaffected, Nuggets -2 Wins
The Trade Machine suggests that the Bulls would come out of this trade with the advantage. If they want a shot at the Conference Title, then a trade like this could be very valuable.
Why the Bulls would do it:
The Bulls would essentially up the firepower of their more prominent players, and sacrifice some talent in their lower-end players. With their current line-up, the Bulls are in line to make a splash in this upcoming season. But, by adding Kenneth Faried and Wilson Chandler into their regular rotations, they could be on legitimate title-contending grounds. Gibson is solid, but he lacks he youth required to keep up with explosive Eastern Conference teams like the Cavaliers and Raptors. Faried simply has more hustle.
This could help the Bulls get easy second chance opportunities. Both Faried and Chandler have the athleticism to play PF, and the two could share minutes at the position, giving the Bulls an interesting variance in their rotations. Gibson has been great for the Bulls, but Mirotic, McDermott, and Snell have all proven to be too inconsistent to be key parts of a title-winning team. This trade might put the Bulls over the edge. It certainly wouldn't hurt their chances.
Why the Nuggets would do it:
While Nikola Mirotic does play with inconsistency, he is still capable of catching fire, especially from beyond the arch. The Nuggets could use more threats from beyond. This is especially true for the PF position, as Emannuel Mudiay works to legitimatize his three-point shot. This is what makes Kenneth Faried seem like a better fit in Chicago than Denver.
The Nuggets would have Mirotic, Gibson, Arthur, and Hernangomez at the PF spot. Each s capable of somewhat spreading the floor, some more than others, but each more than Faried. The Nuggets would sacrifice raw talent and athleticism for depth and strategic skill-sets. The trade machine suggests that it wouldn't work out too well for them, but it could still be worth a shot.
Cleveland Cavaliers
ESPN's NBA Trade Machine Results: Cavaliers Unaffected, Nuggets -1 Wins
The Trade Machine suggests that the Cavaliers would come out of this trade with the advantage. This may surprise fans, as Kevin Love's value seems greater than both Faried's and Chandler's.
Why the Cavaliers would do it:
They probably wouldn't. They just won an NBA Championship with the big-three in place, so why change it up? For some reason fans seem to think that Kevin Love's talents may be better suited elsewhere. So, if Love where to be traded, Denver might not be a bad place to shop.
By adding Faried and Chandler to the roster, the Cavaliers would have two players capable of specifically matching Kevin Love's talents as called upon. Chandler could make up for Love's ability to shoot threes, while Faried could go in for rebounding and paint-protection. The two could split the PF position to the Cavaliers, and turn their big three into the Kyrie and Lebron show. I'd watch it.
Mo Williams for Jameer Nelson was thrown in for fun, mostly because I think that Williams would be a better mentor for Nuggets rookie Jamal Murray. The Cavaliers shouldn't suffer from this transaction.
Why the Nuggets would do it:
They would have Kevin Love. Love would likely return to his former glory, which we saw from him as a Timberwolf. The Nuggets would have a replacement bench option for Chandler in Dunleavy, and a better suited mentor for Jamal Murray in Mo Williams. The Nuggets would take this trade in a heartbeat. They would probably throw in draft picks to sweeten the deal, and it'd be worth it.
Detroit Pistons
ESPN's NBA Trade Machine Results: Pistons +3 Wins, Nuggets -4 Wins
The Trade Machine suggests that the Bulls would come out of this trade with the advantage. If they want a shot at the Conference Title, then a trade like this could be very valuable.
Why the Pistons would do it:
The trade machine shows this deal giving the team a substantial boost. In order to contend in the Eastern Conference, a move like this might have to be made. Essentially, the reliability of Harris would be sacrificed for an increase in team depth, athleticism, and offensive production.
Both Barton and Chandler are capable of catch-and-shoot or creating off-the-dribble. Faried would add rebounding to the team, to compliment Drummond's natural prowess. They could become one of the best rebounding teams in the NBA, which almost always helps teams get wins. Morris would be thrown in to give some balance to the deal. His scoring ability should be outdone by Barton's. This trade could be a smart move for Detroit.
Why the Nuggets would do it:
Both Tobias Harris and Marcus Morris would be great additions to the Nuggets. They are both capable of playing SF or PF, and pose as legitimate floor-spreading threats at either position. The Trade Machine suggests that the Nuggets would be hurt by this trade.
Much of this likely comes form including Barton in the deal. Yes, his scoring ability would be missed; but still, I'm not buying it. I think this would be great move for the Nuggets.
Indiana Pacers
ESPN's NBA Trade Machine Results: Pacers Unaffected, Nuggets Unaffected
Balance achieved. A clean switcheroo.
Why the Pacers would do it:
They would save $3 million. Chandler and Young put up pretty similar numbers; yet, Chandler has better range, mobility, and athleticism. The Pacers would have to lean heavier on their PFs Allen and Turner, but both players seem ready for more minutes anyways. This clean trade could help the Pacers push the pace a little better, upping their offense to better compliment their consistently impressive defensive game.
Why the Nuggets would do it:
Chandler is expendable. Adding Young could be great for Denver. Young is not a three-point threat, but he does have decent range. He would likely make the starting 5, and bump Faried to a bench role. Nuggets fans know how well Faried can play off the bench, and would likely welcome this accommodation. Darrell Arthur could switch from their second unit PF to SF, playing behind Gallinari. This trade could help the Nuggets more than the Trade Machine suggests.
Miami Heat
ESPN's NBA Trade Machine Results: Heat Unaffected, Nuggets -1 Wins
Trading away Chris Bosh may seem too risky. Still, the Trade Machine predicts the Heat coming out of this deal in better shape than the Nuggets.
Why the Heat would do it:
They would have the PF position split between Faried and Chandler. It wouldn't matter which player got the start. Chandler would bring a well-rounded game offensive game, similar to Bosh's. Faried would supply the shot blocking and rebounding abilities required to make up for the veteran's absence.
Bosh is costing the Heat a lot of money, and may be stopping them from recovering from Dwayne Wade's departure. Trading him away for Faried and Chandler would give the team more immediate depth, and more future trade options for rebuilding (if it doesn't work out).
Why the Nuggets would do it:
They would have Chris Bosh! Floor-spreading PF, check. All-Star, check. Role model/mentor for young front-court, check. Bosh seems like a perfect fit for Denver. The Trade Machine doesn't predict his presence having a positive influence, which seems rediculous. Its Chris Bosh…
Milwuakee Bucks
ESPN's NBA Trade Machine Results: Bucks -1 Wins, Nuggets -1 Wins
The Trade Machine suggests that neither team would benefit from this trade. That may be the case, but the trade is still worthy of consideration.
Why the Bucks might do it:
Depth. They would have plenty of line-up options, and could adapt their rotations team-by-team. This would be unconventional, but could work to favor of Jason Kidd's attentive coaching style. Still, it'd be a risky trade.
Barton should be able to make up for Middleton's absence. Monroe would be harder to replace, but with Nurkic coming in as a C for the Bucks to develop, and Faried and Chandler to add to the team's overall firepower, the Bucks could be in good shape. The trade may be worth considering.
Why the Nuggets would do it:
Trading Chandler and Faried for Monroe would be a no-brainer. Both Nuggets forwards are pretty expendable, and Monroe could bring some serious momentum to the Nuggets' starting 5. He played PF in Detroit, and has enough range to spread the floor at the position. Middleton may take the starting spot from Harris, or come off the bench to replace Barton's presence.
Either way, the Nuggets would probably stand more to gain from this trade then the Bucks, due to their own pre-existing circumstances. This trade isn't likely to happen, but it would be nice for the Nuggets.
New York Knicks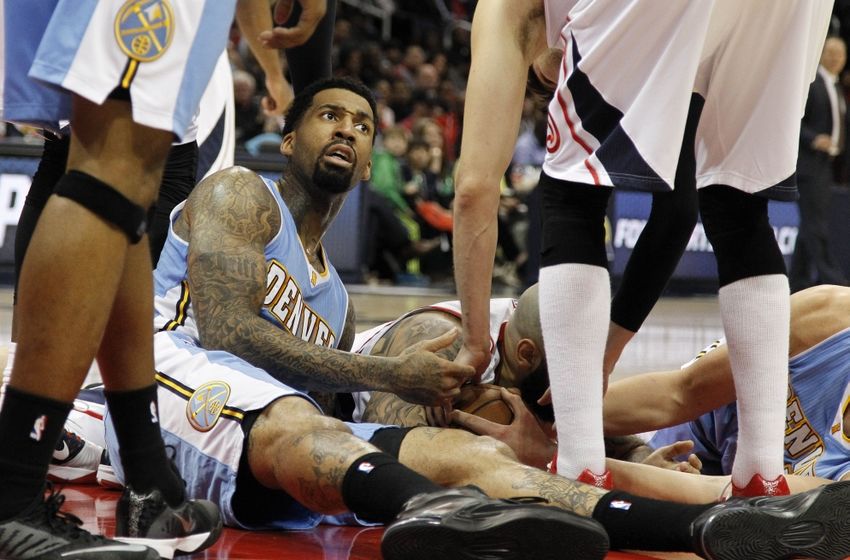 ESPN's NBA Trade Machine Results: Incompatible
There is just no way that the Knicks could acquire Wilson Chandler, other than trading away Carmelo Anthony. That is not going to happen, and neither will a trade that sends Chandler to the Knicks. They are locked in and ready to go for the 2016-17 season. No trades will involve NY for a while.
Why the Knicks would do it:
They can't!
Why the Nuggets would do it:
Let's just face it, Melo is never coming back.
Orlando Magic
ESPN's NBA Trade Machine Results: Magic Unaffected, Nuggets Unaffected
Another clean switcheroo. The Nuggets need a PF who can spread the floor, and the Magic need a reliable starting SF.
Why the Magic would do it:
They have a starting PF in Aaron Gordon. Gordon is a big name, capable of drawing in big crowds, and putting up great numbers. His range has shows great improvement, and his legendary performance in last year's dunk contest suggests an inherent rebounding and shot blocking ability. With Ibaka on the team, Gordon would only be allowed to further develop as an SF, which he could do. Still, Gordon seems better suited for the PF position, and other than Jeff Green, a player plagued by inconsistency, the Magic lack any other SFs. Swapping out Ibaka for Chandler could simply mean a better fit for both players/teams.
Why the Nuggets would do it:
Ibaka's three-point abilities would make him a valuable addition to the Nuggets. They stand very little to lose by trading away Chandler, and Ibaka's size and defensive abilities, along with the Nuggets' current offensive needs at the PF position, make him a far more valuable player (to them) than Chandler. The Nuggets should take this deal without blinking, should it ever be offered.
Philadelphia 76ers
ESPN's NBA Trade Machine Results: 76ers Unaffected, Nuggets -1 Wins
This trade would bring a new structure to the 76ers rotations, one that's success is projected to be a toss-up.
Why the 76ers would do it:
They have spread rumors of interest in trading Noel, and doing so with Denver could be a smart move. Chandler could fit into one of several different roles and positions as a 76er, and his acquisition would be mostly for a change up in talent. Will Barton would bring valuable scoring to the 76er's offense, and would likely fit in quite well as a fast-break guru.
Why the Nuggets would do it:
Nerlens Noel has just enough touch to make for a valuable addition to the Nuggets as a PF. He could start over Faried, but like the 76ers, the Nuggets would have options. This trade wouldn't be about line-ups so much as roster adjustments.
Robert Covington makes for a better bench option than Wilson Chandler. Gallinari would be allowed to control the position unhinged, with Convington supplying a worthy spark in his absence. This trade would leave a lot up in the air, but could be worth it strictly for the sake of change.
Toronto Raptors
ESPN's NBA Trade Machine Results: Raptors -1 Wins, Nuggets Unaffected
The Trade Machine suggests that the Raptors would be hurt, slightly, by this trade. This makes sense, and hints at the unlikeliness of any trade coming between these two teams.
Why the Raptors would do it:
I'm not sure that they would. Terrance Ross has already tied a franchise record (for points in a game) in just a few seasons as an NBA player. They will likely make a franchise player out of him. If they were to consider this trade, it would be for Chandler's well-rounded game.
Where Ross can easily outscore Chandler, he is disadvantaged when it comes to rebounding, boxing out, defending, and posting up. If the Raptors found these qualities more important than raw scoring ability, then this trade may be worth their while.
Why the Nuggets would do it:
Terrance Ross is they type of scoring threat that the Nuggets could use, specifically from beyond the arch. Thinking about him and Will Barton on the same bench unit is delightful. It could mean less playing time for their rookies, but still. The raw scoring power of Barton and Ross off the bench would be nuts.
Washington Wizards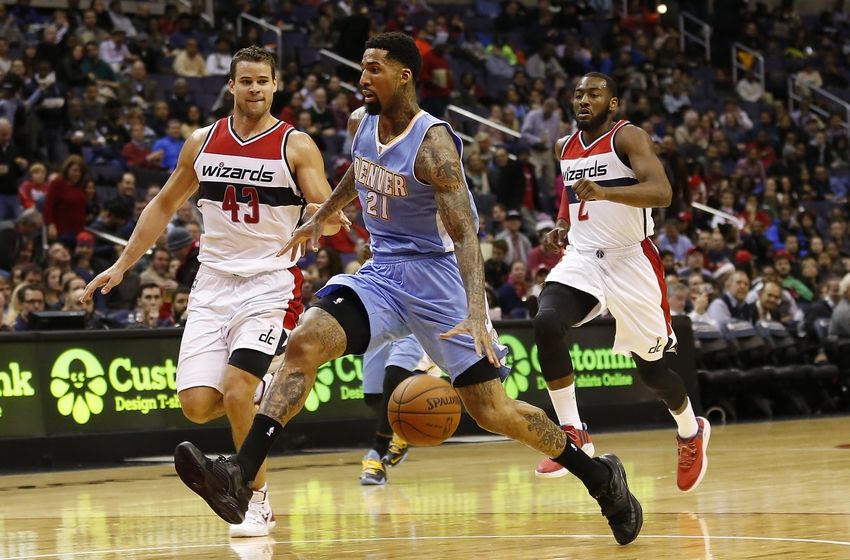 ESPN's NBA Trade Machine Results: Wizards -1 Wins, Nuggets -2 Wins
The Trade Machine suggests that both teams would come out of this deal hindered. That prediction is likely correct, making the trade very unlikely to happen.
Why the Wizards would do it:
They wouldn't. They've seen some success recently, and wouldn't want to risk falling back down the ladder. They, like the Nuggets, may seek out players of higher caliber, but aren't too likely to trade role-players. They could use more depth at the center position, but Jusuf Nurkic is probably not their answer. Will Barton would be the key addition, but the Nuggets aren't going to give him up easily.
Why the Nuggets would do it:
They would have the floor-spreading PF that they crave in Morris, and a bench option is Porter Jr capable of replacing both Barton's and Chandler's presence. Like the Wizards, the Nuggets aren't very likely to engage in this trade, but if the two were to talk, something like this would likely be the result.
After looking through Eastern Conference Teams, a few genuinely promising options unveil.
The Nuggets can very well afford to trade Chandler to another team, and couple of stand out possibilities make the East seem like a good place to start. Particularly, a deal with Atlanta, Orlando, Miami, Indiana, Cleveland, or Chicago would boost the firepower of the Denver Nuggets for this upcoming season.
Stay tuned for Part II, where Chandler's potential trade options throughout the Western Conference will be explored in similar detail.
This article originally appeared on