The Underrated Joel Embiid: In The MVP Race?
Jaylen Young/FanSided via The Sixer Sense

Fansided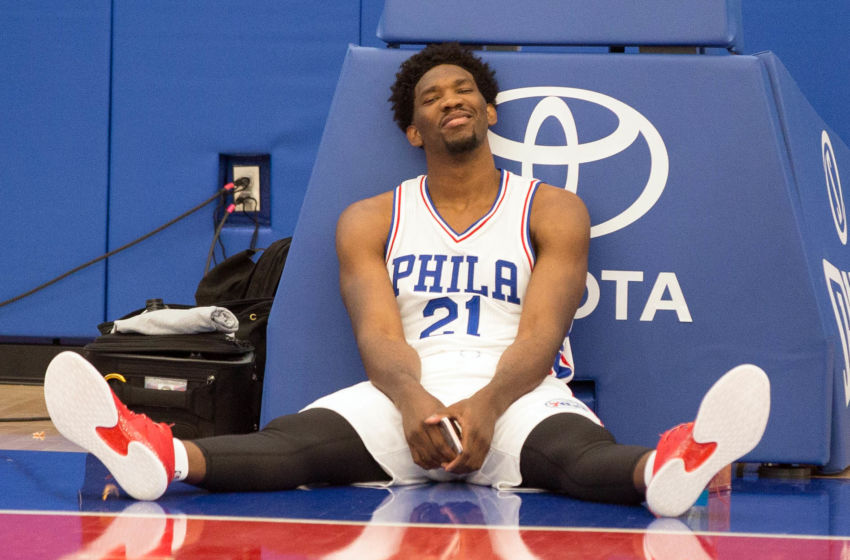 Even with all of the media attention he gets, the rookie center for the Philadelphia 76ers is still underrated by fans of the game.
I know what you're thinking. "How can a player who gets so much attention from the media be underrated?"
Well, I have the answer to that question, and it's quite simple to understand when you really dig deep into how Philadelphia 76ers center Joel Embiid has single-handedly transformed this franchise.
As always, I'm going to start by giving you the facts and then explain what they truly mean. Let's start with the most important thing in all of sports: Winning.
More from The Sixer Sense
The Wins
It isn't a coincidence that the year Joel Embiid returns, the 76ers have already won three more games than last year in 43 less tries.
Not just that, but the team has become even better recently than their record shows. Since December 8th, 2016 to January 16th, 2017, the team has put up a record of 9-8. That's a winning record through 17 games, which is almost a quarter of an NBA season.
That's nine wins in seventeen games whereas last season it took the team 82 games to reach 10 wins. If you think that's good, it gets even better.
Not only has the team won nine of its last 17 games, but when Joel Embiid starts without Jahlil Okafor next to him, the team has won seven of its last eight games. Over the whole season, the team has gone 10-12 with Joel Embiid starting without Okafor or Noel starting next to him. That's one win away from a .500 record. Can you say "TOO GOOD?"
So basically the 76ers are a near .500/playoff team when Joel Embiid starts without another center next to him. That's a long way from the third worst record of all time just a season ago. Keep in mind these feats were accomplished:
With Joel Embiid being on minute restrictions (started at only 24 minutes per game and slowly increased up to 28)
With first overall pick Ben Simmons playing zero games so far
With Nerlens Noel only playing 13 games so far (only 14.9 minutes per game)
With key shooter and ball-handler Jerryd Bayless only playing 3 games
With Joel Embiid only playing 28 of the team's 39 games due to back-to-back game restrictions.
It's not about if or when Joel Embiid will become a superstar, he already is right now at the moment I'm typing this. How many players in the history of the NBA could turn the third worst team of all time into a fringe playoff team in one season with nearly the same players?
LeBron James? Michael Jordan? Kobe Bryant? Allen Iverson? Yes. Joel Embiid has that type of impact right now. As a rookie. Not just any rookie, but a rookie who started playing basketball in his late teens while being injured for a good portion of his high school and college career. A rookie who has been injured the last two years and could only work on his shooting form. I think it's safe to say "The Process" is just getting started.
Now that we've talked about the wins, let's talk about what he actually does to get these wins.
Defense, Defense, Defense:
For all of the talk about Embiid's dunks, dream shakes, and new 3-point shot, his defense is where he really affects the game. There's only eight players in the NBA this season who've played more than 25 games (at least 25 minutes per game) with a defensive box plus minus rating greater than or equal to 3. The list:
Can you guess what the difference is between Embiid and those guys? The other seven are all either in their fourth season or more. This is Embiid's first season. There are only ten rookies who've ever done it:
Now let's go to defensive rating. According to NBA.com, of players who've played more than 25 games (and plays at least 25 minutes per game), Embiid has the fourth best defensive rating. When it comes to centers, Embiid ranks first at 99.3.
The next best is Gobert at 99.6. This means the 76ers only allow 99.3 points per 100 possessions while Embiid is on the court.
The Golden State Warriors and the Utah Jazz are both tied with the best team defensive rating/efficiency in the league at 101.2. This means that when Embiid is on the court, the 76ers are nearly 2 points better defensively per 100 possessions than the best defensive team in the NBA.
When Embiid is on the court, the team plays like the best defensive team in the NBA by a good margin. When he's off the court, the team's defense plummets to bottom five. The team has a 99.3 defensive rating with him on the court, and a 108.3 defensive rating with him off the court which would rank 25th in the league. Talk about making a difference. The team is a full 9 points better defensively per 100 possessions with Embiid on the floor.
For comparison Rudy Gobert who is an outstanding defender as well, only improves his team's defense by 5.3 points per 100 possessions.
Keep in mind also that Gobert has almost no responsibility on offense whatsoever so he strictly focuses on defense. Embiid is the centerpiece of the 76ers offense with a usage rate of 35.9 percent percent while Gobert's usage rate is at 15.4 percent.
Embiid has the third highest usage rate in the league this season, and the only rookie ever with a usage rate higher than 35 percent while playing more than 320 total minutes.
Even more specifically when talking about rim protection, Joel Embiid is the best rim protector the NBA has to offer. While opponents shoot 6.9 percent worse overall when guarded by Embiid, they shoot 18.5 percent worse when trying score on Embiid in the area of the court that's less than six feet away from the basket.
A shot at the rim and the 3-point shot are the two most efficient shots in basketball, and if there's a guy on the other team making you shoot 18.5 percent worse at the rim, you're not going to win a lot against him unless your backcourt is Stephen Curry and Klay Thompson.
There's few people talking about Embiid being defensive player of the year, but after looking at his defensive highlights with the stats to back up what you see, there's no question that he should be the frontrunner. It's a shame the league is cautious with giving rookies awards.
The last five defensive player of the year winners are Kawhi Leonard (2014-2015 & 2015-2016), Joakim Noah (2013-2014), Marc Gasol (2012-2013), Tyson Chandler (2011-2012), and Dwight Howard (2010-2011). If you throw Embiid's 2016-2017 season in the mix (using Leonard's most recent DPOY award), Embiid would rank 4th our of the six in defensive box plus minus.
Consider this though, of these defensive player of the year seasons, Embiid would rank:
First out of the six in usage rate leading by more than 8 percent
Fourth out of sixth in true shooting percentage
Third in player efficiency rating
First in block percentage leading by 2.8 percent over the second best guy
First in points per 100 possessions at 38.5 points (next guy at 32.8)
Third in defensive rebounds per 100 possessions
Embiid clearly has a much higher offensive burden than any of them did and still maintained great efficiency. Even with the heavier burden he still ranks in the middle of the pack of the defensive player of the year winners in most of the defensive statistics.
Offense
As you already know by now, Joel Embiid carries a huge offensive burden for the 76ers. His usage rate reflects that. But let's get into just how effective he is.
For starters, when Embiid is on the court the 76ers have an offensive rating/efficiency of 101.9 points per 100 possessions. While this number isn't the greatest, and would rank only 26th in the league, it's a lot better than when he's off the court.
When Embiid is off the court the 76ers offensive rating goes from 101.9 to 97 which is basically a 5 point difference. An offensive rating of 97 would easily be the worst in the league by almost two points.
Also, when Embiid is on the court the team has a true shooting percentage of 55.4 percent compared to 51.8 percent when he's off. That 55.4 percent number would be 11th best out of 30 teams. The percentage when he's off the court would be 29th.
There's only three players this season that score at least 38 points per 100 possessions, with a player efficiency rating of at least 23, a true shooting percentage of at least 57, and an assist percentage greater than or equal to 15. Kawhi Leonard, Isaiah Thomas, and Joel Embiid. If these guys keep this up they'd be apart of a 15 man list of guys to ever do it (who've played more than 15 games that season). The names would be:
LeBron James
Michael Jordan
Stephen Curry
Kobe Bryant
Kawhi Leonard
Isaiah Thomas
Joel Embiid
Embiid would be the youngest player ever to accomplish this. It's safe to say Embiid has been producing on the offensive side of the ball.
Overall
When combining his offensive and defensive numbers, the 76ers are 13.9 points better per 100 possessions with Embiid on the court rather than off.
Instead of talking about whether Embiid is the Rookie of the Year, Defensive Player of the Year, an All-Star, an All-Star starter, or an All-NBAer, we should be talking about if this man is the Most Valuable Player. The proof is in the game tape and in the statistics. He has that type of an impact.
While I know he won't even be considered due to what the team's record will be and the fact that he's a rookie, the truth is that there are not many guys as valuable to their team as Embiid is. When he doesn't play the team is possibly one of the 10 or 15 worst teams of all time. When he does play, they compete at a playoff level. This isn't a myth or rumor. This is a fact shown by the numbers.
Joel Embiid has gotten a lot of praise so far. When you compare it to what he's actually doing on the court though, he isn't getting anywhere near enough.
If there's one thing I know, it's that I trust the process. After researching and finding out the factual things Embiid has been doing on the basketball court, how can you not?
*All statistics used are accurate as of January 17th, 2017, 3:00PM
This article originally appeared on