The Top 10 Moments Of Kevin Garnett's Career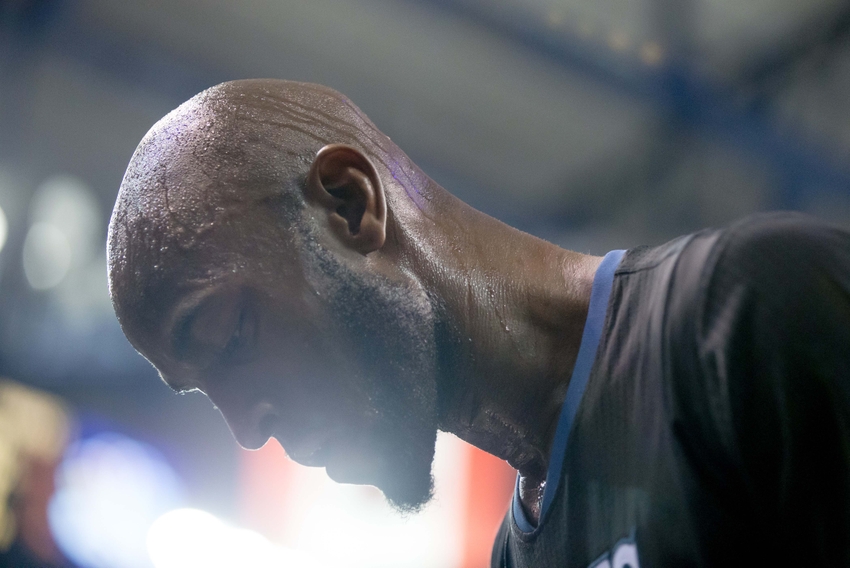 With Kevin Garnett's Hall of Fame career officially over, here are the top 10 moments from his unforgettable 21 NBA seasons.
In a summer that also saw future Hall of Famers Kobe Bryant and Tim Duncan retire, another early 2000s legend and all-time NBA great decided to call it quits too. On Friday, Kevin Garnett officially announced he'd be retiring after 21 unforgettable seasons.
A 15-time All-Star, nine-time All-NBA selection and 12-time NBA All-Defensive Team selection, KG is the greatest player in Minnesota Timberwolves franchise history, a former MVP and an NBA champion.
He's a first ballot Hall of Famer by every measure, one of the greatest defenders in league history and one of the most maniacally competitive people to ever play the game of basketball.
Ever since he was drafted fifth overall in the 1995 NBA Draft, KG has endeared himself to fans around the world with his exemplary two-way play, his unquenchable thirst to win and his infectious passion. From his on-court accomplishments to the Paul Bunyon-esque locker room stories that almost seem like tall tales now, Garnett's legacy will stand the test of time.
In order to properly honor him and the end of his fantastic 21 years in the league, here's a look back on the top 10 moments of Kevin Garnett's NBA career.
10. His Final Goodbye
There's no question that Garnett's exit from Minnesota after 12 seasons was a messy one. The team had tried and failed to put adequate talent around him for years, and KG's desire to win a title put unavoidable strain on his relationship with the franchise.
But after seven and a half seasons away, winning a championship with the Boston Celtics and reaching the twilight of his career, Garnett was able to reunite with Flip Saunders and the organization that had embraced him from the very beginning — the Minnesota Timberwolves.
Over the final one and a half seasons of his career with the Wolves, KG only suited up in 43 games. He only managed 3.2 points and 3.9 rebounds in 14.6 minutes per game last season, but his return was about far more than his on-court contributions. At the very least, we got one last highlight from him that was quintessential KG:
For the Wolves, this move was all about rebuilding the bridge between the franchise and its greatest player of all time. It also served as a great method for providing youngsters Andrew Wiggins and Karl-Anthony Towns with a positive mentor who'd set an example of how to defend, how to develop good habits in this league and how to leave 150 percent on the court.
Unfortunately, the passing of Flip Saunders robbed the world of a great man and a good basketball mind, but it also took away the biggest reason KG had returned home in the first place.
With Saunders gone and the Timberwolves ready to begin a new era, it was time for KG to step away and call it a career. But it was hauntingly fitting that he was able to retire with the Wolves after everything he had given the franchise.
9. Winning Defensive Player of the Year
Technically winning this award could've fallen under the upcoming "Awards And Accolades" section, but as quite possibly the greatest and most versatile defender in NBA history, Garnett winning the Defensive Player of the Year Award probably deserves its own entry.
In his first season with the Celtics, KG averaged 18.8 points, 9.2 rebounds, 1.4 steals and 1.3 rebounds. He was the defensive anchor of a Boston team that surrendered 96.2 points per 100 possessions, ranking first in the NBA by a wide margin for defensive rating.
Garnett finished with 493 points in the vote, including 90 of 124 first place votes. Marcus Camby finished a distant second with 178 points.
By winning that award and anchoring the league's best defense, KG solidified his place among the greatest defenders in NBA history. His versatility to guard smaller, faster players in the midrange was impossible to overlook, as was his commitment to rebounding, blocking shots and doing all the little things it takes to make a team successful.
It may not seem like much, but this award was essential to KG's NBA resume, and it's kind of bizarre he only won it once. By doing so, however, he brought home the only major award the Celtics franchise had not captured yet in their prestigious history.
8. The Taste Of Gold
In the 2000 Summer Olympics in Sydney, Garnett got his first chance at a major accomplishment at a young age.
Playing alongside big names like Jason Kidd, Gary Payton, Alonzo Mourning, Tim Hardaway, Vince Carter and Allan Houston, KG was a focal point in USA Basketball winning the gold medal with a total point differential of +146.
His 10.8 points, 9.1 rebounds, 2.1 assists and 1.1 steals per game might not sound like much, but Garnett actually led the team in rebounding and was second in scoring behind Carter. Speaking of which, his reaction of VC's legendary dunk over Frederic Weis will stand the test of time:
Notice how Garnett is the only one amped up enough to risk getting popped in the jaw by Carter's fist pump? It was just a sign of things to come with his competitive fire, but the Olympics served as yet another reminder that this guy was going to achieve great things in the NBA.
7. The Highlights
When you play in this league for 21 seasons, chances are you're going to have your fair share of highlights. Hell, even in his second to last season, as we saw earlier, he managed to posterize a much younger Blake Griffin!
In his heyday with the Wolves, KG was unstoppable on both ends of the floor. He was a shot-blocking nightmare on one end and a regular threat to posterize your team's favorite big man on the other.
From his dunks over Raef LaFrentz and Shawn Bradley during his time in Minnesota to his game-winners over the Detroit Pistons, Portland Trail Blazers and New York Knicks (in overtime, with the Celtics), there were plenty of iconic and unforgettable highlights to go around.
With KG retiring, there's never been a better way to kill time this summer than to relive them all.
6. Accolades And Awards
So how do Kevin Garnett's numbers and trophy case compare to the greatest NBA players of all time? Glad you asked.
As a 15-time All-Star, KG's popularity with the fans was never in doubt. He has an MVP, Defensive Player of the Year and All-Star Game MVP Award to his name, that latter of which he won in 2003 behind a whopping 37 points.
The only players in NBA history to win all three of those awards are Kevin Garnett and Michael Jordan, and we should also mention that KG was the first player to be drafted out of high school since 1975.
For his career, Garnett averaged 17.8 points, 10.0 rebounds, 3.7 assists, 1.4 blocks and 1.3 steals per game on 49.7 percent shooting — numbers that would have undoubtedly been better had he not played until he was 40 years old. For 21 seasons in the league, however, those are still damned good numbers.
Thanks to the longevity of his career, KG can say he's the only player in NBA history to reach at least 25,000 points, 10,000 rebounds, 5,000 assists, 1,500 steals and 1,500 blocks. During his prime, he became the only player ever to average a 20-9-4 stat line for nine consecutive seasons.
With 19,201 points, 10,718 rebounds, 4,216 assists, 1,590 blocks, 1,315 steals, 607 double-doubles, 16 triple-doubles, 36,189 minutes and 970 games played during his time in Minnesota, Kevin Garnett owns pretty much every franchise record there is.
In 2002-03, he became just the third player in NBA history to lead his team in scoring, rebounding, assists, blocks and steals in the same season, joining Dave Cowens and Scottie Pippen (and later, LeBron James).
In terms of all-time ranks, Garnett retires as the league's all-time leader in defensive rebounds (11,453). His 26,071 points rank 17th all time, while his 50,418 minutes rank third all time. He's also in the top 20 for field goals made, steals and blocks.
Between all the awards, accolades and memorable stats, there's no question Kevin Garnett is heading for the Hall of Fame in 2021.
5. Big-Time Performances For The Big Ticket
Kevin Garnett only advanced past the first round of the playoffs once during his prime in Minnesota, but there's no question those seven straight first round exits were not on him. With KG usually dragging a lackluster squad to the postseason, you can be guaranteed there were some unforgettable moments during the regular season and the playoffs.
For starters, we can't forget to mention his career high 47 points (and 17 rebounds) against the Phoenix Suns in 2005.
Garnett was never a high volume scorer, but games like this one showed he could take over in the scoring column when there was a need.
In the playoffs, KG delivered clutch performances time and time again. In Game 2 of the 2003 Western Conference quarterfinals, KG dropped a massive 35-point, 20-rebound, seven-assist, two-steal, one-block performance on the Los Angeles Lakers to tie the series at 1-1.
The Lakers would go on to beat the Wolves in six games, but KG's penchant for putting the team on his back was not overlooked.
In 2004, KG did it again with a more balanced roster. Despite injuries to Sam Cassell, Garnett helped carry Minnesota to the conference finals, where they again faced the Lakers. Trailing 3-1 in the series and facing elimination, KG's Game 5 performance was the definition of clutch.
With 30 points, 19 rebounds, four assists, one block and one steal, Garnett helped the Wolves force a Game 6, which they lost. However, that was just one of many playoff performances during his MVP season that proved his value to Minnesota basketball.
Garnett's tendency to step up in big playoff games carried over with him to his time in Boston as well. During Game 5 of the 2008 Eastern Conference semifinals, KG dashed the hopes of Cleveland Cavaliers fans with 26 points, 16 rebounds, four assists, three blocks and two steals.
The series was tied at 2-2 at that point, and KG's Big Ticket performance swung momentum in Boston's favor.
Garnett's knack for delivering big performances against LeBron James was hard to ignore as well. In Game 3 of the 2011 Eastern Conference semifinals, he provided Boston with its only win of the series behind 28 points, 18 rebounds and two steals.
We'll get to a couple more huge playoff moments during KG's prime with the Timberwolves and his championship season in Boston, but suffice it to say that his lack of playoff success early in his career was not indicative of this guy's indomitable will to win.
4. An Everlasting Competitive Fire
So far, we've mostly covered Kevin Garnett's accolades, accomplishments, statistics and playoff moments. But none of this truly captures KG as person or player, since what made him so unforgettable was his unquenchable thirst to win.
KG's passion for the game rivaled that of Michael Jordan and Kobe Bryant to the point of coming off as maniacal or just downright weird. His intensity intimidated opponents, front offices and reporters alike. From his trash talk to the way he would block meaningless shots after the whistle to send a message, KG might be the most beloved NBA bully of all time.
Before games, Garnett would head-butt the stanchion of the basket to get himself properly psyched. He carried that same intensity with him throughout the game, and a lot of the time, it would transfer off the court too.
For example, in perhaps the most early-2000s sentence ever written, there was the time Kevin Garnett destroyed part of his house because he was displeased with the effort on MTV's Making The Band:
There was the time he completely shattered Joakim Noah's perception of his childhood hero during Noah's rookie season:
There was the time before an NBA Finals game when KG had to ask Doc Rivers to put him in timeout because he was too hyped up:
None of this should be surprising for a guy who inspired thousands of 2000s kids with his ads for Adidas and proved that Impossible was nothing.
None of it should be shocking for a guy who once compared his jump shot to a booty call, blocked shots after the whistle and did bare-knuckle pushups in the middle of playoff games.
But even if none of it is shocking, KG's unwavering commitment to winning never came off as cockiness of pigheadedness. It was always endearing somehow, even if we often questioned the man's sanity in the process.
That demeanor fit in perfectly with the hard-nosed city of Boston, not only because he backed it up with his play, but because fans everywhere could identify with the grit and insatiable desire to win.
He didn't make many friends in the process, but that was never his goal. The trash-talking solidified KG's status as an outright wacko at times, with recent scuffles with Dwight Howard and Carmelo Anthony (allegedly because of what he said about Melo's wife, though that was never credibly proven) being great examples.
Sometimes, he definitely crossed the line. What he said about Charlie Villanueva was insensitive, and some of the tall tales surrounding his trash talk are truly eye-opening.
But most of the time, we chalked up Kevin Garnett's competitive streak to KG just being KG. Him making Glen Davis cry in the huddle, telling Craig Sager to burn all his clothes or refusing to acknowledge Ray Allen after the sharpshooter left Boston for the Miami Heat was amusing and perfectly in line with his character.
It defined his legacy to a certain degree. Kevin Garnett never came off as the most sane individual, but there was no question about who you'd want on your side when it was time to go to war.
3. 2003-04 MVP Season
During the 2003-04 NBA season, Kevin Garnett finally broke through as the NBA's alpha dog — both individually, and from a team perspective.
Averaging a monstrous 24.2 points, 13.9 rebounds, 5.0 assists, 2.2 blocks and 1.5 steals per game, KG was an absolute beast for a Timberwolves team that won 58 games and earned the first overall seed in the West. Even better, the Wolves made it all the way to the conference finals.
Minnesota may have lost that series to the Lakers, but after seven straight seasons of first round playoff exits, Kevin Garnett finally got over the hurdle thanks to an improved supporting cast that included Sam Cassell and Latrell Sprewell. That franchise-best season was truly legendary for Garnett and Wolves fans everywhere.
By winning his first and only MVP Award, KG cemented his place among the all-time NBA greats. He hadn't won a championship yet, nor would he during the best statistical season of his career, but his status as a two-way beast was never in doubt.
Even better, that season proved that Garnett was not just some superstar putting up great numbers on a crappy team; by providing the Big Ticket with the best supporting cast of his Timberwolves career, it was all too rewarding to see him put up even better numbers than the year before.
2. Anything Is Possible
Kevin Garnett would be a first ballot Hall of Famer even if he had never won a title, but there's no question that 2008 championship season with the Boston Celtics — his first season after leaving Minnesota — was one of the sweetest addition to his NBA resume.
During the season that brought Boston its first NBA title since 1986, Garnett averaged 18.8 points, 9.2 rebounds, 3.4 assists, 1.4 steals and 1.3 blocks per game.
He finished third in MVP voting, helped lead the Celtics to a league-best 66-16 record and was the decisive factor in the championship-clinching Game 6 of the NBA Finals. He capped off the six-game victory over Boston's biggest rival with 26 points, 14 rebounds, four assists, three steals and one block.
Before KG, the Celtics were a team led by an uninspired Paul Pierce. Everyone felt like his career was wasting away and it translated into his poor body language at times. But with the arrival of Garnett, Ray Allen, the Boston Three-Party era had begun and Pierce was reenergized like never before.
The Big Ticket was absolutely right in a moment that will forever serve as a career highlight: Anything is possible.
That 2010 Game 7 Finals defeat will forever haunt Celtics fans, because in a game that seemingly no one wanted to win down the stretch, Boston missed out on what should've been a second championship.
But no one can ever take away the impact Kevin Garnett had in Boston, nor can they take away the franchise's 16th NBA championship from the 2007-08 season. Anything is possible indeed.
1. 2004 Western Conference Semifinals, Game 7
Winning a championship was the height of Kevin Garnett's team success, and winning the MVP was the height of his individual success.
But the 2004 NBA Playoffs provided the quintessential look at how the majority of Kevin Garnett's career went: One undeniably talented and dedicated man doing everything in his power to win for a less than stellar Minnesota Timberwolves team.
Though the Wolves added Cassell and Sprewell that season, Cassell was slightly banged up and the onus once again fell on KG to deliver his team to the promised land. Only this time, Garnett was finally able to carry them all the way to the Western Conference Finals.
In an intense seven-game series with the Sacramento Kings in the conference semifinals, Garnett averaged 23.9 points, 15.4 rebounds, 4.3 assists, 3.4 blocks and 1.7 steals per game. He saved his best performance for that legendary Game 7, which he would describe beforehand with an amazingly fitting war metaphor.
In the series' decisive game, KG delivered a whopping 32 points, 21 rebounds, five blocks, four steals and two assists in 46 minutes of action — on his 28th birthday, no less.
The Wolves won the narrow game by three, due in no small part to KG's two-way dominance and 12-of-23 shooting. In fact, only four other Minnesota players — Cassell, Sprewell, Wally Szczerbiak and Trenton Hassell — managed to score at all.
After the game, he jumped up on the scorer's table and gave us an everlasting look at what Kevin Garnett's prime with the Minnesota Timberwolves was all about. They never reached the pinnacle of NBA success, and it often took one man's Herculean effort to get them as much success as they had, but damn it if it wasn't worth it to Kevin Garnett and the Timberwolves faithful.
It was not the peak of Garnett's career, but it was as fitting a lasting memory for his Hall of Fame career as any.
This article originally appeared on