The Thunder Election that Could Unite us All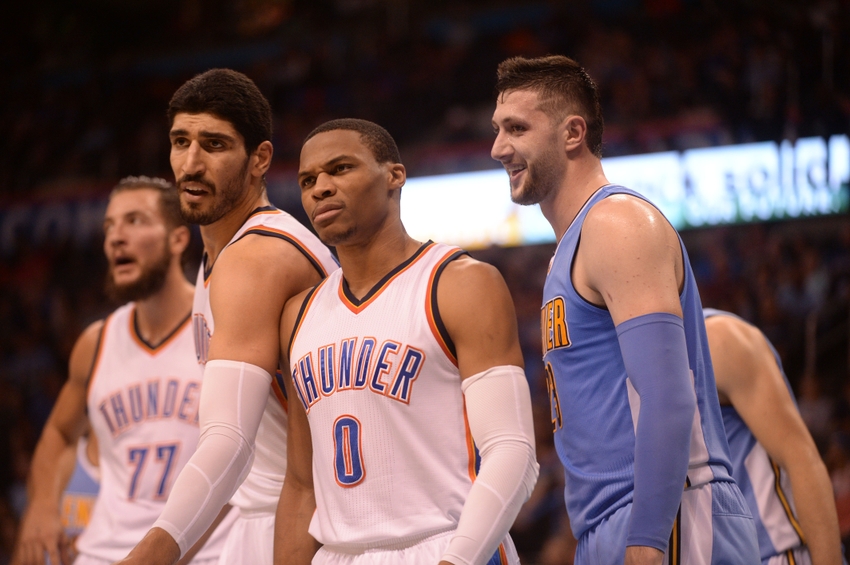 Regardless of your feelings toward this year's election, the race for the presidency is over. But, the Oklahoma City Thunder season has just begun.
As basketball fans, we're not here to talk to politics. Sports unite us, and there's no doubt this team has done for that Oklahoma City. So in the spirit of the season – and to lighten the mood – let's take a look at the perfect White House Cabinet. An organization run by a team of the best basketball players in the world. A group of leaders, passionate athletes, and trendsetters.
If the Oklahoma City Thunder campaigned for political positions, here's what the resulting 2016-2017 Thunder Cabinet would look like:
PRESIDENT: Russell Westbrook
Is there any doubt? Russell Westbrook is the leader of the Thunder and, at least according to a recent anecdote from Enes Kanter, he always has been. He's fearless. He's strong. He doesn't back down. He can't stop. Won't stop. He does what he wants.
Already this season, Westbrook has become the first player to reach a 50-point triple-double since Kareem Abdul-Jabbar did it 40 years ago. He's also the first player in NBA HISTORY to book 100 points, 30 rebounds, and 30 assists in the first three games of a season.
More than just the next MVP, Westbrook is also a fashion icon, a must-follow social media user, and a philanthropist.
In short, he's the leader none of us deserve. But without question the leader we all need.
VICE PRESIDENT: Steven Adams
The picture up there – the one that makes them look like small babies – proves how long this presidential duo has worked together. If Westbrook were to run this country (read: team), there's no one more fit for his side than everyone's favorite New Zealander.
Steven Adams is a player who has quickly become a force in the NBA. The 23-year-old big man joined the Thunder in 2013, where he averaged 3.3 points and 4.1 rebounds. This season, his numbers are vastly different. He's currently averaging 10.3 points and 8 rebounds. In addition, he's serving up an average of 1 assist, 2 steals, and 1 block.
One of the most prolific shots this year features a Westbrook/Adams combo. It works time and time again for a reason. And that reason is because these two players mesh well, and they belong together.
Undoubtedly a phenomenal young player, Adams is also a beloved Oklahoma City celebrity for his goofy personality and famous quips. He's known for saying his home town smells like farts. He's not afraid of hair growth. And, he has a smile that could melt basically anyone.
SECRETARY OF HOMELAND SECURITY: Enes Kanter
Traditionally, this government position is responisble for protecting the U.S. and the safety of its citizens. And since Enes Kanter can block a ball, throw it to his 'Stache Bro on the other end of the court, and dunk a basket of his own in one string of play, he's pretty good at protecting the team.
In the last two games of the season, Kanter scored a combined 44 points and 20 rebounds. That's an offensive/defensive combo of protection the Thunder needs.
Not to mention, he won't take crap from anybody.
During the first meeting between the Golden State Warriors and the Oklahoma City Thunder this season, Kanter had his guard up. In fact, he even had to be calmed down by Vice President Adams after yelling at former teammate Kevin Durant from the bench. In true home security fashion, it appeared as an attempt to protect Westbrook and other team members from the obscenities Durant was handing out.
Off the court, Kanter also takes a personal interest in foreign affairs. During this year's (real) election, he was very outspoken on Twitter. In fact, he's always outspoken on Twitter.
SECRETARY OF INTERIOR: Jerami Grant
He's the new guy on the team, but he holds a position in our Thunder Cabinet. The former 76ers player acquired in a trade involving Ersan Ilyasova has already proven himself a valuable addition to the team.
And he earned his position of Secretary of the Interior with a delicious dunk in the Thunder vs. Warriors game. In that first post-exodus meeting with Durant, Grant fearlessly drove past the former MVP and planted a star-quality dunk right in KD's face.
Of course, Durant reciprocated the dunk later and even added a series of heated explicits. But, still. Grant was gutsy and confident enough to go for the dunk, earning him the role as ultimate protector of the interior.
SECRETARY OF DEFENSE: Domantas Sabonis
"Defense, defense, defense!"
You can hear this chant from Loud City at every Thunder game, and it's a command given to each player wearing an OKC uniform. But, there can be only one Secretary of Defense and, at least for now, that position is held by rookie Domantas Sabonis.
Still a young player, Sabonis has been compared to the likes of young Steven Adams. He's someone who makes too many fouls and takes iffy shots, but so was Adams just a couple of seasons ago. Sabonis is poised to experience similar athletic growth as he gains minutes on the court.
He's the son of a famous basketball player, but he's making a name for himself on his own. So far this season, he's grabbed 31 rebounds, 10 of which came in the last game against Miami. Look for him to become a defensive superstar in a few short years.
SECRETARY OF TRANSPORTATION: Victor Oladipo
He's averaging 16.7 points so far this season, in addition to 3.4 rebounds and 1.6 assists. They call him Mr. Feathery.
In an interview, Victor Oladipo explained the monicker:
"When you think of feathery, it's nothing negative. So feathery is a positive lifestyle," he said. "It's better than better. It's better than great, but it's not heavenly, it's right under there. You cannot live a feathery lifestyle so I'm the one and the only, Mr. Feather. So if you refer to me as Mr. Feathery, that's fine. Vic is fine. Dipo, whatever you want to call me, but if you call me Mr. Feathery, we're here, we're definitely here."
Since feathers belong on birds, and birds belong in the sky, Oladipo's natural cabinet position is Secretary of Transportation.
That, and the fact that he can actually fly. He often comes out of nowhere to drive home a dunk or spank away a rebound, much akin to Michael Jordan's ability to soar across the court.
SECRETARY OF ENERGY: Andre Roberson
The Secretary of Energy is traditionally known as someone who develops technology and innovations focused on energy regulation and production. But, that's kinda boring compared to what Andre Roberson, Thunder Secretary of Energy, does.
He's a player with almost as much energy as President Westbrook. Almost. When he's on the court, you never know what you'll get. Battling the Minnesota Timberwolves, Roberson dropped two three-point shots, grabbed a rebound, and dished out a block. In the next game, he grabbed 5 rebounds, handed out 2 assists, nabbed 3 steals, and scored 5 points.
If he's needed at the perimeter, he'll be there. If it's the paint where his assistance is needed, he's on it. Grab a steal? Check. Throw an assist? Got it. Roberson is a strong player whose energy and drive don't go unnoticed.
SECRETARY OF TREASURY: Alex Abrines
Cha-chiiiiing… it's a Thunder money ball!
If you're unfamiliar with the velvety speech of Matt Pinto on Thunder Radio Network, you're not only missing out on exceptional live reporting, you also may be unfamiliar with the fact that the phrase "Thunder money ball" refers to that beloved 3-point shot.
Good thing Thunder Secretary of the Treasury isn't. Because Alex Abrines is no stranger to making shots from behind the line. So far this season, he's made 5 "money balls."
After all, there's a reason Twitter knows him as Al3x Abrin3s. But, he does need to be careful with his new role. In the most recent game against Miami, Abrines made 7 attempts at the coveted shot, and scored one.
Still, we trust he will represent his team well in this prestigious Cabinet role.
SECRETARY OF VETERANS AFFAIRS: Nick Collison
Put him in coach, he's ready to play.
Nick Collison has been with the organization since he was drafted to Seattle in 2004. He's a franchise player, and hasn't played with any other teams in the 12 years since.
Let that sink in… 12 years.
He's a veteran player in every sense of the word, and many players have credited him with helping them advance their game. He even took Vice President Adams under his wing as of late, befriendng and coaching the younger player.
It's no secret that Collison isn't getting much time on the court. In fact, he's only played in one of the seven season games so far, and only for 7 minutes at that. Yet, in that 7 minutes, he grabbed 2 rebounds and dished out 3 assists.
Part of this is due to the fact that Billy Donovan likes to develop his younger players by giving them ample opportunity to play. But, fans miss Collison. If this is a sampling of what a Collison-less team would look like, count me out.
SECRETARY OF HEALTH AND HUMAN SERVICES: Cameron Payne
Yes, those are feet.
Because they are the reason Cameron Payne is the new Secretary of Health and Human Services.
Unfortunately, he has yet to play this season… on account of those feet. After undering a successful procedure to repair a fracture in his right foot in July, Payne re-injured the foot in September.
From his spot on the bench, Payne focuses on health (his own) and human services (supporting the team).
SECRET SERVICE: Semaj Christon, Anthony Morrow, and Joffrey Lauvergne
Every assembly of this magnitude needs body guards. Luckily for the Thunder White House, they have the Secret Service – a versatile collection of players they can always count on.
Joffrey Lauvergne, the 25-year-old big man from France, is averaging 4.3 points, 3.5 rebounds, and 1.2 assists so far this season.
Thirty-one-year-old shooting guard Anthony Morrow isn't getting as many minutes as his fellow secret servicemen, but don't count him out just yet. The "A-Mo" chants are due to return soon.
Rookie Semaj Christon ("backwards James") is proving to be an affective body guard as well. In addition to 33 points, he's grabbed 12 rebounds and handed out 20 assists this season.
SECRETARY OF EDUCATION: Kyle Singler
When Kyle Singler played basketball at Duke University, he was actually a top scorer. He averaged 16.5 points per game in 2009, and went on to score 30 points against Georgia Tech the following year. He was refered to as "the toughest player I've ever played," and was named NCAA Final Four Most Oustanding Player when he averaged 20 points, 9 rebounds, and 3.5 assists per game.
In the Thunder contest against Minnesota (his most recent game), Kyle Singler racked up the following equally alarming statistics:
0 points
0 rebounds
0 assists
0 steals
0 blocks
1 foul
3 missed shots
The 28-year-old's best days may be behind him, granting him the title of Secretary of Education, so he can forever live in his college glory days.
This article originally appeared on