The Stretch 4: Wayne Ellington Is Back and Too Many Injuries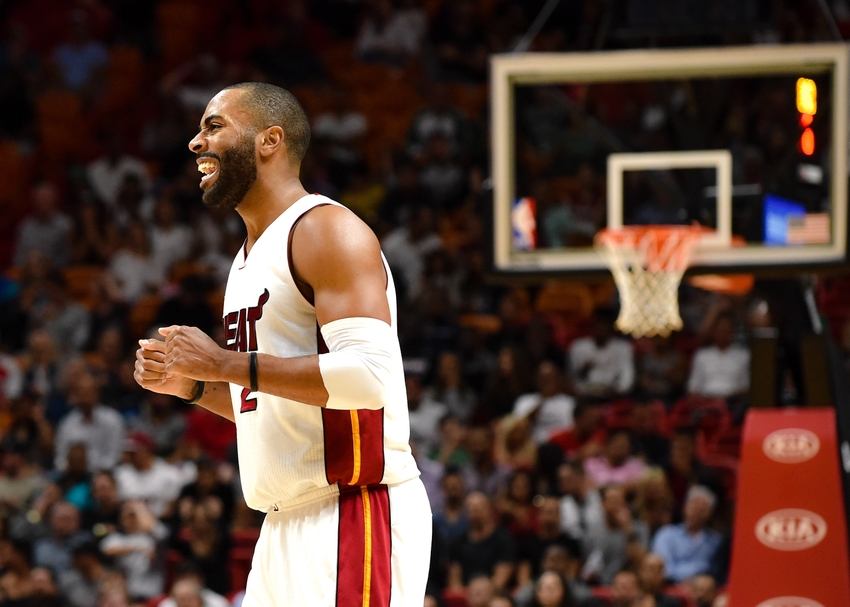 It's officially December and the Miami Heat are one week further into their 2016-17 campaign; so dive into The Stretch 4 to check out what went well for them, and what still needs improvement.
Happy December!
While the majority of Heat Nation may still be basking in 80 degree weather and sunshine, I'm definitely feeling the seasons change as Chicago got its first snow of the season yesterday.
And the Miami Heat have certainly been experiencing their own handful of changes recently.
Currently 7-13, the Heat are still continuing their climb up to hopefully reach at least .500. This week, they split a pair of wins and loses, starting with an 112-104 loss against the Boston Celtics (their only home game), an 106-98 win over the Denver Nuggets, an 111-110 victory versus the Utah Jazz and a 99-92 defeat by the Portland Trailblazers.
The good news is, the team is still playing well on the road. Something that can't be said of just any organization.
The bad news of course being they can't seem to stop struggling at home.
But I'll get to the unpleasantries later. For now, it's time to focus on what went well for Miami this time around.
Like Wayne Ellington's return.
Yes, the man with the golden arm is back. And what a first week he had.
Although he started off slow, playing only 27 minutes in the matchup against the Celtics and finishing with 9 points, 2 rebounds and 2 assists, two days later he left quite a mark versus the Nuggets: Ellington recorded 22 points (on 5-of-9 shooting from downtown no less), 2 rebounds, 2 assists and 4 steals in 32 minutes of play.
Claps all around.
As of now, Ellington is averaging 15 points a game, and fans should absolutely expect to see that number rise as he becomes more comfortable with playing Miami Heat basketball.
"Yeah, I think he was meant to play in a Heat uniform," head coach Erik Spoelstra said after Ellington's performance in Denver. "I think he was auditioning all those years."
The old Heat killer is clearly playing for the other side now.
What perfect timing too.
Goran Dragic has also found the ideal moment to step up his game.
Dragic, who too came back on Monday versus Boston after sitting out with an injury, has been unstoppable as of late.
Finishing with 27 points, 2 rebounds and 17 assists his first game back, it was clear the 30-year-old had not missed a beat upon his return. In the last four games, Dragic has averaged 22.0 points, 4.5 rebounds, and 9.5 assists a game, on 36 minutes of play.
And as if those numbers alone weren't enough to make me happy, Heat Nation suddenly seems to have changed their mind regarding their "trade Dragic" campaign. An idea I have been vehemently opposing since day one.
While his stat-line has consistently proven that he's an elite point guard, many people were worried that perhaps he wasn't cut out for this specific role. That maybe he wasn't making the team better. However clearly, that's simply not the case.
Not anymore, anyways.
Because like I've been saying, without Dwyane Wade at the head, Dragic is free to run the offense his way. And most importantly, at his pace.
So enough with this trade talk, alright?
After all, who doesn't love seeing a good old Dragic to Hassan Whiteside lob?
And speaking of hot plays, there's reason to celebrate the team's most recent road trip.
2-1 may not seem like that great of a record, but considering 0-3 was also very possible… Miami did good.
"As much as this business is about the wins and losses – and we get that as much as anybody – it has to be about our process and getting better," explained Spoelstra.
And he's not alone in his sentiments. Whiteside agrees.
"You'd love to go 3-0, but any time you go positive on a road trip it's always motivation. I think we build on this. We've just got to play like this at home. We've got some building blocks to build on. When we get back to Miami, we can build on this."
What exactly can they build on though?
Well, things like only turning the ball over 12 times over a two-game span (which is actually a franchise-best accomplishment), and averaging 103.2 points over the last four games.
As cliche as it might be, every situation is a learning experience.
And if we're being honest, the Heat could have bagged their matchup against the Trailblazers too… If they had all their guys available.
Which brings us to the fact that the Heat are now without Justise Winslow, Dion Waiters, Josh Richardson, Derrick Williams and Luke Babbitt.
No, that's not a mistake. Yes, you read that right.
The team is short five players, three of which one could call rather crucial to Miami's offense.
Which is my obvious "nay" of the week.
Of course, there's not much the Heat can do about this. And I would rather them sit a player out for longer than necessary to be cautious, than bring someone back too soon, only to sustain a worse injury.
But it still sucks. Bad.
Without the above mentioned guys, the likes of Josh McRoberts and Rodney McGruder have had to step it up. Which so far could have gone worse, but is not exactly a consistent solution for success moving forward.
If Miami has any chance of redeeming itself, the team has to get healthy. And soon.
Sending positive vibes for the next four games ahead. Till next time…
This article originally appeared on