The Stretch 4: Goran Dragic's Presence and Four Losses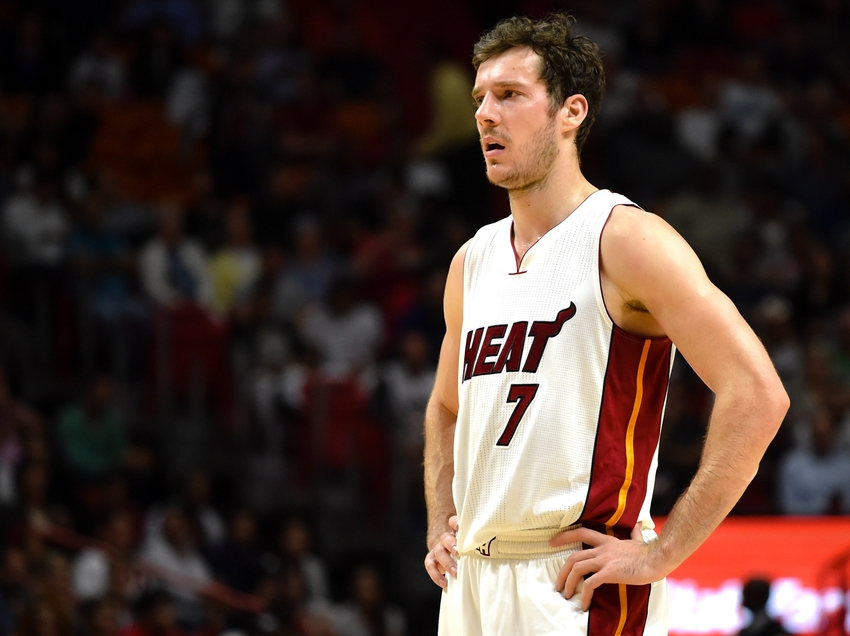 The Miami Heat are having one heck of a 2016-17 season so far, and The Stretch 4 is once again here to dissect the good and the bad.
It's Sunday, December 11. And as I write this, Chicago is sitting pretty at 32 degrees, looking like an overstuffed snowglobe, while Miami is pushing a humid 75.
However, I happen to love the snow.
And it's raining in South Beach.
Probably because even the heavens are crying over what the Miami Heat have become.
Now 7-17, with only four teams in the league fairing worse, the Heat are looking to snap a five-game losing streak; four losses of which all took place this week. Starting off with their only home game, Miami fell 114-103 to the New York Knicks on Tuesday. They then hit the road and got defeated 103-95 to the Atlanta Hawks. The fun continued when they arrived in Ohio, finishing 114-84 to the Cleveland Cavaliers. Finishing off their unsuccessful run here in my hometown, when the Chicago Bulls came out on top 105-100.
Trust me, as much as you're hurting… at least you don't have to compile three positives from the past week to focus on, when all you want to do is hang your head in a dark corner, alone, and weep.
Kidding.
Mostly.
To be fair, despite their horrendous record, the Heat do have a few things to be proud of recently.
The first being that Goran Dragic is simply the man.
I may be Dragic's biggest fan at this point, but hear me out anyways.
Currently, the 30-year-old is averaging 18.0 points, 3.8 rebounds and 6.6 assists a game in 33.5 minutes of play. He is exuding a high level of energy night-in and night-out, keeping his teammates motivated as a leader and oh yeah, is running the offense at a crazy fast pace.
That is, when his teammates can keep up.
I'll admit that his way of doing things isn't always successful. And head coach Erik Spoelstra still needs to work on making sure Dragic is really fitting into his system. But the potential is there.
And I believe once the squad is fully healthy, it'll be a lot easier for Dragic to do his thing.
Because at the end of the day, everyone needs to be running with him. Something that the likes of Hassan Whiteside and Tyler Johnson have obviously gotten used to, but guys like Willie Reed and Rodney McGruder still need to learn about.
Looking past his raw numbers though, Dragic's behavior is something to admire as well.
Let's be real here: he never gets calls. Not unless one of his teeth is flying out of his mouth anyways, and even then he once found himself having to take the blame.
But does the veteran ever act out? Nope. Does he stop going hard? Not a chance. Because Dragic is as professional as it gets, and I have to believe he's contributed to Whiteside himself maturing this year.
(Plus there's that new haircut. Swoon.)
Speaking of Whiteside, he certainly took Spoelstra's constructive criticism to heart.
Whiteside is a monster. There's no other way to put it. Averaging 17.3 points, 14.3 rebounds and 2.4 blocks a game in 33.3 minutes, the 27-year-old is continuing to prove the haters wrong. And earn that maximum contract.
However, that doesn't mean he has perfected his game yet. And recently, some of his faults have come to light, like when Spoelstra decided to bench him during the third quarter against the Cavaliers.
According to Spoelstra, he felt like Whiteside wasn't giving him enough, explaining he wanted "more life on the glass." When asked about the entire ordeal, all Whiteside really had to say was "that's what [Spoelstra] thought. So that's the decision he made."
Heat Nation, as seems to be the case with everything this season, was torn on what was really going on. While some suspected that Whiteside was just overwhelmed by Tristian Thompson, others felt he wasn't interested in the game period, fueled by a losing organization and a summer payout.
Personally, I find it hard to believe that Whiteside simply lost motivation. That, coupled with the fact that Whiteside has been getting flustered by an array of tougher big men lately, makes me chalk it up to a bad night.
Whatever the case, he certainly didn't let his short-lived riff with Spoelstra stop him from coming back strong against the Bulls. Recording 20 points, 8 rebounds, 1 assist, and 3 blocks in 33 minutes, Whiteside went to work on Robin Lopez. He may have picked up five fouls along the way, but his fight never let up.
The matchup against Chicago also marked Josh Richardson's return.
Yes, nine became ten on Saturday as Richardson finally returned from an ankle sprain. While Justise Winslow, Dion Waiters, James Johnson, Luke Babbitt and of course Chris Bosh all remain out, the young fellow made his comeback helping to guard former mentor Dwyane Wade.
Totalling 11 points, 3 rebounds, 4 assists and 1 steal in 26 minutes, Richardson eased his way back in, in a pretty well-rounded manner.
Well, except for three-point shooting. When it came to that, he unfortunately went 0-for-6.
But returns take time.
Duh.
In any case, Richardson's name being taken off the injury list was certainly something to celebrate this week, especially after so many losses in a row. While no team should technically be making excuses, having basically no bench to work with is as good of one as any.
And yet, Miami is 7-17 and on a five-game losing streak.
Sure I could sit here and try to nitpick exactly what's going on. But at this point, your guess is probably as good as mine.
Obviously, injuries are hurting the Heat in a very major way. I mean, say what you want about Dion Waiters, but his 14.2 points, 3.4 rebounds and 3.9 assists per game are certainly missed.
Whiteside is potentially getting in his head a little too much when taking on certain opponents.
Dragic could use a healthy team to run alongside of.
But what the Heat are doing this wrong has become a mystery to me.
They are playing terrible at home. Making crucial mistakes (for example what happened versus Chicago that without a doubt cost them the game). And just overall looking like a darn hot mess.
So with that said, my con of the week is their record, their losing steak, their entire current existence.
Waaaaaa.
Eventually, something's got to give, right?
This article originally appeared on