The Sixer Sense Roundtable: Joel Embiid First Impressions
Philadelphia 76ers center Joel Embiid is now a few weeks into his NBA career, so it's time to form some official first impressions about him. Here's what our staff has to say.
Well, Philadelphia 76ers fans, Joel Embid is here, and he is, in fact, real. The 7-2 (or maybe 7-3, if the rumors are true) monster has dominated the key and shown that he can hop on the versatility train too, showing good ball handling and 3-point shooting.
There's been a lot of positive to take away from the Sixers first eight games, despite just winning one of them. This is something new for fans, and something new for Embiid as well.
Joel spent the first two full seasons of his NBA career injured. He has hunger to play, and it was clear at times that he was hurting over not being able to be on the court in real-game situations.
We saw this in the Sixers' first win of the season in overtime against the Pacers on Friday. Embiid met his minutes restriction at the buzzer of the end of regulation, and came back to the bench saying, "I'm playing."
Starting off overtime, Embiid was on the bench, clearly emotional over not being in the game. In a risky move, Brown put Embiid in the game. It paid off, as the Sixers would win the game.
There's a lot to talk about when it comes to Embiid. The staff here at The Sixer Sense came together to put some first impressions about the charismatic player together. Here is what we came up with.
To sum the first few weeks of Embiid up: jaw-dropping. For the first time since Allen Iverson, the Sixers have a player who is guaranteed to do something every single game that will make you fall out of your seat.
Growing up, you may have watched Allen Iverson's crossover or Carmelo Anthony's step-back and marveled at how easy it looked. For most, it was an illusion. For Joel Embiid, it really was that easy. He possesses a chameleon-like ability to develop skills or moves that were once completely foreign to him.
Embiid has played three seasons of high school basketball, half of one college season, and one NBA pre-season, and has skills more refined than most players dream to be. From a development standpoint, his offensive and defensive recognition is understandably below par. I've noticed that he routinely misses his role in a set play, he'll lose his man under the basket for a box out, or he'll mentally check out on defense after his man makes a pass. These mistakes should be expected and are minor changes for someone like Embiid.
When his potential is met with experience and improved conditioning, I expect his game to reach a level of polish that is nearly unfathomable. As for right now, the Sixers are must-watch television for 20-24 minutes per game. Fingers crossed, the best is still yet to come.
Embiid was largely considered a frontrunner for Rookie of the Year coming into the season, but I'm not sure anybody — including myself — was expecting such a dominant run out of the gates. He legitimately looks like a budding star, and has made dubbing himself "The Process" more and more justified as the season progresses.
More from The Sixer Sense
This is a Sixers team that has been looking for that core piece to build around over the past few seasons, and with neither Jahlil Okafor or Nerlens Noel emerging as that type of player yet and Ben Simmons missing time to kick off his first season, this was a much needed boost of confidence for a fan base that has lacked that type of cornerstone talent to cheer for in recent years. Embiid has two-way upside that few big men in this league outside of Karl-Anthony Towns can really relate to, and names like DeMarcus Cousins and Anthony Davis genuinely come to mind when I watch him play.
Those are two top 10 players in the NBA, as well as a player in Towns who seems well on his way to placing his name into the conversation later down the road. Embiid's physical stature at 7-2 is unmatched in virtually every matchup he faces, and he has developed the type of offensive versatility during his time off that few players his size ever come close to reaching.
There are still some efficiency issues, but that's fairly common and something you'd expect given the scenario. He still hasn't played competitive basketball in two years coming into the campaign, and is being forced immediately into the go-to scoring role on a team that doesn't have much firepower around him.
He's knocking down 3-point shots at a high clip and his footwork is already more advanced than the vast majority of 22-year-olds in the NBA, which leads me to believe his efficiency will begin to creep up as he gets more and more acclimated to this league.
He's the best defensive player on this team and the best offensive player, which rarely comes in combination nowadays. It's really hard not to get excited about this guy moving forward.
It's really hard to put into words how impactful Joel Embiid has been for the Philadelphia 76ers fans. Let's start with on the floor stuff, and then transition to the overall charisma that comes along with Embiid.
On the floor, he's everything we expected him to be and more. Prior to the season starting, I Tweeted that I was not expecting Embiid to come in and even average 10 points per game, just because he hadn't played competitive basketball in over two years. Given the circumstances with Embiid, if he played 20-plus minutes and only averaged 8 points and 5 rebounds, we shouldn't have been made. With everything that has happened with Embiid, he has a get out of jail free card.
But with all the sitting from the games, he wasn't just sitting. The team was working with him, and working on everything that they could besides in-game experience. There are some signs that he needs to play more — him being unaware of surroundings and set plays at times — but for the most part, he has an incredibly solid base skill-set.
The one thing I like the most is his shooting form, something the team extensively worked with him on leading up to the debut of his career.
Despite from Embiid being unaware at times, it really doesn't matter. There's a few things he knows how to do well that will help him grow. He knows how to score, knows how to protect the rim, and knows how to shoot.
Now, let's talk about his charisma, and something I like to call "Philly charm." Embiid has it.
Allen Iverson, when he played in Philly, carried himself with a lot of swagger. Embiid does the same. He doesn't carry himself exactly the same way Iverson did, but he is charismatic with the fans, and knows how to get them to like him.
Giving himself the nickname of "The Process," which was the same name the radical rebuilding process the Sixers fans endured over the last few years, was a big nod to the fans. In a way, he's saying, "I know what you all went through, and I'm here to save you."
Save Sixers fans he will, if the rest of his career is anywhere near exciting as the first few games have been.
When the Philadelphia 76ers drafted Joel Embiid with the third overall pick in the 2014 NBA Draft, no one really knew what to expect. We knew that he was raw and that he had a ton of potential, but we didn't know just how much potential.
Eight games into his NBA career, I think it's safe to say the Sixers made the right pick. Simply put, this kid is dominant.
Embiid is easily the best player on the 76ers' roster and has shown a tremendous amount of confidence while going up against some of the best centers in the league.
Standing at 7-2, he's generally the biggest player on the court at all times, no matter who he's faced up against. He's able to body smaller centers down low in the paint and has been an excellent shot-blocker early in the season (CC: LeBron James).
But what makes him truly special is his ability to handle the basketball with ease and hit outside jump shots.
In other words, people who are as big as Embiid shouldn't be able to do the kind of stuff that he's doing. Also, he didn't start playing basketball until six years ago. People who started playing basketball just six years ago shouldn't be able to do the kind of stuff that he's doing.
Again, he's only played eight games so far in his career, and there's no telling just how high his potential is, but one thing is for sure:
The sky is the limit.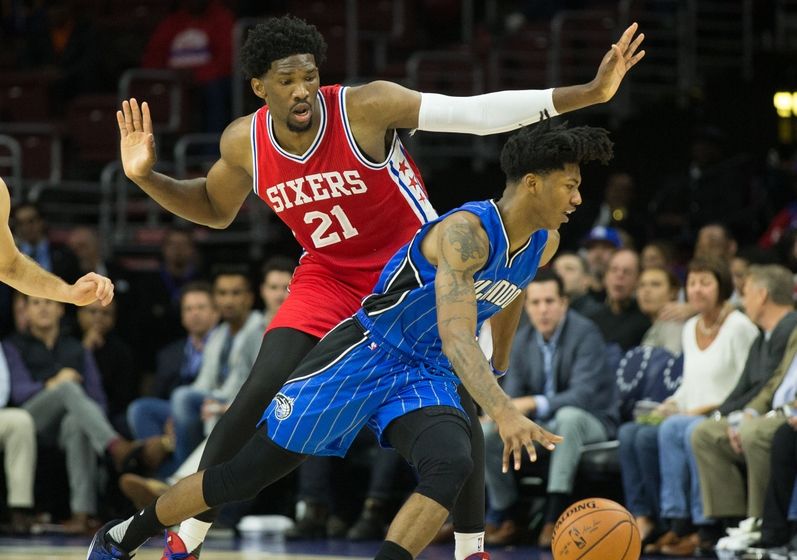 If Kristaps Porzingis is an NBA unicorn, then I don't know what kind of absurd mythical creature Joel Embiid is. We knew Embiid was special, but even the most optimistic of us didn't expect him to be this good, this fast. He's a human highlight reel every time he sets foot on the court — bombing threes, trapping guards at midcourt, protecting the rim — at 7-2, he's the new archetype of the modern NBA center. "The Process" can do it all.
And yet, it's striking how discernible his flaws are in relation to his ridiculous production. His turnover rate is absurdly high, his screen-setting leaves much to be desired, he hasn't yet learned how to handle the pressure of double teams, and he still looks a little lost on the court at times. You can almost see him thinking before reacting, as if his basketball instincts are a step behind the speed of the game — after all, this is still a rookie who has yet to intuitively learn the economy of every offensive set and defensive rotation.
As incredible as Embiid has been — and he's damn near dominating the league in his 22.2 minutes per game — he still has tons of room to grow. And that's scary. Once that minutes restriction is removed and Embiid becomes more comfortable and confident on the court, the sky's the limit. It's been a long time since the Sixers have had a bona fide superstar — now, the wait is over. The Process has arrived.
When thinking of Joel Emiid's season so far, I feel the best way express my feelings is to use an acronym.
He has JOLTED the fan base and Philadelphia 76ers franchise. In his two years of inactivity, Embiid was known for his antics on Twitter, but now he has brought hope and life to a franchise that has just lost its first overall draft pick from this past draft until January. His play has caught everyone's eye and he can only improve from here on out.
He has become an OVERPOWERING force at the center position. He is top 5 in the league in blocked shots per game and leads the team in scoring. He continues to wow people with range. In the first win of the season he proved that he can over power a defend and make an "and one" play.
He's EMPOWERED by head coach Brett Brown to play through mistakes. Embiid is not perfect but Brown understand that as a rookie and someone relatively new to the game there will be some hiccups with his game. Brown still allows Embiid to play through mistakes and learn from them.
He's LACKING playing time and refinement. Hopefully, sooner rather than later, Embiid will be allowed to play more minutes, but until then it is hard to tell how good he will be. Refinement will come in time, but like I said his is not perfect in some areas of his game.
Personally, I think that Embiid could not have gotten off to a better start. The man is dominating the majority of his matchups and shows a desire to compete. We haven't seen this sort of drive and aggression since the early days of Iverson.
When was the last time we had a big man who could shoot the three when given the space? The guy is averaging 18.8 points, 6.8 rebounds, and 2.3 blocks per game. He's in the top 35 in points and top 5 in blocks. Let's not forget that the guy has only played 8 games. He wants the ball in his hands, which as a center is really special. He's long, athletic, relatively smooth, and shows signs of becoming a multifaceted mainstay in the league for years to come.
Now, with that being said, he isn't without his flaws. I think he could do a better job of setting screens. With a frame like his, I don't see any reason why he can't become a huge pick and roll threat. He also doesn't do as well against more experienced, aggressive centers in the post. JoJo struggles with boxing out and passing out of double teams, which leaves him tends to take him of the play altogether. I think that'll come with more reps and increased acclamation to the NBA post game. All in all, I couldn't be happier with his play to start the season. JoJo makes you want to trust the process.
— Pete Sawan
This article originally appeared on