The Pistons have a dynamic duo in KCP and Tobias Harris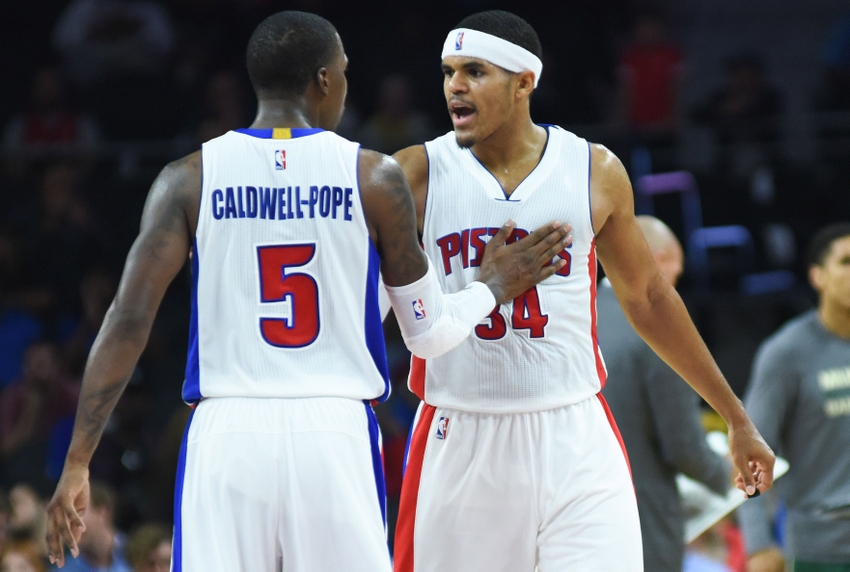 Amidst the early season statistical noise, trends appear. One of the most interesting trends for the Detroit Pistons involves their new dynamic duo, featuring Kentavious Caldwell-Pope and Tobias Harris.
One of the most interesting parts of a new season is to watch trends develop and try to decipher what they mean and predict where they'll go. The Detroit Pistons have had a number of such interesting statistical trends, some of which look like sheer noise, and others appear to be indicative of a deeper meaning.
One of the most interesting trends to emerge so far is the superb play of both Tobias Harris and Kentavious Caldwell-Pope. Individually, both are having excellent seasons, currently first and second in scoring on the team with 17.1 and 14.9 points per game respectively.
While separately they've been excellent, it seems to be together that they're at their best.
When KCP and Harris are on the floor together, the Pistons are outscoring their opponents 112.6 to 107.2 points per 100 possessions, yielding a net rating of +5.4. This is consistent with last season's numbers, where they outscored the opposition 112.2 to 108.8 for a net rating of +3.4.
It's not too surprising to see that the Pistons do well when two of their best players are on the floor together, but where it gets interesting is when we add (or remove) Andre Drummond to the mix.
This season, when the trio of KCP, Harris and Drummond share the floor, the net rating drops to +1.7, and when Drummond is NOT on the floor with the duo, the Pistons are outscoring their opponents 106.3 to 90.2 for a staggering +16.1 net rating.
While the KCP and Harris numbers are consistent year over year, the Drummond variable is not.
Last season the Pistons outscored their opponents by 5.9 points per 100 possessions when the trio played together, but with just KCP and Harris and NO Drummond, they had a net rating of -7.6.
It's reasonable to assume that the improvement of Kentavious Caldwell-Pope and Tobias Harris together apart from Drummond is indicative of continued growth and development on both of their parts.
The fact that the Pistons have been able to get consistent production out of this duo independent of the best player on the team is a better sign than it indicates. Frustrations aside, Andre Drummond is going to be fine, and the addition of Reggie Jackson to the starting lineup later this week should be the catalyst to getting the Pistons back into the contention for an upper-tier playoff spot in the Eastern Conference.
More from PistonPowered
This article originally appeared on