The Phoenix Suns' Best Position of Strength is at Point Guard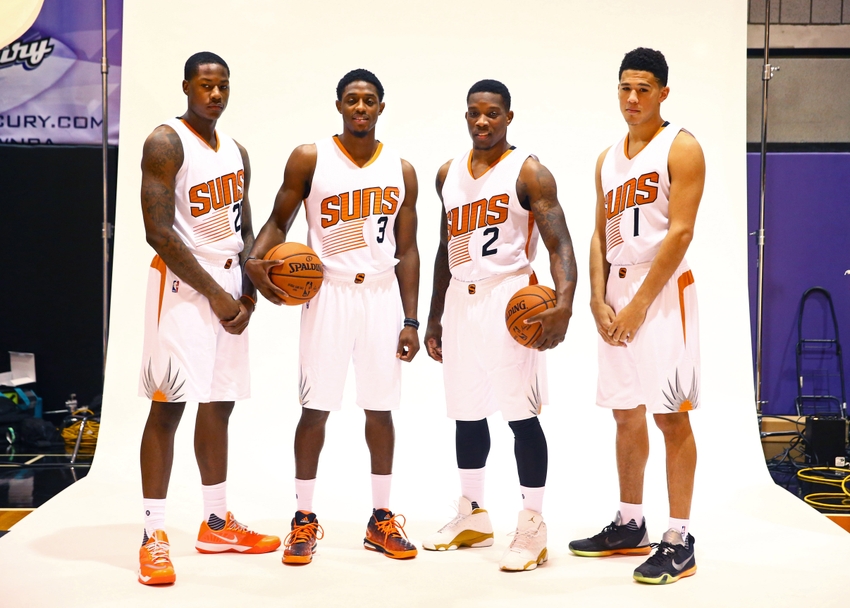 Throughout Phoenix Suns' history, the position the franchise has continually fostered the most talent from is point guard.
From Gail Goodrich, to Kyle Macy; from Kevin Johnson to Jason Kidd; and from Steve Nash to Goran Dragic, the Phoenix Suns have almost always had a top flight point guard running the offense.
This reality continues to ring true in 2016-17, and as the roster currently stands, the position of point guard may actually make a run at the 1996-98 backcourt as the deepest it has ever been from starter, to the end of the bench.
The Strength of the point guard position
If healthy, Eric Bledsoe is potentially the fifth best point guard in the NBA. Brandon Knight was a near All-Star in Milwaukee just two seasons ago. Leandro Barbosa is a former starting point guard. Devin Booker showed flashes of his ability to lead the offense in a pinch his rookie season.
Archie Goodwin has been forced into the role of point guard in the past, and still remains the player with the most untapped potential on the roster. Tyler Ulis looked fantastic in the Summer League, and paired with Devin Booker, will play with a synergy not (supposedly) seen since the Morrii.
More from Valley of the Suns
Anyone of those six players could play the point guard position well on any team in the NBA. Only Bledsoe, Knight, and Booker have the capability to start as of today – and only Eric Bledsoe has shown the ability to be one of the best point guards in the league.
But regardless, all six hold value on the open market (although Leandro Barbosa's trade value would undoubtedly be the lowest due to his age and contract) and likely five of the six would bring back at least one significant asset in return – whether an active player or draft picks – proving their value on the roster.
While as a whole point guard for the Phoenix Suns may not be considered one of the best in the league just yet, it is without a doubt the most talented position on the roster, and a position of strength with which to potentially move pieces to further strengthen the roster as a whole.
Eric Bledsoe
There are 30 teams in the NBA. and Eric Bledsoe is arguably the fifth best point guard in the league when healthy.
That is a very solid position for a team looking to build into the future. And even if you make the argument that he is seventh or eighth best point guard overall, Eric Bledsoe is still one of the top players at his position, a positional ranking that on any team is a very good baseline when trying to put together a competitive starting five.
Yes, at 26 going on 27 years old, Eric Bledsoe has never averaged more than 6.1 assists a game, a number that he has matched each of the last two seasons. And yes – since the late 80s – the best point guards in franchise history have averaged well above that. But no one can argue that Bledsoe does not have the skill to average a higher number of assists per game, if given the opportunity full-time.
In Los Angeles, Bledsoe played behind Chris Paul, and was never given the opportunity to lead the franchise for any significant stretch. Since his arrival In Phoenix, he has had to share the ball handling responsibilities with Goran Dragic, Isaiah Thomas, and Brandon Knight. All ball-centric point guards in their own right, and each who must have the ball in their hands predominantly to be most effective.
Because of the emergence of Devin Booker as the best, most up-and-coming shooting guard in the league, the starting lineup will not be able to feature the three best guards on the roster at the same time, in Bledsoe, Knight, and Booker.
Chances are – and most fans are clamoring for – Devin Booker to share the backcourt with Eric Bledsoe in the starting lineup, relegating Brandon Knight to a bench role (or to another team through a trade – but more on that later).
Therefore, when given the opportunity to start in a backcourt as the primary ball handler and playmaking facilitator, Eric Bledsoe will very likely be able to raise his assists average higher than his previous career high, which very possibly will be close to the 10 assist per game mark, if not above.
My desire is for Bledsoe to be such a full-time facilitator. Turning 27 during this season, he will have another six good seasons left in his career at least, and easily could be the starting point guard on a contending team – should his knees allow.
This season Bledsoe needs to take the reins at point relegating Brandon Knight to the bench, giving Eric his first real opportunity to lead a team in his career. If his scoring average remains the same or improves upon last year's 20 points per game, he will be able to reach statistics levels overall similar to those best point guards in franchise history.
Will he be better than Johnson, Kidd, or Nash? No.
Is it possible that he can statistically reach levels similar to those for at least a few seasons? Yes, which is why he leads the deepest position on the 2016-17 Phoenix Suns roster.
Brandon Knight
For fans, the moment Goran Dragic and Isaiah Thomas were traded, it seemed that the Suns had finally chosen a single point guard to hold take over, Eric Bledsoe.
But moments later it was announced that the Suns had further traded for Brandon Knight, and the multi-point guard carousel continued.
A near All-Star in Milwaukee, it was reported that Bucks Head Coach Jason Kidd did not believe in Knight as a point guard moving forward, while other reports stated that the Bucks believed they were unable to match the salary that he would demand upon his impending free agency – something that the Suns were obviously willing to take on.
The problem was then, and still is, that Knight is not a passing first point guard. His best skill is in his ability to score, despite his size, which means that while on the court with any other guards, he is going to demand majority possession of the ball to be most effective.
A game most similar to Stephon Marbury, Knight is undoubtedly a talented point guard, and potentially on a team in need of a point guard with no other scoring guards around, he could become a solid starter, and All-Star, both similar to Isaiah Thomas in Boston.
For now, in Phoenix, he should be relegated to the bench where, if he were to stay there all season, he will be a viable candidate to become a Sixth Man of the Year winner. Having a player of Knight's caliber waiting in the reserve is a serious boost for a team looking for as much talent on the roster as possible, and given the opportunity, is flexible enough to spell both Bledsoe and Booker in the backcourt.
Although Head Coach Earl Watson has noted that Devin Booker has physically grown to a height that could position him as a small forward, potentially affording the second year coach the opportunity to play the three talented guards at the same time, it does appear that bringing Knight off the bench actually does give the Suns more flexibility, giving them the opportunity to have two of the three on the court at all times, allowing T.J. Warren the chance to grow by playing at small forward and keeping Alex Len at the center position, rather than sliding him to power forward.
My desire is actually split. There is no doubt that Brandon Knight is a solid talent, although his size is a definite hindrance on defense, especially when paired up with Eric Bledsoe at the same time.
So first, I do believe that if he is willing to accept a backup role, there is no denying that having a talent like him off the bench is a luxury that most teams do not have – and one that the Suns have not had since Steve Nash backed up Kevin Johnson and Jason Kidd.
However, there is a solid argument for, and something that all off-season I have advocated for, trading Brandon Knight as soon as possible. While having such a talent in reserve is a bonus, there is no denying that the Suns could use his value to help continue to fill out the roster.
Should General Manager Ryan McDonough flip him for a player and/or a series of first round picks, there is no denying that say, another young center, would help fill out the front end of the roster, especially with the unknown future of Tyson Chandler.
Furthermore, if McDonough is able to get first round picks for him instead, then those assets – potentially coupled with another player – could in fact bring back another young player in return in the future, or at least give the Suns the ability to move up in a future draft, ala 2016 with Marquese Chriss.
Either way, while many argue that the Suns should have kept Goran Dragic (I am not in that camp) or they would rather have the Los Angeles Lakers' pick that was essentially swapped for Knight (an argument I will listen to, though at the moment has still amounted to nothing), Brandon Knight holds value for Phoenix, both on and off the roster, and I am excited to either see what he can do on the court, or what he holds in value in return, upon the culmination of a trade.
At the beginning of the off-season I had personally argued that the Suns needed to bring Leandro Barbosa back into the fold as a veteran off the bench who could both lead as well as play the point in those seemingly oft situations in which either Bledsoe and/or Knight are injured.
He is not a player that can be counted on for long periods of time, and is best suited in these later years of his career as a short spurt guy, mainly in the shooting guard position.
And yet, he has led at the point in the past. In particular, for those who don't recall, he was the Suns' starting point guard for the second half of the 2003-04 season before then General Manager Bryan Colangelo signed Steve Nash.
It wasn't the most successful run then, but the fact remains, in this case, should he be needed to be the floor general, the Suns have a very capable one in Leandro Barbosa on the roster in case of emergency.
Archie Goodwin, on the other hand, is still learning the craft, and many fans argue whether or not he will ever be suited to run the point, or if he should be a two guard through and through. His athleticism and speed are akin to Leandro Barbosa, though his leaping ability and size are far closer to counterpart, Devin Booker.
For now, Archie cannot be counted on yet to lead the team for any length of time greater than a few minutes. His propensity to turn the ball over faster than an usher can lead a fan to his seat is alarming. While he is still very young, 22, he has been on the Suns' roster for three seasons, and has yet to show any extended ability to lead from the point.
What makes him so special, though, is that because of his age, coupled with his size, there is plenty of reasonable optimism that he will continue to develop into the type of point guard the Suns are hoping he can be. Thus, he will continue to get his minutes and should he clean up his game, he will definitely see extended and regular playing time ramping up the chances that he stays with Phoenix long-term.
Regardless, he is a solid second or third option off the bench, possibly the best of that level in the league, which should pay dividends in the future. It has been exciting to watch him develop, and this season may finally be the one where he begins to break out.
Devin Booker and Tyler Ulis
Devin Booker probably should not be on this list as his size and shooting ability lends him to be more of a pure shooting guard. However, he saw minutes last season as a point guard out of necessity, and no one cringed or looked away.
As we all witnessed, Devin Booker flashed signs of stardom on the court at only 18 years old, and the fact that an NBA team would ever entrust a player of his age with the point guard duty for any length of time, just shows the maturity and capability that this young man has.
Now, it was not a perfect trial by any means. Booker too tends to turn the ball over with consistency, and there is no doubt that Head Coach Earl Watson does not have plans to play him with any regularity at the point, especially with Bledsoe, Knight, Barbosa, and Goodwin on the roster.
But there is little argument that Devin Booker can play point guard, and he can do it well enough that he was not run off the court by his coaching staff. It is very possible that there is more promise in that kid than what we even realize at the moment, and that makes him that much more special.
Tyler Ulis will be the smallest player on the court for the Suns, but the one with the biggest heart. For all those who complain about Eric Bledsoe and Brandon Knight's size, they will loom large compared to Tyler, but that is not in any way a knock against the man. The easiest and most recent Phoenix Suns comparison is to Isaiah Thomas: Short, but tons of heart and lots of game, and obviously Thomas has proven that his kind of game can be very successful.
What makes Tyler so particularly intriguing though is that he and Devin Booker have such a solid report together from their Kentucky days, that their play on the court may more easily maximize one another's potential this season.
Should Tyler play his way into the rotation with regularity, or should the Suns move one or two of the other point guards to move him up on the depth chart, then he may very well prove to be the steal in the draft. His Summer League highlights are outstanding, and if he is able to work his game through the giants of the NBA, he will be a very nice player off the bench.
My desire for these four Point Guards is pretty simple: Play Barbosa and Booker at the point as sparingly as possible, and work Archie Goodwin and Tyler Ulis into the fold as much as possible.
Barbosa needs to be an end of the bench kind of guy. He should not even have a role as large as Ronnie Price as the younger guys should be given the vast amount of time on the court. However, while there is no way the Suns trade Booker, and Barbosa may pretty much be un-tradeable, there is a market out there for Archie Goodwin, and if I am the Phoenix Suns, I probably listen.
As mentioned before, if I had my druthers, I would look to trade Brandon Knight early on in the season, if there is a reasonable offer in return. But that may only be possible if there is faith in Archie Goodwin, or another backup Point Guard is acquired in the deal.
However, if that proves to be impossible, then moving Archie Goodwin may also be a viable option, and one that I would take serious trade offers into consideration.
Archie is in the last year of his contract with the Suns, and while there is no way that he is going to break the bank with an extension, potential pays, and if his agent believes that his potential is worth a higher salary than the Suns see themselves willing to pay, then a move may be necessary so he is not lost for nothing in return.
A trade of Goodwin for me though is not a necessity. I am personally hopeful that he is a solid piece for the future, and if either Bledsoe or Knight are moved, then Goodwin will certainly see more time on the court, a situation that could either be beneficial or disastrous for the Phoenix Suns, but an experiment that I would be all in to see.
The Conclusion on the Position of Point Guard
In 2016-17 the Phoenix Suns may have six solid point guards. But they also may be too stacked at the top of the depth chart that moving one or two of them for another piece may actually pay positive dividends both immediately and in the future.
And lest we forget, before his injury last season, Eric Bledsoe looked an awful lot like Kevin Johnson. I am not making a direct comparison to one another, but Bledsoe did look the best he ever has. When he is finally given the green light that this is his team, he will shine brightly and be a core piece to run the show for the next six years or so into the future.
At the same time, Brandon Knight may also be capable of leading the team, although his game is more easily comparable to Stephon Marbury, and Marbury's basketball career shined brightest on an entirely different continent.
The overall depth of the position is something that would make many General Managers salivate, and thus is something that Ryan McDonough can use in his favor when considering moving players from the roster. With a solid mix of youth, prime, and veteran players, Earl Watson can potentially count on any one of these five to run the show depending on what the situation calls for.
There is no doubt that currently the Phoenix Suns' greatest position of strength is at point guard. While it is not a perfect list of players (and it is unlikely that this set will compare to the great depth of Jason Kidd, Kevin Johnson, and Steve Nash) there are enough positives to outweigh the negatives that each player brings to the table.
Should Earl Watson need to break glass in an emergency and stick a player from the bench into the starting lineup, that does not necessarily mean a sign that the ship is sinking. It may actually mean that the future holds more possibilities than we think.
This article originally appeared on