The Orlando Magic need to turn talk to action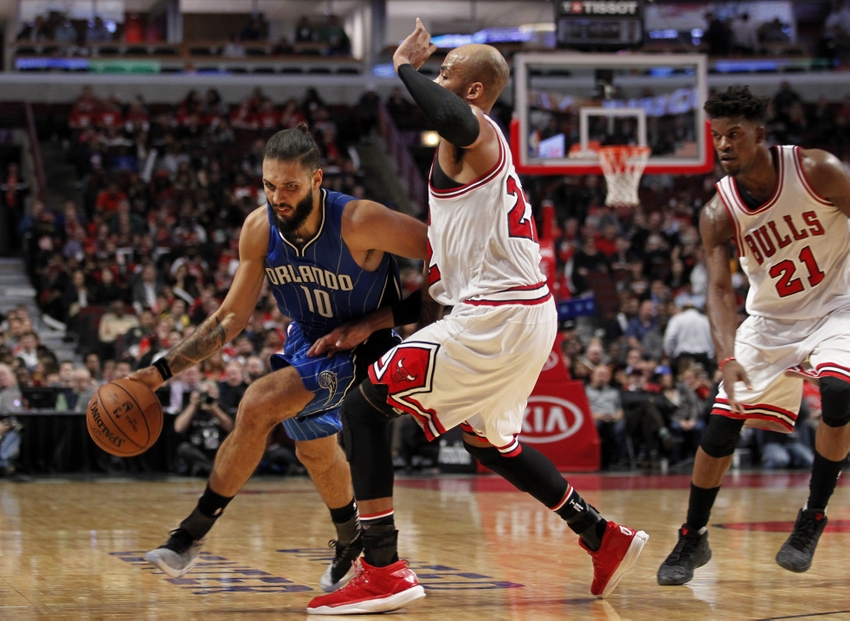 The Orlando Magic suffered another blowout defeat as all their losses followed a same patter. Sooner or later, the team must begin to walk the walk.

80

112
Frank Vogel repeated after the game what he said he told his team during the first quarter when things were going well against the Chicago Bulls.
The game resembled an All-Star Game at that time. Whoever played defense first would win the game, he told them.
The Orlando Magic did not heed that warning. The defense never really showed up for Orlando at the United Center on Monday in a 112-80 thrashing.
The Magic lost for the fourth time this year and seemingly in the same way as the other three — spectacularly, embarrassingly and without the identity they were supposed to establish.
For a team that talks about doing certain things and having a set identity, they are having a hard time actually doing it.
This is a team that says it wants to be a defensive juggernaut — a top-10 defense if not a top-five defense — yet, the team remained like a sieve on the perimeter. Chicago had a 115.9 offensive rating. It stressed an already bending interior defense. The Bulls did what they wanted.
The offense, supposed to play with pace and get out in transition, gets grounded without any stops. And in the halfcourt it bogs down without any great dribble penetration and players still seemingly crowded without proper physical spacing — let alone shooting spacing.
What this team is supposed to be has not come together in seven games so far this season. If it has, it has only been in moments. Brief moments.
The Orlando Magic have not come together as anticipated. This team is still searching for consistency. And perhaps for their identity.
Particularly on offense where the team still has moments of aimlessness. And moments where the team is not pushing the pace to get out in transition and gets mired in its inefficient halfcourt sets.
Upcoming

Schedule

11/9

Minnesota Timberwolves
11/11

Utah Jazz
11/13
at

Oklahoma City Thunder
11/14
at

Indiana Pacers
11/16

New Orleans Pelicans
The Magic's offense has lacked the pace they hoped would become their identity.
Pace is a funny thing. It is not necessarily a measure of whether a team is getting out in transition. It is more a measure of how quickly shots go up. So certainly fast break points play into that. But it is not everything.
And so far this season, the Magic are not a team playing at a fast pace. The team plays at 97.3 possessions per game, 26th in the league. That is not indicative of a team winning or losing — the Toronto Raptors, San Antonio Spurs and Utah Jazz are all in the bottom five. And it is not indicative of fast break points — Orlando is seventh in the league in fast-break points percentage at 15.4 percent. The Magic get a lot of their points in transition.
When the Magic do get their chance to run they need to do so. But otherwise, the Magic need to rethink their offensive strategy. Whatever they are doing or trying to do is not working consistently enough right now.
And in four losses, the formula was the same. The offensive inefficiency led the defense to falter and crumble. And going up against a set, half-court defense has proven to be a bad formula for the Magic. They simply are not good going up against a set defense.
How do they fix this?
The obvious answer is to play better defense so they can get out in transition. The less obvious answer may be in changing the way they play in the half court. They have to execute whatever game plan they have and get through their sets better. They have to cut harder and set screens to free each other up. Players have to clear space through their motion since they cannot do it by the threat of their shooting or off the dribble.
One thing is clear they just have to be better. And so when they get in the half court, perhaps playing a little more deliberately is the way to go.
That does not mean Elfrid Payton is walking the ball up. He should still try to initiate the offense as early as possible to help the Magic have more time to execute. It means though the Magic need to be more patient and smarter with their shot selection.
Veterans paying dividends for Orlando Magic
And when all else fails, they need to be willing to dump the ball into the post to Nikola Vucevic. They need to find a tried and true way to score.
Too often the Magic came down the floor Monday and fired a shot early in the shot clock. Too often the team would run through an aimless possession and turn it over in a bad position or get caught somewhere taking a bad shot. There was no offensive rhythm, as Frank Vogel likes to call it.
This is not a team that can bail itself out with a quick isolation. This is a team that has to work together and figure things out methodically. Of course, the deeper the Magic go into the shot clock, the lower their field goal percentage.
They have to move quickly and decisively through their sets to find success.
Most importantly still, they have to get stops. They have to force turnovers and get rebounds and get out in transition. Orlando has been far from perfect there. But when they were successful this season, it was because their defense was feeding their offense.
It was not all they wanted it to be, but it was making progress.
Results like Monday's are a sign of a team still figuring itself out and still discovering who it is.
The Magic have their goals. They continue to talk about them endlessly. Orlando's goals do not end simply because of another disheartening loss. This Magic team is still working to make those goals a more consistent reality.
Until then, it feels like they are only delivering talk and promises. Sooner or later, the team needs some action to achieve their goals.
More from Orlando Magic Daily
This article originally appeared on