The NBA's 'unnatural acts' rule and how it affects the LA Clippers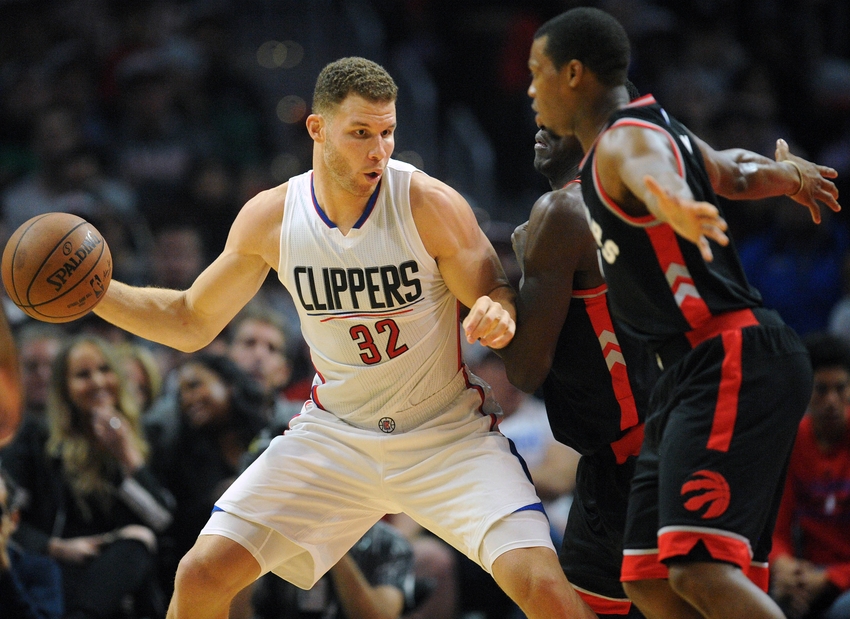 The NBA is enforcing the "unnatural acts" rule to control the drawing of fouls, so how will this impact key LA Clippers players?
There is a new point of emphasis for referees in the NBA this season. It's a crack down on what the league calls "unnatural acts". "We noticed last year that more unnatural acts, such as arm flails and leg kicks, [occurred] for drawing attention of the referees," said NBA Executive Vice President of Basketball Operations, and former Clipper, Kiki VanDeWeghe, per ESPN's Chris Haynes. We saw it come into play when the LA Clippers faced off against the Cleveland Cavaliers. LeBron James was issued a technical foul when his hand came down on Alan Anderson's head after a shot attempt.
The new rule is addressing a league wide problem. But some players feel like it unfairly targets them. Draymond Green of the Golden State Warriors is not a fan of the new rule. And he raised some interesting questions about what constitutes an "unnatural act." He talked about how James Harden will extend his arms in traffic to draw fouls. "That's not really a natural act either," Green told Chris Haynes.
But VanDeWeghe does not agree. No one is getting hurt when Harden baits a defender in traffic by showing the ball. "The big difference becomes safety, and the potential of injuring somebody," explained VanDeWeghe. "…If a player flails his arms and strikes a player in the face, then that's a cause for concern."
So what does this all mean for the LA Clippers? Could it effect the way some of the players play?
Let's start by looking at Jamal Crawford, and his ability to draw fouls.
Jamal Crawford
Jamal Crawford is very good at drawing fouls. He even holds one of the NBA's most impressive records related to doing just that.
He has more four-point plays than any player in NBA history. And it's not even close. At 48 regular season four-point plays (and counting), Crawdaddy has more than the entire Boston Celtics franchise. He has more than numbers two and three on the all-time list combined. Second is the Clippers' own J.J. Redick, and third is Hall of Famer Reggie Miller.
Miller was notorious for kicking his legs out when shooting. He would do it so often that the NBA even created the Reggie Miller rule, to stop shooters from kicking out. Could the new emphasis on "unnatural acts" increase awareness of the old, Reggie Miller rule, making it harder for Crawford to draw fouls?
There are two key aspects to Jamal's shooting motion that allow him to draw so many fouls.  And neither of them involve kicking out.  Crawford almost always jumps forward when he shoots.  Even on catch and shoot, set shots, he will land at least 10 inches closer to the basket then where he jumped from.  This will cause defenders to misjudge his landing, and they end up under him as he comes down.  Crawford also leaves his arms extended after he shoots.  If he feels a defender hit his arms on his follow through, he goes straight to the ground.  And almost always gets the call.
Crawford has a unique shooting motion that causes defenders to misjudge where he'll be.  This is how he draws so many fouls, not an unnatural flailing of his limbs.  Crawdaddy won't see the new rule affect his play in any way.  And should keep adding to his ridiculous 4-point record.
Chris Paul
Chris Paul is a master at manipulating the NBA's many rules. His ability to work the refs and force his way to the free throw line is a thing of beauty. CP3 has even seen the NBA change a rule to limit the effectiveness of one of his favorite moves: the rip-through.
Paul can use the rip-through the second a defender gets too close to him. Going straight into his shooting motion, CP3 can earn himself an instant trip to the free-throw line. Now, the NBA has changed the rule, calling it a non-shooting foul. But Chris still uses it with amazing results.
If a defender is too close, Chris will rip-through, and draw a quick foul. On ensuing possessions, the defender will then give Chris more space. This allows Chris to pull up for his ultra-accurate, mid-range jumper. Which opens up his offensive game, and the Clippers' offense in general.  And at the end of the day, that's the bottom line with Chris Paul, he's too clever to let a rule get the better of him.  If anything, he'll use it to his advantage.
So, while Chris has been known to flail a limb or two to attract the refs attention, his flying appendages rarely make contact with his defender. I expect this rule to have little to no effect on Chris Paul and his Little Finger-esque ways.
Blake Griffin
If anyone on the Clippers is going to be affected by the new rule it's Blake Griffin.
BG is one of the league's most physical players, and is regularly involved in the type of play that results in flailing limbs. But Griffin is unbelievably coordinated for a man his size. And his combination of power and control is truly spectacular.
He also has short arms for an NBA player, so his limbs just don't flail that much. For comparison, Griffin is 6'10" with a wingspan of 6'11". While Draymond Green, at only 6'7″, has a wingspan of 7'1″.  When Green's limbs go flying, it looks dramatic. Griffin doesn't have that problem.
Blake is also almost always on the receiving end of one of these "unnatural acts." His physical style of play causes others to react, often times, with a dramatic flailing of limbs. Blake has been hit in the face so many times that local Clippers commentator Mike Smith consistently calls for him to wear a mask.
Want your voice heard? Join the Clipperholics team!
This is where the rule will come into play for the LA Clippers. The new "unnatural acts" point of emphasis will help protect B.G. from unnecessary contact. This will go a long way in keeping Griffin healthy through out the year, music to a Clippers fan's ears.
This article originally appeared on