The NBA D-League Top 50: Players 30-21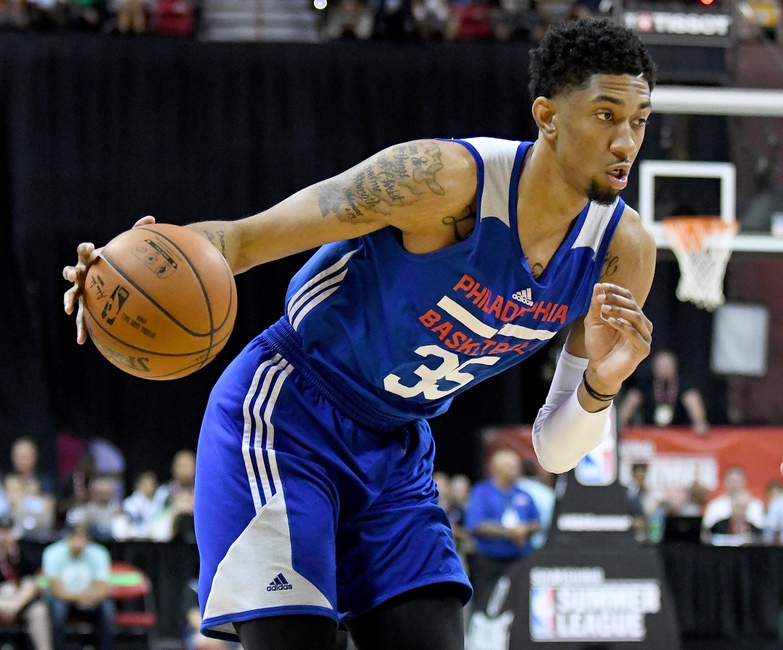 Welcome to the third installment of the inaugural Upside & Motor NBA D-League Top 50 Rankings. The NBADL is on the verge of evolving from a largely independent league to a true minor league for The Association. Chief among that evolution is the dramatic shift in the level of competition, talent and time being spent to develop the skills of each and every player who signs with the league.
Many of the names are familiar to general NCAA and NBA fans, but there are some — like Jonathon Simmons — who hit the league and see their career skyrocket moving forward. As such, this is an exhaustive effort to bring you the top 50 players from this past season. Player turnover in the D-League does not allow for a top 50 list for the 2017 season as we really have no idea who will be in the league at this point, so these ranks are based on 2015-16 performance.
The criteria to be eligible for the list was that a player had to play at least 20 games in the NBADL last year and NBA assignees were not eligible. However, some NBA assignees (Jarnell Stokes for example) ended up being waived and signed with the league, so they will be eligible.
MORE: Ranks 50-41
MORE: Ranks 40-31
Without further ado, here's the next crop of players…
30. Axel Toupane, Raptors 905, SF
2015-16 Stats: 14.6 points, 5.6 rebounds, 3.6 assists
2016-17 Team: Denver Nuggets
Axel was an NBA rookie last year at 23-years-old but had played three full seasons in France's top league for Strasbourg, so he was aptly prepared for the rigors of a tough season. He started relatively slow for the expansion Raptors 905, but once he hit the starting lineup his season took off. He finished with 14 games as a starter, notching averages of 17.7 points, 5.9 rebounds and 4.4 assists. The added scoring was nice, but the additional playmaking ability Toupane showed was most impressive.
His Ast% finished just under 20 (19.4) which proves his versatility at the small forward position. His defense improved as the season went on as well and that's one of the main reasons he earned his contract with the Nuggets. His shooting still needs improvement as he shot just 31.3 percent on 3.6 attempts per game, but he progressed so much in his rookie year that he took home the NBADL Most Improved Player award.
29. D.J. Stephens, Iowa Energy, SG/SF
2015-16 Stats: 10.5 points, 5.6 rebounds, 1.3 blocks
2016-17 Team: Memphis Grizzlies
A surface level overview of Stephens' stats don't lend him to be ranked this high; however, he deserves this spot. For the majority of the season he was stuck out of Canton's rotation, but a trade deadline deal brought him to Iowa where he flourished beyond any expectations. In 11 games with Iowa he averaged 16.1 points and 7.4 rebounds on 55 percent shooting and nearly 42 percent from deep (3.9 attempts). He also boasted a ridiculous +/- of 10.1 which would have easily led the league as the team went 8-3 during that stretch.
MORE: D.J. Stephens Gaining NBA Interest After Recent Surge
Now, that's a very small sample size, but the skills he portrayed are translatable to the next level and that's why he's in camp with Memphis with a real shot at making that roster. At 6-6, Stephens has other-worldly athleticism, but his lack of shooting has held him back. Once he had the opportunity to play consistent minutes that outside threat became evident as he knocked down three or more 3-pointers on four occasions for Iowa. Stephens' athleticism also helps him succeed on defense as he possesses lateral quickness to guard his position and leaping ability to block shots at the rim as well.
28. Andrew Harrison, Iowa Energy, PG
2015-16 Stats: 18.5 points, 4.3 rebounds, 4.9 assists
2016-17 Team: Memphis Grizzlies
Harrison is a point guard and is technically bigger than the aforementioned Stephens. His size (6-5) really sets him apart at his position and allows him the versatility to play, and defend, multiple positions. He's still only 21-years-old but his improvement from day one in Iowa to the end of the year is a real testament to both his hard work, and the coaches' impact on him. As the season wore on his shot selection improved, his decision-making got better, and his defense — both on and off ball — improved greatly.
MORE: Harrison Putting up Gaudy Numbers so far in D-League
Right now, Harrison is at his best when working out of the pick-and-roll. His frame allows him to attack the rim and draw tons of fouls (6.9 FTAs per game), although he only finished 55 percent of his attempts in the restricted area, so that needs work. He shot 38 percent on mid range jumpers and just under 40 percent (38.7) on above the break 3-pointers. He will likely need to improve his catch-and-shoot abilities as an astounding 82.4 percent of his made field goals were unassisted and he likely won't get that type of autonomy in Memphis — at least not immediately.
27. Raphiael Putney, RGV Vipers, SF
2015-16 Stats: 17.1 points, 8.9 rebounds, 2.3 blocks
2016-17 Team: Pasta Reggia Juvecaserta (Italy)
Putney was another diamond in the rough for RGV as they found him two years ago in open tryouts. This was his second season for the Vipers and he exploded as one of the better two-way small forwards in the entire league. Putney is 6-9, 185 pounds (maybe) so he makes Kevin Durant look like a body builder and that's one of his downfalls. While he has quality size, his lack of stature and strength comes into play on both ends of the floor.
His shooting is a real plus (especially at his size) as he knocked down just over 36 percent of his outside looks on 7.0 attempts per game. He tends to settle for jump shots (only 3.0 FTAs per) and while that's his strength, he's not a super consistent shooter either at 36 percent. If he can build up his strength, he could be an "end of the bench" type of player in the NBA. A career overseas is more likely, however.
26. Christian Wood, Delaware 87ers, PF
2015-16 Stats: 17.3 points, 9.4 rebounds, 1.1 blocks
2016-17 Team: Charlotte Hornets
Wood started his rookie season with the Philadelphia 76ers and was waived in January, placing him with their affiliate in Delaware. He played 32 games for the 87ers who struggled through a 21-29 season despite having some of the best individual scoring options in the league. Wood is a 6-11, gangly, 20-year-old power forward who has worlds of untapped potential. He was able to show some of that future promise in Delaware knocking down 3-pointers (3.2 attempts) at a 33 percent clip over the last 14 games of the year.
Simply put, Wood needs to gain some muscle mass. He's 6-11 and weights 220 pounds if he's holding an anvil while you weigh him — I mean he is rail thin. His footwork on the perimeter is solid and he is successful attacking the rim, however he's easily pushed around on the block and looks a bit lost on defense. He's also a bit of black hole, notching an abysmal Ast% of 3.2 in Delaware. Still, in a league dominated by guards and wings, Wood stood out as a swiss-army knife-type of big who will only get better.
25. Nick Minnerath, Canton Charge, SF
2015-16 Stats: 18.5 points, 6.9 rebounds, 0.8 assists
2016-17 Team: Avtodor (Russia)
Minnerath almost completed the first ever, fabled 50/40/90 in the D-League last year. He missed it by only shooting 88.8 percent from the charity stripe. He was wildly efficient as the 6th man for the Charge and probably should have been playing starter minutes around 35 a night, instead of his 29.8. Nick is 28-years-old and his experience really showed, as he constantly made the right play, took the right shot and found himself in the most opportune position on offense.
While his shooting (TS% of 62.9!) stands out, his athleticism attacking the rim was underrated as well. He got to the line 4.2 times a game and at 6-9, finished a whopping 67 percent of his attempts in the restricted area — that's just silly. He doesn't do anything spectacular on defense and maybe that's why an NBA team didn't come calling, but he's not awful on that end either. Minnerath signed in Russia and this is probably the last time we have seen him in the D-League, because if he couldn't earn a call up last year, I have no idea what he could do better.
24. Darington Hobson, Santa Cruz Warriors, SF
2015-16 Stats: 17.6 points, 8.0 rebounds, 4.9 assists
2016-17 Team: Unsigned Free Agent
The Santa Cruz Warriors had a rough season going just 19-31 after winning the championship the year prior, but Hobson was a bit of a bright spot. He was pivotal in them winning the whole thing two years ago and last year his versatile style of play held true to his nickname of "Butta" and "ParkaySmooth". Hobson is more a scorer rather than a shooter, but he was still pretty efficient from the field as well. He shot almost 43 percent overall (15.4 attempts) and almost 38 percent from deep (5.7 attempts). At 6-7, he creates matchup problems galore on the offensive end as a point-forward type. He notched an impressive Ast% of 22.8 which is in line with some of the better point guards in the league.
Hobson's defense –and effort on that end — leaves something to be desired and though he makes plays for others, he sometimes gives of a "me first" type of vibe. Hobson turns 29-years-old this week and while he remains unsigned, he could easily land in a last minute NBA camp somewhere, but it looks like an international team is his likely destination for this season.
23. Quinn Cook, Canton Charge, PG
2015-16 Stats: 19.6 points, 3.9 rebounds, 5.4 assists
2016-17 Team: New Orleans Pelicans
Quinn Cook came off a NCAA Title while at Duke and took home Rookie of the Year honors for the Canton Charge last season. While Minnerath was the heart off the bench, Cook was the blood keeping the Charge motoring through the season. Quinn came into his rookie year as a pro known as a shooter, but the question was really whether or not he could make teammates better. He proved he can run a team in a pro style offense, still knock down outside looks (38.2 percent) and be a stifling on-ball defender to boot.
MORE: Quinn Cook Ready for his NBA Close-up
The 6-2 Cook has the determination and will to play in the NBA and at 23-years-old has yet to realize his full potential. Somehow he's not in an NBA camp (yet) and from my talks with him I get the feeling he won't sign overseas. So if he isn't on an NBA roster to start the season, he could return to Canton in hopes of an NBA call up. He isn't overly quick or elusive, but still finds a way to use his tools to get the job done and any pro club needs players like him.
22. Deshaun Thomas, Austin Spurs, SF
2015-16 Stats: 14.7 points, 6.2 rebounds, 2.2 assists
2016-17 Team: Anadolu Efes (Turkey)
Back in 2013 the San Antonio Spurs selected Thomas with the 58th pick in the draft. After two seasons overseas he went to training camp last season only to be waived and allocated to Austin where he played very well. He started the season slowly putting up 12 points & five boards in just 24 minutes a night. Once Austin threw him in the starting lineup he improved to 15.5 points & 6.5 rebounds in just under 31 minutes a night.
Even more important, Thomas was more efficient as his minutes increased. As a starter he shot 52.4 percent from the field, but only managed 25.4 percent (1.7 attempts) from outside. Through three seasons in the NCAA and two seasons overseas he shot around 37 percent from outside, so last season was likely an outlier. The 6-7 wing was stout on defense and was a solid playmaker for Austin on offense. While his 3-ball struggled, he was amazing from the mid range shooting 51.1 percent on 182 attempts over the season — for comparison league average was just under 40 percent! Without an NBA deal, Thomas signed with Anadolu Efes and will likely thrive in the international style of play.
21. Russ Smith, Delaware 87ers, PG
2015-16 Stats: 27.9 points, 5.0 rebounds, 7.9 assists
2016-17 Team: Galatasaray (Turkey)
Smith is one of four Delaware players on the list even though they only managed a 21-29 record. They had three of the most potent offensive players in the league, but played basically zero defense and that's why they struggled as a team. Smith was simply too fast for almost every guard he faced and flourished on the offensive end of the ball. He shot 46 percent from the field, 30 percent from 3-point range and 78 percent (7.8 attempts) from the free throw line. He also turned the ball over a whopping five times a night.
His Ast% was an amazing 32.4 but his A/TO was only 1.6. The 25-year-old, 6-footer was a scoring juggernaut (he set the single-game scoring record at 65 points!) but honestly did little else to help his team win. A player of his caliber should have propelled Delaware to more wins but they only managed a 7-15 record in his 22 games, despite having enough talent to win. Smith has immense talent, quickness and drive, but he needs to harness those skills and learn how to enable his team as a whole, rather than just himself. Hopefully the Turkish club experience will help reign in his leadership skills.
More from Upside and Motor
This article originally appeared on