The Indiana Pacers Offense Isn't Enough to Overcome Their Defense's Shortcomings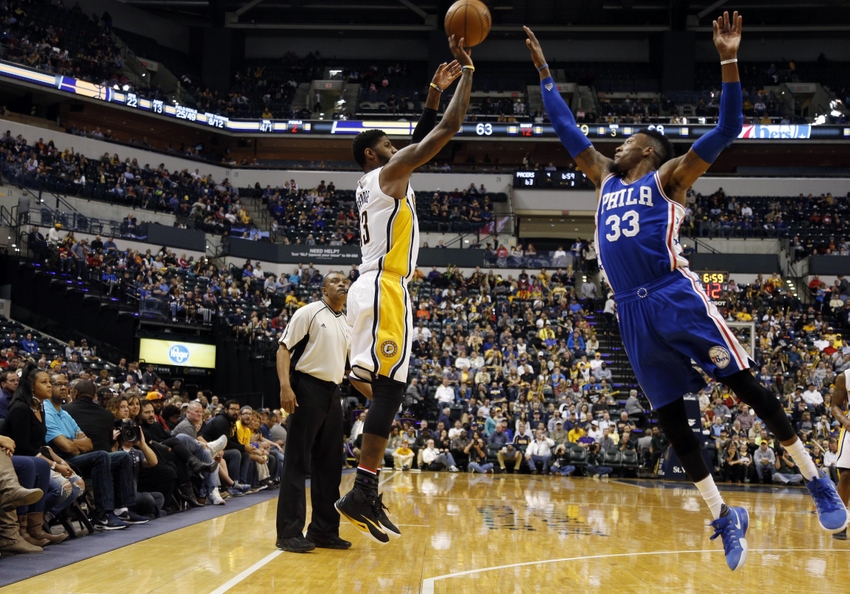 The Indiana Pacers are 4-4 on the season and giving us more questions than answers, but there are a few trends worth noting in this young season.
Though eight games we've seen the best and the worst if the Indiana Pacers, but mostly the worst and plenty of mediocre basketball.
A lof of things stand out — the poor defense in particular and we'll get to that in a moment — but there are a number of things you can find when you dig through the stats that tell us more than just how good or bad something is right now.
It is very early in the season and many of these trends can change, but let's take a look at some of the most significant digits for the Indiana Pacers so far this season.
108.6 Defensive Rating — 28th
After being on the NBA's best defensive teams over the past few seasons, the Pacers have dropped to the 3rd worst in the league. Their fast pace has them all the way at the bottom in opponents' points per a game with 113.3. The Pacers defense is awful, and there is no way around it. All of the starters have defensive ratings of 104 or higher, and it gets worse when you get to the bench.
Whether this is something that can be fixed over time is something that remains to be seen, but right now they are giving their opponents' offense the green light.
105.0 Offensive Rating — 13th
The good news is the Pacers offense has the highest offensive rating for the franchise since the 2008-09 season. The problem for the current team is it is ranked 13th in the NBA.
It isn't that there is anything particularly wrong with the offense as much as it isn't enough to cover-up the sins on defense.
This becomes a reoccurring theme as we dig deeper into the stats. The Pacers do a number of things well, but the defensive issues stop the Pacers from being a better basketball team.
9.5 steals a game — 4th
The Pacers are 4th in the NBA in steals as their defense takes advantage of mistakes their opponents make. Even once you control for pace with per 100 possessions, they still rank 4th in the NBA (9.1 a game). The Pacers are excellent at cutting off passing lanes — when they focus on defense.
This leads us to an interesting pair of stats…
20.9 points off turnovers — 1st
Another case of good news bad news: The Pacers are first in the league in points off turnovers, and even when adjusted for pace, Indiana is in 2nd.
However…
22.9 points allowed off turnovers — 30th
If you are quick on your feet on the math, you figured out that's two more points allowed than scored on turnovers. Even when adjusted for pace, Indiana is still 30th in points off turnovers.
For what is is worth, Basketball-Reference has Indiana 13th in turnover percentage, so while they aren't a turnover machine, they allow opponents to score off of them with ease.
One may not be directly affected by the other, but one is certainly annulling the other, and a little bit more.
11.4 fast break points — 24th
The Pacers are creating points off turnovers, but they aren't getting a lot of fast break points thanks to their lousy defense. They may play at a fast pace, but they aren't giving themselves many chances for transition baskets.
My theory is that because they are allowing the other team to score so easily, they aren't getting anything going in transition because they are spending most their time getting the ball out of the basket.
That theory is backed up by a 21st place ranking in the defensive rebound stat. When you allow the 4th highest field goal percentage in the league, you aren't going to have many chances to grab the ball and toss it down the court for an easy bucket.
Perhaps if the defense improves and they grab more rebounds on that side of the ball, they can further increase their lead in points off turnovers while also climbing out of the bottom of the league in fast break points.
38.9% 3-Point Percentage — 3rd
The Indiana Pacers are one of the NBA's best 3-point shooting teams, period. They rank 23rd in the number of attempts and 11th in the total made and that is why they are 5th in the NBA in effective field goal percentage.
More from 8 Points, 9 Seconds
This surge in 3-pointers is powered by Paul George (44.9%), C.J. Miles (53.8%) and even a healthy Aaron Brooks (41.7%). While Jeff Teague's season started off ugly and his 24.1% mark from distance shows as much, he's become one of the team's better 3-point shooters over the last 3 games at 45.5%.
It is a good sign that they are 13th in the NBA in the number of 3-point baskets made off assists as this tells us they are getting the ball to open shooters who execute in open space. If they were knocking down shots without, I'd be concerned they are just knocking down more shots than expected and they were guaranteed to drop drastically at some points. But their two leading 3-point shooters, PG and C.J., both make over 85% of theirs off assists. Continuing to shoot at a high percentage is something they can potentially keep doing.
It is worth tracking and seeing if they can keep it up, but it is nonetheless a good sign that Indiana is moving the ball to a teammate who is ready to knock down a 3-pointer.
It is too early to make too many definitive statements on the Pacers, but so far their defense is going to stop them from winning more games unless the offense somehow becomes one of the most efficient teams in NBA history.
This article originally appeared on