The Indiana Pacers are Struggling to Defend the 3-Point Line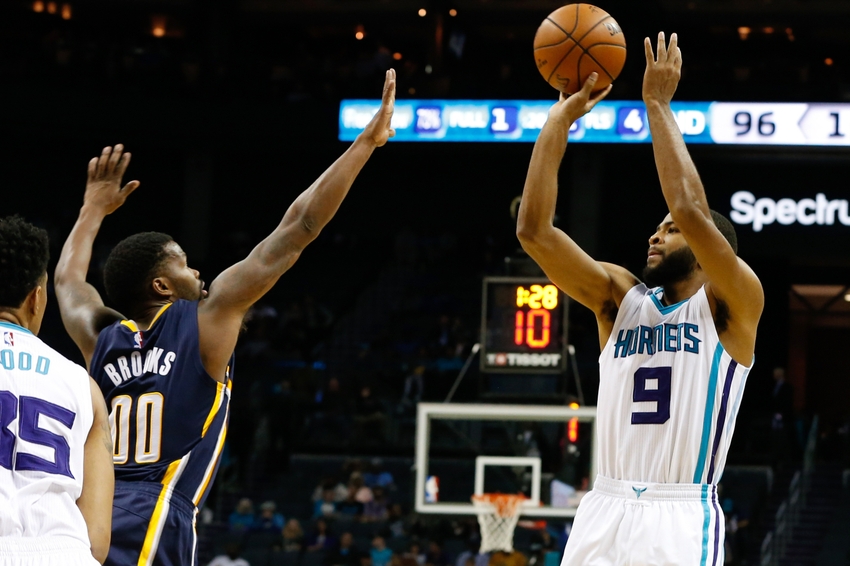 The Indiana Pacers aren't guarding the 3-point line very well, something they excelled in during past seasons.
The Indiana Pacers aren't playing defense like they used to, as their 104 defensive rating can attest to. One reason for this is they are allowing opponents to shoot 3-pointers freely.
Not only are the Pacers in 27th place for 3-point opponent baskets with 10.2 per game as of Nov. 17, but they also have allowed their opponents to score 22.8% more three-pointers than they did last season.
While the 10.2 3-point opponent average is only 1.9 3-pointers per game over the Pacers' 2016 average of 8.3 3pointers per game, it represents 5.7 more points per game that their opponents are scoring from the three-point line.
How to fix the problem
Yet this statistic can be viewed in a positive way.
The Pacers' opponents have outscored the Pacers by 0.5 points per a game as of Nov. 17. If the Pacers can find a way to limit their opponents to the 2016 level of 3-point scoring while keeping other forms of  scoring at the current level, the Pacers can outscore their opponents by 5.2 points per a game.
The next step is finding a way to accomplish this feat. Part of finding a solution is seeing where the problem lies.
One issue is along with the 22.8% increase in opponent three-point baskets, opponents have been taking 29.6 three-point attempts per game, which is up by 19.2% from the 24.8 opponents took during the 2016 season.
More from 8 Points, 9 Seconds
Looking at individual players, a bulk of the increase in opponent three-point field goals made can be attributed to Paul George, Monta Ellis, C.J. Miles, and Joe Young. During the 2016 season, George, Ellis and Miles had 1.4, 1.3, 0.7 and 0.2 three-point defensive goals per game made against them. As of Nov. 17, they had 1.7, 1.5, 1.0, and 0.6 three-points made by opposing players this season.
A small part of the increase comes from the additions of Jeff Teague, Al Jefferson and Thaddeus Young and the departure of George Hill, and Jordan Hill and Myles Turner's move from power forward to center.
George Hill averaged 1.6 three-point defensive goals made per game in 2016 compared to Teague's 1.7. Teague's current defensive three-point field goals made is an increase from the 1.2 defensive three-point defensive field goals made against him in 2016 when he was part of the Atlanta Hawks.
Jefferson's 0.6 three-point defensive goals made per game is slightly higher than the 0.5 made against Jordan Hill in 2016. Jefferson's current three-point defensive goals made per game average also exceeds the 0.1 average he had in 2016.
Thaddeus Young had 0.9 compared to the 0.7 Turner had as a power forward.  Thaddeus Young's average of 0.9, however, represents a decrease from the 1.1 defensive field goals made against him in 2016 when he played for the Brooklyn Nets.
Turner's 0.4 opponent three-pointers per average this season is down from the 0.7 average he had in 2016 when he played power forward. Also, Turner's current 0.4 average is lower than the 0.5 average Ian Mahinmi had last season for the Pacers.
When it comes to defended three-pointers attempted, George leads the team with 5.3 per game. Ellis and Thaddeus Young are second and third with 4.5 and 4.1 per game respectively. Last year George had only 4.5 per game. Ellis' total is up slightly from 4.4 in 2016. When Turner played power forward last season, he had only 2.0 defended three-pointers attempted per game. Also, Thaddeus Young had only 3.5 defended three-pointers attempted against him when he played for the Brooklyn Nets.
From looking at both individual defended three-pointers made and attempted, George is the player who is most in need of getting back to where he was in 2016.
Not everything here is bad news
But George and the Pacers have one statistic that shows that they are making effort when defending the 3. The Pacers are second in the NBA in three-point contested shots, according to hustle statistics viewed on NBA.com for Nov. 17. Paul George ranked ninth with 3.9 per game, Monta Ellis ranked 16th with 3.6, and Thaddeus Young had 3.5 for a 23rd place ranking.
The Pacers do rank 17th in defensive three-point percentage differential between their opponents' average 3-point shooting and the 3-point shooting percentage against the Pacers. While that differential is only 0.4 percent, the Pacers led the NBA in defensive 3-point differential in 2016 at -1.8 percent.
The current 0.4 percent differential, however, represents a mean between significant extremes.
On the positive side, Thaddeus Young and Kevin Seraphin both have double-digit individual negative differentials of -10.8 percent between the opposing player's regular 3-point average and the three-point average achieved against them. Although one game isn't enough to make a judgment on a player, Rodney Stuckey's -19.7 percentage differential is hopeful that the Pacers' three-point defense will improve once he is able to return to the lineup.
Turner also has a negative differential of -6.4 percent. Additionally, Aaron Brooks and Miles and Lavoy Allen have posted differentials of -4.7 and -2.7 and. Ellis' differential is at -0.8 percent, and George's differential stand at -0.7 percent.
But there is more bad news
Now for the negative.
Jeff Teague's 10.8 percent positive differential is the highest among the starters. That is surpassed by Al Jefferson's positive differential of 24.4 percent. While not part of the regular rotation, Glenn Robinson III has a positive differential of 16.6 percent.
The differential figures could be a reason to find more playing time for Seraphin and putting Miles in the starting lineup over Ellis in order to cut down on opponent 3s.
Comparing defended 3-point field goal percentages of Seraphin and Jefferson adds another reason to consider giving Seraphin more playing time. Opposing players have shot 3-pointers at a 16.7% rate against Seraphin compared to the overall 27.4% average of the opponents he has face. While the opponents Jefferson has gone up against shoot at an average of 35.6% from the 3-point line, they have shot 60.0% when Jefferson is defending them. This is where we can see Jefferson's lack of speed as a major liability.
The contrast of 3-point field goal percentages between Miles and Ellis also favors Miles. Compared to Ellis' 33.3% defended 3-point field goal percentage, Miles boasts one of .308. The overall three-point field goal percentages of Miles' and Ellis' opponents are close at .334 and .341 respectively.
Yet Miles' defended three-point field goal percentage has improved from 2016, while Ellis' has not. Miles went from .324 to .308, while Ellis' went from .296 to .333.
A recent article by 8 Points, 9 Seconds Will Furr could offer an explanation for Ellis' decline.
When George Hill was starting alongside Ellis, the Pacers were able to mitigate Monta's small stature.

Hill is 6'3 and stout with a much longer wingspan than his size would indicate, and matched up with shooting guards like Dwyane Wade while Monta could hide on smaller (and often less threatening) point guards. Hill was physically up to the task of being a shooting guard on defense against most teams. Teague is, well, not. That means Monta has to be.
But going back to team stats, one might argue that the Pacers' faster pace, which Larry Bird started touting following the 2015 season, could also be a factor in the rise of opponent three-pointers and opponent three-point attempts.
In addition to the increase from 2016 to the present season, the Pacers also experienced an increase in opponent 3-pointers and opponent 3-point attempts from the 2015 season to the 2016 season. Opponent three-pointers rose by 14.9%, and opponent three-point attempts took an 18.8 percent hike. The jump from 2014 to 2015 wasn't as drastic. Opponent three-pointers went up by only 9.9%, and opponent 3-point attempts grew even less as 9.8 percent.
Looking at pace of games this season, though, does not necessarily bear out that theory. In the Pacers' first game of the season against the Dallas Mavericks, the game pace was 103.6, and the Mavericks took 48 three-point attempts and made 18. When the Pacers played the Orlando Magic, the Magic had only 25 three-points attempts and made five in a gamed played at a 93.6 pace. Yet when the Pacers played the Philadelphia 76ers in Philadelphia, the 76ers were able to get off 32 3-point attempts and make 11 of them while playing at a 94.5 pace. Yet again, that was better than the 36 three-point attempts and 14 3-point makes the 76ers had when they played the Pacers in Indianapolis in a game played at a 97.1 pace.
But there was one sign in the Orlando Magic game that the Pacers three-point defense may be improving. I saw Magic three-point attempts became two-point attempts more than once.
The Pacers themselves have ideas about how they have improved their defense in general in the last two games. After the Nov. 16 Cavaliers-Pacers game, George commented that the Pacers' defense  is getting better because players are now experiencing less fatigue and that players are now trusting one another. Thaddeus Young specifically talked about running players off the three-point line.
But again, the difference between opponent 3-point field goals in 2016 and in the present season is 1.9. No matter whether decreasing opposing 3-pointers comes from an increased effort defending the 3-point line or tweaking the lineup, even the smallest amount of attention to the situation could be just enough to make a significance difference.
This article originally appeared on