The Implications of Kelly Olynyk's Non-Extension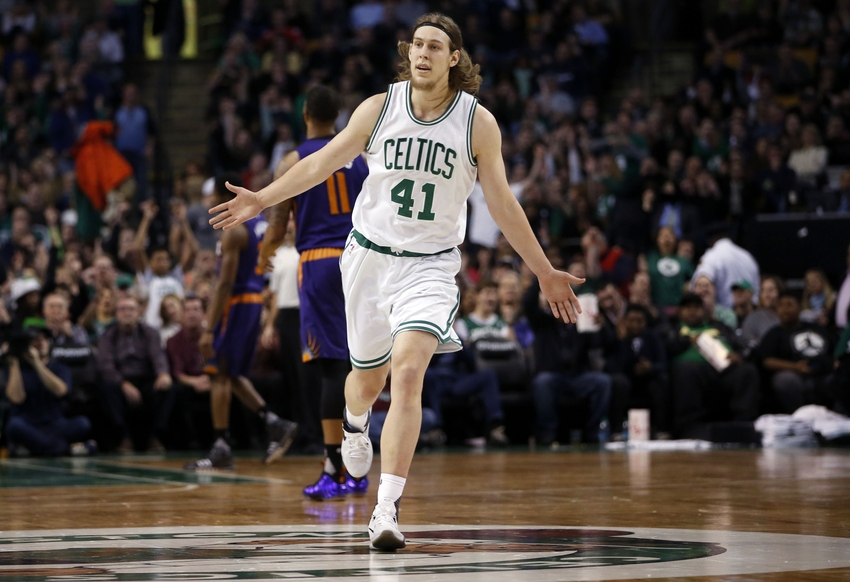 Looking into the implications of Boston's decision to not give Kelly Olynyk an extension
The Boston Celtics opted not to negotiate an extension with Kelly Olynyk on Monday. That means he'll enter the offseason as a restricted free agent, and it indicates that Boston's sweet-shooting center is not their top priority moving forward. It doesn't mean he isn't a priority at all though, and Olynyk's lack of extension certainly does not come as a surprise.
The Celtics have been very open about wanting to open up max-level cap space to chase any available superstar this summer. Extending Olynyk would have meant sacrificing a considerable portion of what Boston could theoretically free up. Waiting until the offseason to make a decision is the logical choice, but there are a lot of moving parts that need to be considered.
More from Hardwood Houdini
Olynyk's cap hold as a restricted free agent will be at least $7.7 million dollars (this number might increase slightly under the new CBA), which would leave the Celtics with around $24 million in cap space (using the most recent $102 million projected cap), should they choose to let everyone with an expiring contract walk in free agency and cut bait with Tyler Zeller. That's not the full max for anyone. Take out Olynyk's hold and suddenly the Celtics climb just over $32 million available for use, which is theoretically enough to offer any player with less than ten years of experience the full boat.
That number doesn't account for cap holds for whomever the Celtics might draft though, and it is likely to shrink with the new CBA. Under the new deal, there very well may be new rules around what constitutes a max, minimum contracts are likely to increase, and according to recent reports, the number of roster spots that teams will have to account for on their books is going up. All of those things could have detrimental effects on Boston's ability to go after a big name free-agent.
Freeing up the kind of space that would allow the Celtics to make a meaningful run at a superstar would inevitably mean renouncing Olynyk's rights, and turning him loose as a free-agent. That's not a problem if Boston can use the flexibility his departure would create to sign someone like Blake Griffin, but if the Celtics can't land a big time star then they risk losing Olynyk for nothing, a dangerous proposition for a team that is trying to compete at the highest level in the present.
If the Celtics can't make a big name addition, they could simply roll over their cap space into the 2018 offseason. Demarcus Cousins, Gordon Hayward, Chris Paul, and Kevin Durant will all be eligible for free-agency at that time (though there is no guarantee any of them will choose to explore the market), but Boston will be forced to deal with an even more complex landscape at that time. Isaiah Thomas and Avery Bradley will be unrestricted free-agents, and both will be interested in getting paid after playing on very team-friendly contracts the last several years. Marcus Smart will either be an unrestricted free-agent or have already been extended at a higher pay rate.
Boston will have to make a call on how much of its current core it wants to make a significant portion of its future, and determine whether or not that strategy aligns with its broader hope of adding additional top-flight talent. If the plan is to maintain the current roster with just one more star, then that player likely needs to be brought on board this summer. There aren't all that many superstars that are likely to be testing the free-agency waters this offseason, though. Really the list starts and ends with the aforementioned Griffin. Alternatively, the Celtics could aim to trade for a star and use their upcoming cap space to work out an extension with him, but it's not entirely clear if anyone that might pique the team's interest is actually available.
All this to say, the Celtics have a lot of decisions to make, and a lot of factors to consider in making them. Some of the team's current players will be casualties of those factors and decisions, and early signs point to the possibility of Olynyk being one of them. For now he is a Celtics, and Danny Ainge would be happy for this decision to be as difficult as possible because Olynyk plays well. He'll have a chance to make his case once he recovers from his shoulder injury.
This article originally appeared on