The Hawks Overcome Heat to Win 93-90 in Miami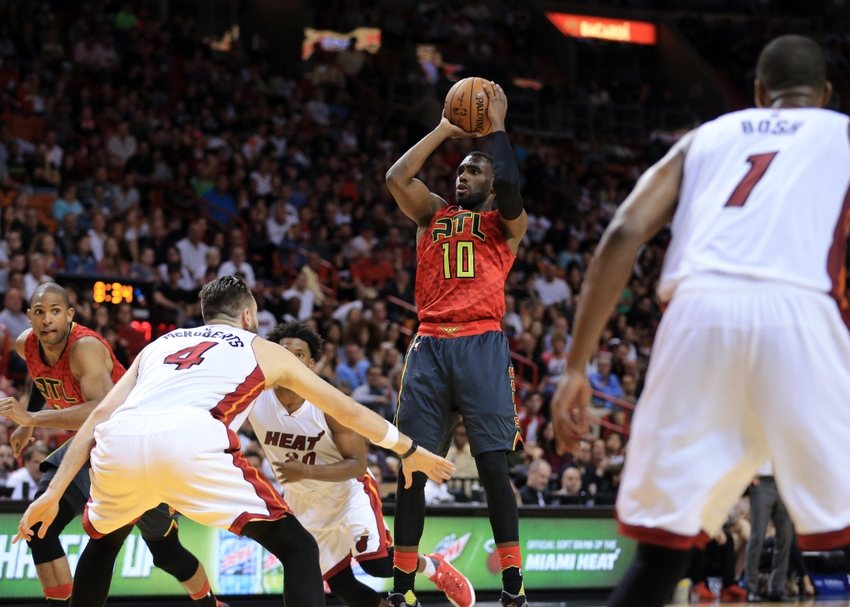 The Atlanta Hawks improved their record to 8-2 with a 93-90 victory over divisional foe, the Miami Heat.
The Atlanta Hawks earned themselves their 5th straight victory at the expense of a injured and hobbled Dwight Howard during the third quarter. After recording 11 points and 11 rebounds for his sixth double double of the season, Howard left for the locker room with just over 3 minutes remaining in the 3rd and did not return. The injury was described by the AJC's Chris Vivlamore as a left quad contusion at the time.
Hasaan Whiteside went on to have an incredible game, recording 19 points and 25 rebounds in a hard fought loss for the home team. James Johnson was also impressive for the Heat, dropping in 13 points on 5/8 shooting and 3/5 from long distance. The Hawks caught a break regarding Justice Winslow, who was held out due to a sore wrist.
Atlanta fell behind 25-22 at the end of the first quarter, but regained control by outscoring Miami 27-18 in the second. Dennis Schroeder led the Hawks in scoring with 18 points on 7-15 shooting and was a perfect 2-2 from 3 point range. Dennis managed to only get 4 assists and had 4 turnover's to go along with it.  Paul Millsap had an average game at best, scoring 15 points on only 7-17 shooting with 6 rebounds.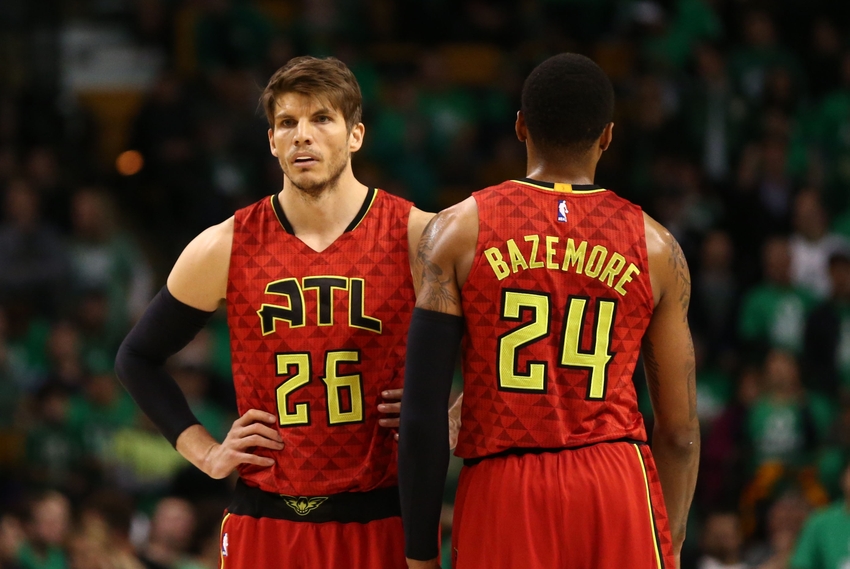 A couple of the starters struggled to get things going, as Kent Bazemore had 12 points on 4-12 shooting in 31 minutes of action. Kyle Korver did his best disappearing act, making only 2-4 field goals for 4 points and collecting 2 rebounds in the 29 minutes that he played. Hardaway Jr. and Muscala continued their strong play, both finishing in double figures in scoring.
Miami stayed in the game largely because of a strong performance by Josh Richardson, who had 19 points on 8-14 field goal attempts. The Hawks held a 89-81 lead with just over 5 minutes remaining, before Miami went on a mini run to make things interesting. With a 89-86 lead and less than a minute remaining, Miami got a tip shot from Rodney McGruger off of a missed Dion Waiters lay up to cut the deficit to one.
The Hawks however would close the game out from the free throw line, with Kent Bazemore and Dennis Schroeder going a combined 4-4 from the stripe in the final 21 seconds of play. Dion Waiter's wound up missing a three pointer that would have tied the game as time expired. Atlanta managed to survive despite scoring 16 points below their average of 109 points per game, in large part because they held Miami to only 40.0 percent shooting.
More from Soaring Down South
This article originally appeared on