The growth of Timberwolves' star Andrew Wiggins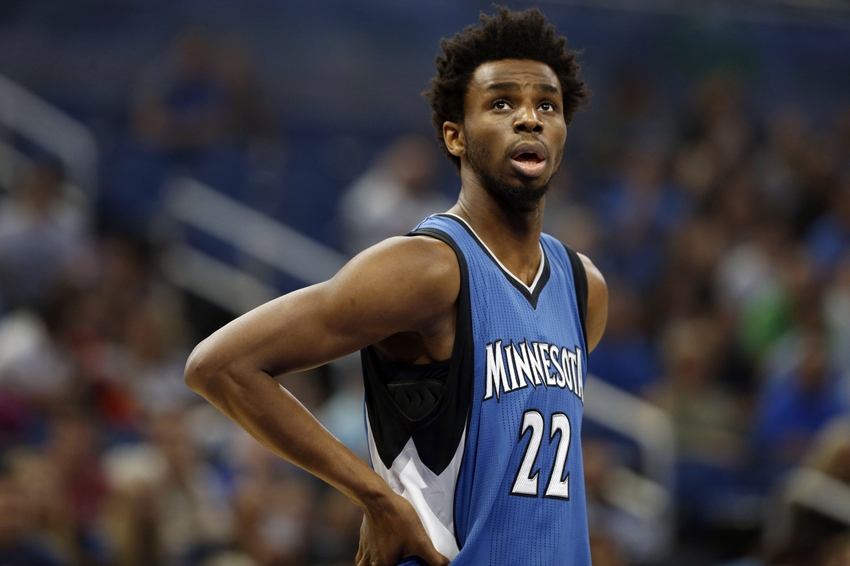 Timberwolves wing Andrew Wiggins is just in his third season as a professional, but the rapid growth that he's made in his game is clear.
NBA fans are familiar with the insane athleticism and rim-rattling dunks of third-year guard/forward Andrew Wiggins.
Timberwolves fans know the former Rookie of the Year as their leading scorer, despite being somewhat flawed (at least through his first two seasons) as a shooter.
However, though the 2016-17 season is still as young, as is the man himself, Wiggins is beginning to demonstrate his growth since the end of his second year.
During the second year of Wiggins' NBA career, he posted 21.2 points per game with the 90th-ranked effective field goal percentage league-wide. His inconsistencies when it comes to shooting the ball contributed to his 16.5 Player Efficiency Rating, which was only a hair above the league average of 15.
The cause for Wiggins' inefficiency issues came from his shot selection and the ultimate field goal percentage on said shots.
Basic math tells us that threes are worth more than twos, of course. And in the NBA world, long twos are generally the least efficient shot a player can settle for.
Last year, 24.3 percent of Wiggins shot attempts came from greater than 16 feet but in front of the three-point line, and he connected on just 34.7 percent of these attempts.
Continuing on this ugly trend, 14.7 percent of Wiggins attempts were from beyond the arc of which he connected on just 30 percent.
For a small forward in the NBA to shoot nearly 10 percent more long twos than threes is a concern. Not that Wiggins was making either shot at a decent clip, but at this point, the distribution is perhaps more of a concern than the conversion rate.
Through seven games of the 2016-17 campaign, Wiggins' tendencies to take long twos over threes appears to be changing, though it should be noted how small the sample size is.
Wiggins is currently attempting shots between 16 feet and the three-point line at a rate of 18.3 percent. This number is down by nearly five and half percent from last year.
While it's a promising sign that Wiggins is taking fewer long twos, it's even more promising that he has improved his field goal percentage in this area of the floor by 17.5 percent. As of right now, Wiggins is hitting 52.2 percent of these shot attempts. This number is bound to come down slightly, but it is encouraging to see more efficiency in this area.
More from Dunking with Wolves
By reducing the rate at which he takes long twos, Wiggins has been able to redistribute his shot attempts. He is currently attempting 2.4 percent more shots within 10 to 15 feet of the basket and 3.1 percent more shots within three to nine feet. This year, Wiggins shooting percentages within 15 feet are down from 55.3 percent to 40.8 percent. It's very reasonable to expect those numbers to regulate themselves as the season goes on due to Wiggins ability to finish close to the rim.
This isn't the biggest change in Wiggins shooting tendencies, however. Wiggins' three-point attempt rate is up 3.3 percent so far this year, and he is making them at a 63.6 percent clip! This fantastic number will undoubtedly come down, but Wiggins has shown confidence in taking threes this year, something in which he's lacked in previous years.
This confidence in taking threes, especially in the last two games in which he was a combined eight for 11 from downtown, will only serve to open up the floor for the young Canadian.
In this clip, Fournier is caught out of position and is forced to close out on Wiggins. With lightning quickness, Wiggins blows by Fournier for the easy dunk.
Last year, defenders did not need to concern themselves with Wiggins 30 percent three-point shooting. This year, as long as Wiggins continues to hit at a consistent clip, defenders will be forced to play up on him.
In this example, Gorgui Dieng and Wiggins run a pick-and-roll. Because Wiggins is a threat to shoot, Aaron Gordon is forced to fight through in order to defend a potential shot. This allows Wiggins to go straight at Nikola Vucevic and bank home a layup.
The drastic improvement in Wiggins shooting percentages, as well as his shot selection, is noticeable. Through seven games, Wiggins has an effective field goal percentage of 53.3. Over the three previous seasons this number would have placed Wiggins in the top-35 among qualified players in the league.
Since the emergence of Karl-Anthony Towns, the NBA world has been enamored with the Kentucky product — and rightfully so. And that means that Andrew Wiggins, at least at this moment, is playing second fiddle to the potential greatness of Towns.
But let's not forget that Wiggins was as hyped of a number-one pick as anyone in recent drafts and currently ranks 12th in the league for points per game while only being 21 years old.
In other words, the future of Minnesota Timberwolves basketball is bright.
This article originally appeared on