The Golden State Warriors' High Pick and Roll is devastating the NBA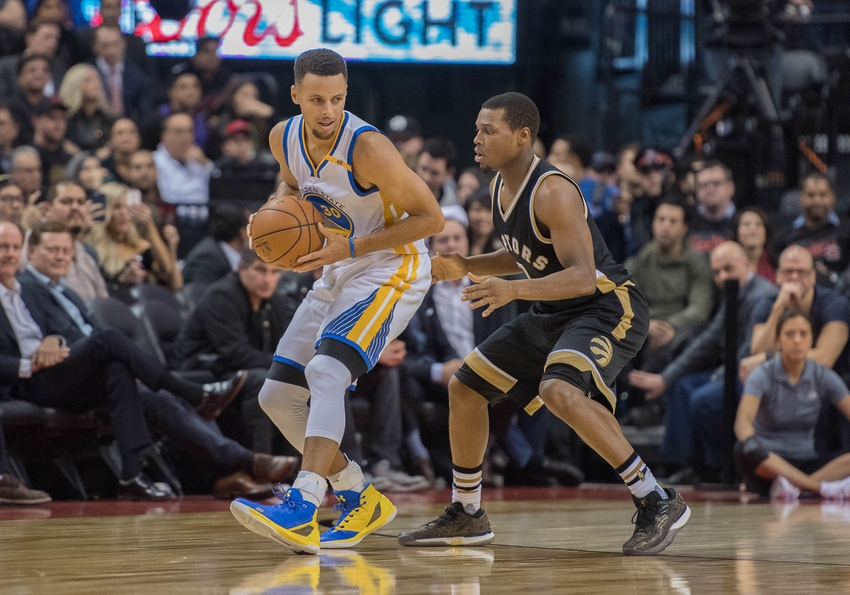 This elite offense is anchored by one of the most classic interactions in NBA history, the high pick and roll.
Simplicity is the most demoralizing weapon
Last night against the Milwaukee Bucks, the Dubs scored a ridiculous 75 points in the second and third quarters combined. Klay Thompson contributed 29 points by himself on a night that saw him shoot 50% (5 of 10) on three pointers.
Kevin Durant also had a field day with 33 points and he also shot well from three. To the tune of 62.5% on all of his three point attempts (5 of 8) of the night. While this all sounds nice the key for the Warriors last night was open looks. And I mean a lot of them! This brings me to the topic.
The Golden State Warriors high pick and roll is practically unstoppable and devastates opponents. When you look at the amount of open threes and penetration this two man interaction is creating for the Dubs it is almost comical.
Teams are jumping out of their shoes to stop it, they know it is coming over and over, and they still have no answer. To amplify matters, the Golden State Warriors (they should be called the nuclear bombers!) run it possession after possession.  Here are the three threats that make this Golden State Warriors set an absolute lose-lose for opposing defenses.
If the photo above looks familiar there is a reason. Stephen Curry treats defenders like this no matter how much single coverage you dedicate to him. The human torch is one of the few players who can launch his shot a millisecond of thought no who is covering him.
It is equally devastating when he decides to toy with you at the top of the perimeter using his efficient and evasive handle. What this means for the Golden State Warriors is that they can break your defense apart just by having Steph initiate high pick and rolls with a soon to be mentioned screener.
When the Warriors bring Stephen Curry up to start this pick and roll, you have three options to defend as the on-ball defender. Option one is allow a switch. Option two will obviously be to play under or over the screen (suicide essentially). Option three is to just double team him outright. Let's now evaluate what you get with option number one.
When you decide to allow a big to switch on Curry you essentially stop penetration for a quick open three, however you are still giving up an automatic two or three points. There is no-one who plays at the 4 or 5 that can keep the instinctual and dynamic point guard in front of him. If you believe that to be a lie, ask serge ibaka (an elite defensive four man) how that worked out for him. I will do the honor of showing you how that worked out below:
The other part that goes over the heads of opposing defenses is that there is literally too much space for Stephen Curry to just pull up from three point range right then and there if they decide to play over or under instead.
like this:
The last option is when teams decide to double team him outright. Depending on Golden State's current lineup this can go a number of ways. This option has been used a lot since it gets the ball out of Steph's hands immediately, but it allows the Golden State Warriors to play 4 on 3. This all really plays into the principle of this initial threat from the start. Opponents are so afraid of Curry getting opportunities that they are willing to leave the floor wide open and try to defend an extra person without the man power to do it. This is a major fear factor that Golden State exercises on teams over and over again, and somehow opponents always fall victim to it.
When the double comes and Curry gets rid of the ball, what happens next that is so devastating? Let's get to that!
Draymond Green is no average Power Forward. He has the ball-handling skills of a wing player. He has the athleticism to slash to the rim. He has the play-making prowess of a point guard. Why is all this really important to the execution of the Golden State Warriors high pick and roll? Because he adds another wrinkle that the defense is not prepared to answer for.
Stephen Curry has huge gravity in this two-man game, but what if you combined that with a player in Draymond Green who is the primary play-maker and versatile threat in every sense of the concept? The answer for the defense would be utter trouble. Draymond Green sets some of the most solid screens in the NBA for one thing.
To compliment that if someone so decides to double Steph, he is the perfect outlet. Green puts the ball on the floor with the greatest of ease and will gladly take that open lane to the basket. When the help comes depending on where it comes from, he will find the open man in a split second and boom! There goes and open three, dunk, or open shot in general. If you don't help then he has no problem taking it all the way to the house and doing this on his own right:
The actions that Green is capable of as the screener are his own fear factor and help him as a play-maker (which he really needs no help in that department as is). The last and final wrinkle to the Golden State Warriors high pick and roll that makes teams pull their hair out is a product of the first two threats.
Draymond, Klay, and KD versus the rest of your defense
When you talk about painful decisions, you should definitely consider defending the Golden State Warriors high pick and roll as one of them. Especially since you will be at risk of having two supreme shooter like Klay Thompson and Kevin Durant bomb you from every spot on the three point line.
Whenever Draymond gets the dump off pass, that is when the real torture begins. help has to come from somewhere and even if the bigs bring it, the center can draw the help in and still kick it out for a wide open three. Usually this does not have to take place because once Draymond gets the ball you will already see Klay thompson and Durant flashing their long arms in the air to receive a pass for the three.
At the that point you know that it's over unless you can somehow block a wide open, uncontested shot with telepathy. Kevin durant and Klay Thompson combined for 10 threes on almost 65 percent shooting from range. All because the Warriors have perfected this action time and time again. It will be interesting to see how team adapt to this Golden State Warriors high pick and roll as the season goes on. In the meantime, I know i don't mind watching the Warriors hit open three after open three, it's box office and it's Dubs basketball!
More from Blue Man Hoop
This article originally appeared on