The Evolution of Maurice Harkless; Portland's New Swiss Army Knife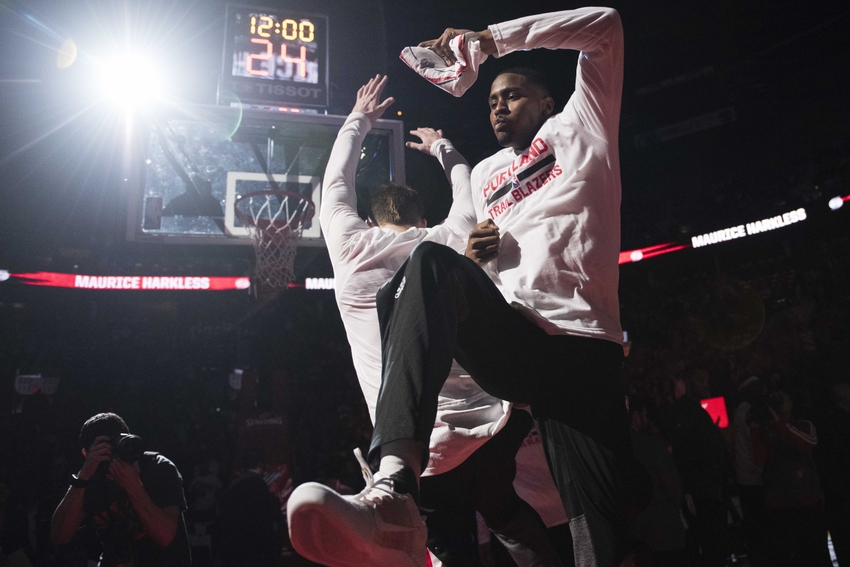 Maurice Harkless has been the Bright Spot of an Underwhelming Start to the Trail Blazers Season
When the Blazers traded for Harkless from Orlando, most viewed the transaction as an afterthought, maybe an insurance policy. However, this was yet another master stroke by Blazers General Manager Neil Olshey. After surveying the market, he truly found an undervalued asset for pennies on the dollar.
Over the course of last season, Harkless was used progressively more by head coach Terry Stotts. His increased playing time is a result of the modern NBA, where versatility is a premium. By the playoffs, Harkless had cemented his spot as the team's starting small forward, playing an important role in the Blazers 4-2 series win over the Los Angeles Clippers. After the playoffs, he became a restricted free agent, leaving doubt over his future as a Trail Blazer.
Olshey had an abundant level of cap space and wanted to test the market. There was uncertainty over the future of our own free agents, such as Allen Crabbe, Meyers Leonard to go along with Harkless. When Olshey chased free agents such as Hassan Whiteside, Dwight Howard and Chandler Parsons (eventually signing Evan Turner), it seemed that he wouldn't be able to afford Harkless.
But on July 27th, Harkless and his agent Happy Walters reached a four year, $40 million contract with Olshey to remain a Blazer (Possibly $42 million based on 3 point field goals made).
As the Season Progressed, so did Harkless' Role
Despite signing this contract as a youthful 23 year old, there were still questions about his role and playing time with Turner, Crabbe, Al-Farouq Aminu, Noah Vonleh and Meyers Leonard fighting for minutes at the 3 and 4. Franchise player Damian Lillard once again organized a preseason bonding trip to San Diego, and this carried through to training camp where these questions were all answered. Harkless had emerged post training camp as the starter at small forward, and two things were quite clear.
Harkless had improved his overall jump shot. Instead of looking at the ball at the point of release, he made the fundamental change to look at the back of the rim. This did wonders for his shot that has seen his FG% rise by four percentage points. 3P% +11%, and his FT% + 14%. These percentages all rank above league average opening his game where teams can't leave Harkless.
He is making use of his strong 6'9″ 220lb frame to back down leaner forwards while being able to put the ball on the deck and drive by bigger forwards. Having a multi-faceted toolbox in todays' game is integral when schemes concentrate on switching. This helped Harkless increase his scoring to 6.4ppg to 13.0ppg.
Defensively, Harkless has always been more than adept.
This is the reason that initially attracted Olshey's eye. He is able to guard any position from 1 to 5, he's strong enough to battle bigs like Blake Griffin (on temporary switches) while also capable of maneuvering around screens against smaller assignments such as Chris Paul. Defensive versatility among athletic wing players who can shoot are paid a premium around the league that is currently experiencing the 'pace and space' era (ask Wesley Matthews).
The on court impact of Harkless should not go unnoticed. The top 5 Blazer lineups that are outscoring teams by 9 points or more per 100 possessions all feature Harkless.
He also appears in the Blazers' top defensive, rebounding and assist lineups. 'Hark' contributes to this by being a disciplined player who blocks out, rebounds and remains unselfish.
Harkless Earned his way to the Starting Five, and the Blazers' Future
The growth and development of Harkless has cumulated into becoming the third option (behind Lillard and McCollum) for Stotts.
The direction of the franchise will be dictated by the internal growth of the young guys like Harkless who were locked up long-term this past offseason. Olshey had a plan to be in asset acquisition mode by locking up their own free agents to (relatively) cheap contracts where they were able to outperform their market value.
Harkless' contract may have caused some 'sticker shock' among the NBA fandom, but with the cap spike, these contracts must be looked relative to the cap. His average salary is expected to be around $10 million a year and with the cap expected to be sitting at $103 million for the next few years, it can be seen as earning 9.71% of the cap. For an equivalent figure, that is earning $5.6 million on the old $58 million cap. That is below the mid-level exception! This contract could soon be viewed as one of the major bargains around the league similar to the public perception on Ed Davis and Jae Crowder.
While the Blazers have experienced a less than impressive start to the season (11-10), the rise of Harkless as the team's unsung third option has been one of the few bright spots to watch each game. The production by Harkless seems to be sustainable going forward where coach Stotts is able to start and close games with him. Overall it remains to be seen if the Blazers are able to improve on their league worst defense (allowing 110.4 points per 100 possessions).
One thing that's for sure, Paul Allen and the Blazers have found themselves a diamond in the rough with Harkless.
More from Rip City Project
This article originally appeared on