The Detroit Pistons hope to steal one in Denver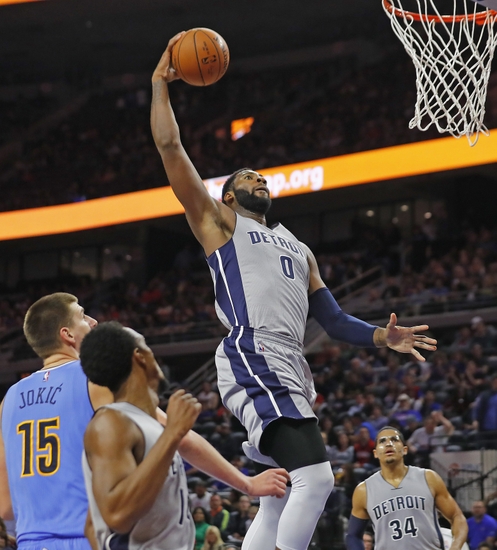 Now having lost three straight  away games, the Detroit Pistons hope to steal a win tonight against the Denver Nuggets.
After starting the season with a loss in Toronto, the Detroit Pistons followed with three straight home wins. Now, the Pistons are encountering a slump on the road having lost to the Los Angeles Clippers, Phoenix Suns, and San Antonio Spurs.
As two of the three losses have been to the elite, losing to the Phoenix Suns was inexcusable. And, at this point, losing to Denver, too, would be inexcusable as Detroit and its fans are desperate for a win.
Though for such to occur, the cards must fall into place tonight. Andre Drummond needs to continue his dominant play, Ish Smith needs to replicate an exceptional shooting night from last night, and Kentavious Caldwell-Pope, Marcus Morris, and Tobias Harris need to up their ante.
That plus solid bench play, especially from a hot Stanley Johnson, Jon Luer, and Beno Udrih, and Detroit could very well be off to its fifth win of the season tonight.
For those fretting because of Detroit's current record (and for those especially worried about tonight's result against the Nuggets), don't worry. Detroit is still a good team with 73 games left who can finish well within the top five in the Eastern Conference.
And with Reggie Jackson trending in the right direction for a return, Detroit will be fine. Other teams, too, are experiencing disappointing beginnings to their season as Detroit has, though don't have a Reggie Jackson returning soon.
Jackson is not only the distributor and ball handler Ish Smith is, but is a scorer and leader. To no discredit of Ish Smith, but Reggie Jackson is Detroit's point guard. Jackson is the one man that can come back and lead his team to success.
He won't dribble around the basket and avoid a tough lay up as Ish Smith has displayed, but a player who is willing to draw contact, finish at the whole, average 20 points for Detroit, and distribute the ball.
Again, for those worried about Detroit, it will all be okay. It's only the beginning of the season, and the Pistons are playing without their star point guard.
Tonight's game will be an easier matchup for the Pistons than the previous Spur-and-Clipper teams, and the squad knows they are in a must-win situation.  A win tonight would relieve pressure, trend them towards the right direction for Monday night's home game against the Oklahoma City Thunder, and would possibly spark an extended win streak to come.
A loss tonight, though, wouldn't be very encouraging, though the Detroit Pistons are looking to avoid it.
This article originally appeared on