The Continued Struggles Of The Washington Wizards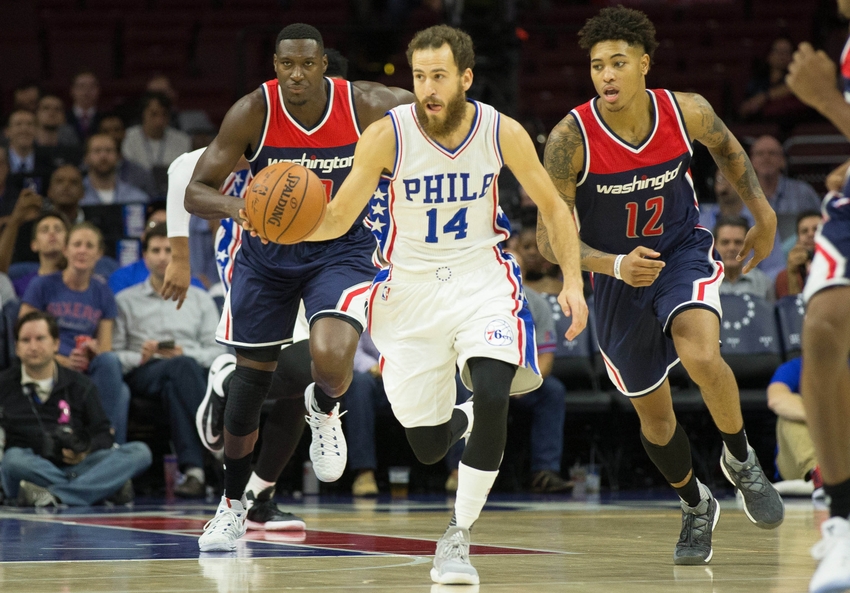 After a rough start, to say the least, in 2016-17, have the Washington Wizards hit rock bottom?
For Washington Wizards fans, Wednesday night must have felt like rock bottom. After struggling to a 2-7 record over their first nine games, the Wizards lost on the road to the hapless Philadelphia 76ers.
The Sixers are nowhere near as bad as they used to be, but they clearly are not a playoff contender or anything close to one.
After such a bad loss, and such a hopeless opening stretch, it's fair to ask the question of whether or not the Wizards should be in panic mode right now. They have talent, and an entirely competent coach, but can't seem to combine these pieces to field a competitive team.
More from Sir Charles In Charge
This summer, John Wall and Bradley Beal made headlines by proclaiming that they don't always get along well. The tensions between these two are old news by now, but these, combined with Marcin Gortat's comments about the bench, raise legitimate questions about the locker room as a whole. Whether or not Gortat has a valid point (he does), this isn't a great look for a playoff-hopeful team.
According to Basketball-Reference, the Washinton Wizards have the 20th ranked net rating in the league. The defense (with a rating of 105.1) ranks 25th, is clearly part of the problem. The offense (sitting at 19th ranked 102.0) is almost equally worrisome. This team has talented players, and should be able to score easily on most teams.
For any team, this slow of a start would be concerning. For a team with the chemistry issues that Washington is facing, the situation is starting to border on horrifying. Teams can mask poor chemistry with wins, but the wins have been few and far between so far this year. To make things worse, there isn't a clear path to making things better.
Sure, adding a few bench players would help, but the team looks to be locked in on Beal, Wall, and Brooks for several years to come. This is the core, and right now, it's not working.
It's still early in the season, and the East is far from crowded. But for the Wizards to make the playoffs, things need to get better both on and off the court.
Otherwise, the Washington Wizards could be looking at another disappointing, playoff-missing season.
This article originally appeared on