The Boston Celtics Need More From Jonas Jerebko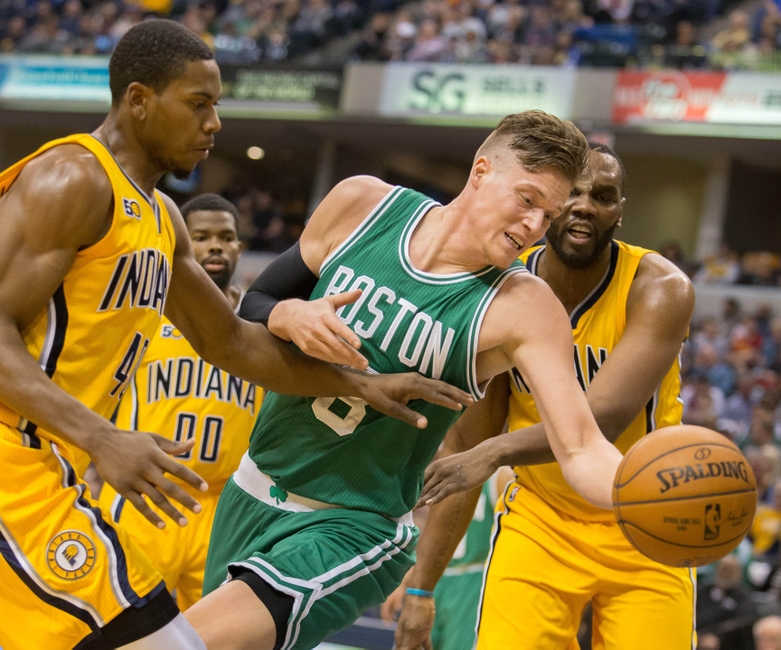 Jonas Jerebko hasn't given the Boston Celtics much of anything through the first 12 games. How many more opportunities will he get?
Defense and rebounding have been two major reasons for the Boston Celtics' slow start to the season. So it shouldn't come as a surprise that Jonas Jerebko — whose on the floor to help out in those two areas — has failed to make an impact in just about every game. Offensively, Jerebko's three-point shooting helps to space the floor, but he has struggled to find the range so far this year.
Jerebko is not the kind of guy to fill up a box score. Occasionally he'll have an outburst, as we saw in the playoffs last season; but he's a guy whose contributions aren't easily measured by his stat line. With that being said, his stat line has been ugly through the first 12 games.
The effort has been there, but the production hasn't. Among Celtics players, Jerebko's name can be found at the bottom of the list in just about every statistical category. It's not the points or assists per game that worry me. His minutes help dictate those numbers. His shooting percentages and plus/minus rating are what's most concerning.
More from Hardwood Houdini
Jerebko has made just five of his 19 three-point attempts so far this season, and is shooting 18 of 49 overall. That translates to 26 percent shooting from three, and 36 percent overall. Both of those marks are the lowest on the team. He just hasn't been able to find his rhythm, and overall hasn't appeared comfortable.
He's getting open looks, but instead of catching and shooting, there seems to be some hesitation on his part. From time to time, a pump fake is beneficial. However, it feels like Jerebko up fakes before almost every three, instead of catching and shooting in one fluid motion. It's as if he is thinking twice about shooting, and may not have the necessary confidence.
It hasn't only been a struggle offensively for Jerebko. Overall, things haven't come easy for him. He's currently last on the Celtics in plus/minus, with a -3.7.
At his best, we've seen the type of impact Jerebko can have on a game — see last year's playoffs. It's unfair to expect that type of performance from Jerebko night in and night out, he's just not that type of player. He's a role player, but an important one.
His importance is magnified even more so right now with the injuries to Jae Crowder and Al Horford. Brad Stevens' options are limited. When Crowder and Horford return, the rotation will tighten and available minutes will decrease.
Jerebko's also not as bad as he has been to start this season. At some point, he'll snap out of this funk, hopefully.
If Jerebko's struggles continue, will there come a point where James Young starts to get up off the bench before him? Perhaps Jaylen Brown will earn more minutes.
Wednesday night's performance against the Mavericks was encouraging. Hopefully, he can build off of that. If he can't, it will be interesting to see just how long Stevens will stick with Jerebko.
This article originally appeared on