The Boston Celtics Have Been Bad, But Their Offense Has Been Great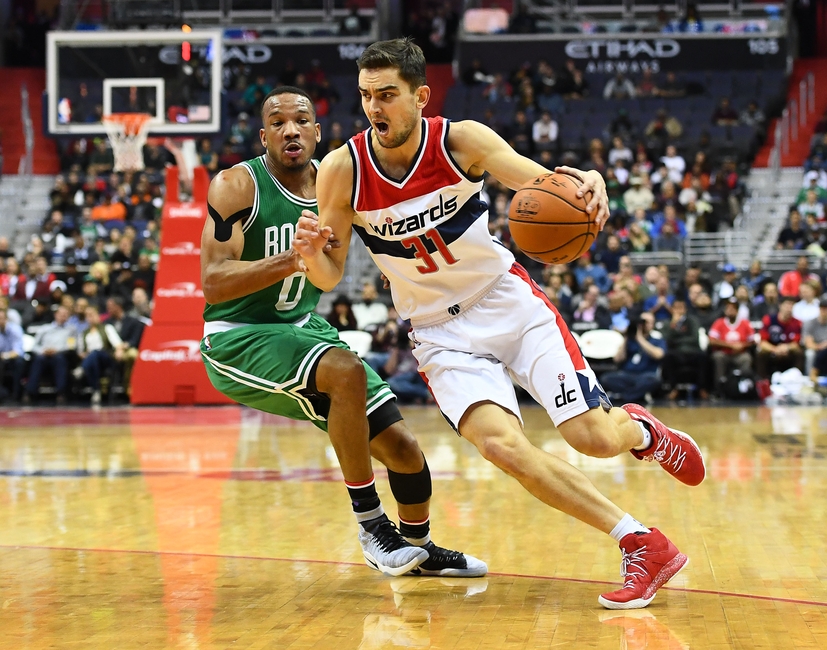 The Boston Celtics have been getting killed on the defensive end, but their offense is reason for optimism
The Boston Celtics have played terribly as of late. The team's most recent loss came in the form of a twenty-five point blowout at the hands of the Washington Wizards, a unit that had only won one prior to their victory. It wasn't Boston's first thrashing of the season, and it represents the third straight time in which an opponent has hung more than fifty-five on the Celtics in the first half. In fact, the fifty-eight that the Wizards dropped through two quarters was the low water mark compared to the sixty-eight and seventy-seven point totals that the Cavaliers and Nuggets accumulated respectively.
More from Hardwood Houdini
Those are embarrassing numbers, and they're indicative of what has plagued the Celtics throughout the start of the season, truly awful defense. Through the first seven games, Boston has given up a league worst 116.1 points per 100 possessions, 4.2 points worse than the twenty-ninth placed Orlando Magic. That's 12.5 more points per 100 possession than they surrendered last year, a number that is almost unfathomable given how much of a calling card defense became for a roster that hasn't seen many changes.
There are reasons for the Celtics defensive incompetence. Jae Crowder, Marcus Smart, and Al Horford have missed time, all of whom rate out as high quality defenders. Their absence has meant a lot more of Jaylen Brown and Tyler Zeller. The former is still learning how to play NBA defense, and the latter may never have deterred a shooter at the rim in his entire life. Still, the defensive intensity and attention to detail that defined last season's campaign seem to be missing across the board, and until those things return the Celtics will continue to disappoint.
No one in Boston is happy with how the team has started, but amid all of this early season gloom, there is reason for hope beyond the return of the team's injured players, and it comes in the form of offense. For all of their defensive failings, the Celtics are currently ranked fifth in the league in points per 100 possessions.
Isaiah Thomas is averaging 25.7 points per game with a PER over 25, despite only shooting 29.5 percent from three. Avery Bradley is having the most efficient season of his career by far, and the team as a whole is shooting just under forty percentage points better on triples. Those are great signs for a team that seemed to need more scoring entering the season.
It's foolish to put too much stock in early-season trends. They're skewed aggressively by small sample size. We need hope in this moment though, so let's abandon that advice when evaluating the Celtics offense and embrace it for their defense. If Boston can keep scoring as effectively and efficiently as it has to date and return its defense to the level at which they performed last year, then they're a title contender. That may seem an odd proclamation for a team that has been handed three straight beatings and seems to be totally out of sorts, but it's not quite as outrageous as it might appear on its face.
Last year's Celtics gave up only 103.6 points per 100 possessions. They're scoring 110.9 during this year's campaign. If they posted both marks in the same season that would leave them with a net rating of plus 7.3 points per 100 possessions, a number that would rank as fourth best in the league and outpace the margin produced by last year's champions from Cleveland.
Obviously, Boston is nowhere near that level of play at the moment, and if the Celtics don't get their act together on defense they've got no chance of competing in a meaningful way. It's not that hard to envision a defensive renaissance when Crowder and Horford return, however, and in that notion there is reason for optimism. Boston is great on offense right now. If its defense can follow suit, this team will be very good. Don't lose faith yet.
This article originally appeared on