The Battle Between T.J. McConnell and Anthony "Cat" Barber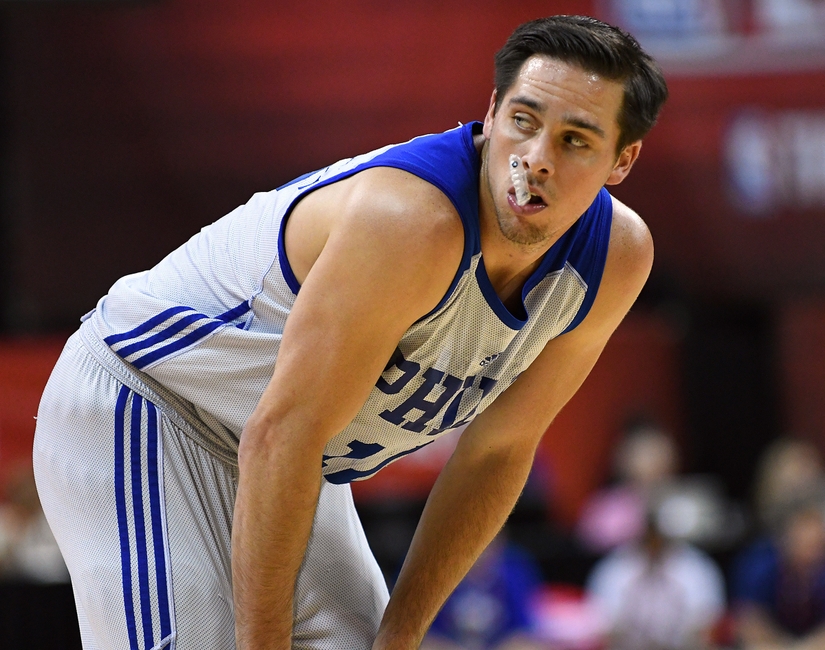 Competition for roster spots has ramped up everywhere. But perhaps the fiercest competition will be for the reserve point guard role between T.J. McConnell and Anthony Barber
The Philadelphia 76ers for the first time in a while, will have a battle at the point guard position. The starting spot is up for grabs between a couple new 76ers, Jerryd Bayless and Sergio Rodriguez. The loser of the starting spot is almost guaranteed a spot on the bench, but the same can't be said about the loser between Anthony Barber and T.j. McConnell. It's more than likely one of them will get cut or perhaps moved to the D-league. So which one will provide the Sixers with the best interest to keep them over the other one? We can break this down by a couple of skills to decide which one of these non drafted players will most likely benefit the team. (Note: Cat Barbers' numbers were against collegiate players as T.J.s' are against NBA players, also Cat averaged 31.3 minutes per game compared to T.J.s' 19.8)
Passing
Both Cat and T.J. are point guards, so passing is very important as they will start with the ball most possessions. Cat Barber played for NC State for three years, each year his assist per game went up. Cat ended up averaging 3.9 apg during his college career, but he ended his college career averaging 4.5 apg in his junior year. Now, T.J. averaged 4.5 apg in his rookie season with the 76ers. Given the type of scorers around T.J., he put up a decent amount for playing 50/50 time with Ish Smith. T.J. makes a better case in the passing aspect averaging the same amount of assists, in less minutes, and against NBA talent. (T.J. 1 Cat 0).
Scoring
Scoring is a huge landslide in favor of Barber. Cat would show the NCAA that he was a threat with the ball in his hands averaging 23.5 ppg in his junior year, which was 6th in the league. Cat has amazing quickness at getting to the hoop, blowing past defenders on a day-to-day basis. Then when the defenders would sag off of him, he would be able to knock down the three ball as he was 35% 3 point shooter. T.J. on the other hand was not much of a scorer. As you can see in passing, he was more adapted to pass than shoot the ball. Nonetheless, T.J. also posted a 35% three point field goal percentage, but only averaged one shot behind the arc, compared to Cats' 3.6 in his junior year. Cat is by far more lethal with the basketball looking to score than T.J. (Cat 1 T.J.1).
Defense
Defense is very close between both of them. Cat is just what his nickname indicates, he has insane cat (quick) like reflexes, being able to stop on a dime, and was on of the quickest college basketball players. He is very hard to shake off of you in a one on one situation. Being able to jump passes with his elite quickness ability was on of the ways he was able to get steals, however, he was only able to average 0.7 steals a game during his time at NC State. Cat also wasn't much of a shot blocker, he only had 3 total blocks in college. T.J.is a quick hard-nose defender that opposing guards don't like to match-up against if they don't have the height mismatch. He was able to snag 1.2 steals per game against his opponents, and he had 10 blocks last season. Defense is hard to give one of these guys the advantage over the other. Due to Cats lack of strength, T.J. edges out this close battle. (T.J. 2 Cat 1)
Size/athleticism
T.J. and Cat should both hit the weight room and try to add some weight to help with their overall game. Both guys stand at 6'2, but T.J. weighs an extra 15 pounds over Cat. T.J. has a 6'2 wingspan compared to Cats' 6'4 providing Cat with a better reach. T.J. might have Cat on size, but Barber beats T.J. athletically. Barbers' insane quickness with/without the basketball is no match compared to McConnell. Yet, T.J. is still a very quick and athletic point guard, Barber is on another level as he uses it has a lethal weapon with his crossover. (Cat 2 T.J. 2).
Potential
Both Cat Barber and T.J. have an exciting future in the league ahead of them. T.J. is just a player you love to watch due to his hustle night in and night out. And Cat is a player your eyes can't look away from whether he has the ball or not. You feel if you look away just for a second you could miss him doing something special. Both of these players have improvements that they need to make to their game to make take them to the next step. Both of them need to get stronger and add more muscle to their body. This is a tough decision, but Cat seems he might be more what we're looking for. This team is looking for a scorer and it's hard to pass on Cats' ability to score. (Cat 3 T.J. 2).
Conclusion
As he matures, hopefully he will develop more knowledge for the game and get stronger. This isn't a knock against T.J. as I love to watch him play, but again we can't turn down Cat. Training Camp may provide a better answer, but currently Cat Barber can be that spark off the bench we need.
More from The Sixer Sense
This article originally appeared on