The 76ers Must Offer KCP a Max Contract This Offseason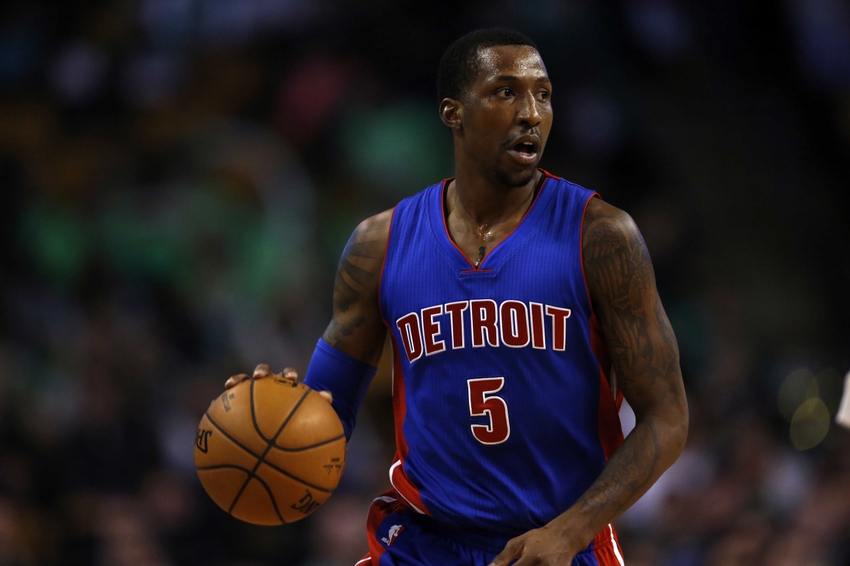 The Philadelphia 76ers will have an enormous amount of cap space going into the 2017 offseason. With that said, Philly should use a portion of their cap room to offer Kentavious Caldwell-Pope a max contract this summer.
The NBA salary cap projection for the 2017-18 season has been set at $102 million, according to Eric Pincus of Basketball Insiders. Take a second and think about that number. Now, look at the Philadelphia 76ers' 2017-18 obligated payroll. $33,880,532. They have some money to spend, and with those dollars, the 76ers need to offer Kentavious Caldwell-Pope a max contract this offseason.
Caldwell-Pope, more simply known as "KCP," is a 23-year-old shooting guard who currently plays for the Detroit Pistons. This coming offseason, KCP will be a restricted free agent, meaning the Pistons can match any offer that the Sixers make.
KCP is a 6-foot 5-inch native of Thomaston, Georgia, who spent two seasons in the SEC, playing for the University of Georgia Bulldogs. This season with Detroit, he is averaging 15.0 points per game in what is his fourth year in the NBA. His scoring numbers have gone up every season, and so has his talent on the defensive end.
As of right now, the Pistons are obligated to a total of $88,833,174 in player salaries for next season, which is pushing it close to the salary cap. Being that Detroit possesses KCP's Bird Rights, they'll most likely be able to match and hold onto Caldwell-Pope, but it will most definitely be an interesting decision they'll be forced to make, especially with Stanley Johnson waiting developing on the bench. Johnson is playing 13.6 minutes per game, which is about 10 less than last year, his rookie season.
Here are the Pistons' four highest-paid players in the 2017-18 season:
More from The Sixer Sense
Why should the Philadelphia 76ers go after KCP?
With Ben Simmons and Joel Embiid as the Sixers' primary building blocks, KCP would slot in perfectly at shooting guard. The defensive combination of Joel Embiid in the middle and KCP, who'd be able to draw the toughest wing assignments, would compliment one another to near perfection.
KCP signing with Philadelphia would sure up the team's defense, but don't sum it up to just that. Do not sleep on Caldwell-Pope's 3-point shot. He has gotten better at shooting from distance since his rookie season (2013-14, where he shot 31.9 percent from three), much like his scoring has overall. This season, KCP is shooting 38.7 percent from behind the arc. His ability to shoot from the outside would provide perfect floor spacing for the Sixers bigs, regardless of whether or not they keep Jahlil Okafor or Nerlens Noel. Most importantly, it would allow Simmons and Embiid to go wherever they want on the floor.
What would the Sixers' starting lineup look like in 2017-18 with KCP?
Live Feed

Philadelphia 76ers
Assuming the Sixers draft a point guard with their top pick in the 2017 NBA Draft, and their core remains intact going into next season, the addition of Kentavious Caldwell-Pope could result in the following starting lineup.
This lineup would be, by far, the most competitive that the Sixers have produced in years. Covington has proven to be a defensive stud this season, Embiid is a monster in the paint, and KCP would add an extra push to nudge the Sixers' defense into the elite category; not to mention, Simmons' defensive effort in the Las Vegas Summer League was very impressive.
The assets that Philadelphia has stockpiled, along with the additional cap space that the team will have (even if they signed KCP to the max) next season, could potentially result in an impact trade as well. So, Sixers fans, if that lineup above excites you, imagine adding a small forward like Paul George to the rotation.
This article originally appeared on