The 76ers Are Fun, and Ben Simmons Hasn't Even Played Yet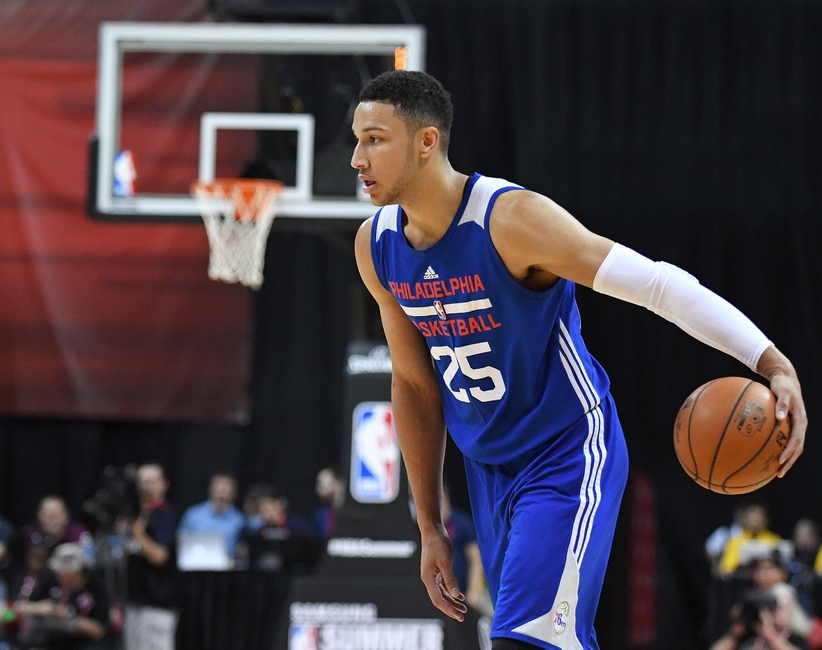 The Philadelphia 76ers are currently right outside the top-10 in assist percentage. How impressive could the Sixers' offensive playmaking be once Ben Simmons begins his NBA career?
14 games into the NBA season, the Philadelphia 76ers may actually be better than any of us expected. Joel Embiid has been a colossal reason why the Sixers are finally starting to win basketball games, but he isn't the only reason why. This team has some playmakers, and it's interesting to watch.
As of Tuesday night, the 76ers ranked 11th in assist ratio (the percentage of a team's possessions that ends in an assist). They're tied with the Los Angeles Clippers, lead by point guard, Chris Paul, and 0.1 behind LeBron James, Kyrie Irving, and the reigning NBA champs, Cleveland Cavaliers. Turnovers have been a problem for Philadelphia, as they are with most young teams, but when you look past the misfires, the view from Center City is splendid.
Although the aforementioned impact that Embiid has displayed over his first handful of weeks in the NBA has been palpable, the team's creativity and passing ability is on full display, thanks to some new and old faces.
Rodriguez is averaging 7.1 assists per game in 28.3 minutes and most importantly, he plays with an up-tempo style that Head Coach, Brett Brown loves to see. As soon as "El Chacho" catches an outlet pass or rebounds a missed shot on defense, he's moving the pace, while in full control.
Rodriguez signed a one-year contract with the 76ers this offseason for $8 million. Every game is
More from The Sixer Sense
an audition for the Spanish guard, as he's playing for a future pay day. El Chacho could be part of the Sixers' future plans, depending on his market value, and his loyalty to the team's current direction.
McConnell has 4.7 assists per game in 19.4 minutes, and for those of you who are per-36 mongers, he is putting up 8.7. McConnell's best quality may also be his biggest downfall as well. He's often criticized for passing up on open shots, and kicking it out for a longer shot attempt. There's nothing wrong with passing up a good shot for a better shot (watch the San Antonio Spurs tape over the last 3,562 years), and that aforementioned quality is why he'll be professionally employed well into his 30s.
The video above is a perfect example of McConnell's unselfish eyes. He passed up a potential drive to the lane, where he may have been able to lay it in or draw contact, and instead, he kicked it out for an open three to the blazing-hot Nik Stauskas.
The man they call "The Homie" is still adjusting to the NBA game, but basketball junkies know what the Croatian forward is capable of. Saric is widely known, both overseas and now in the NBA, as an excellent playmaker. As a rookie, he has averaged 2.5 assists per 36 minutes, and while he becomes more comfortable, that number will only increase. This is what he's capable of:
You can also make a case that Dario should be handling the ball more, much like that other guy will; you know, the one that the Sixers drafted first overall in the 2016 NBA Draft, Ben Simmons.
During the Las Vegas Summer League, Simmons showed off his elite playmaking ability with bounce passes that may or may not be illegal in certain regions. He averaged 6.5 assists per-36 minutes in Vegas, and this was simultaneous to him adjusting the the NBA pace, new teammates, and an unfamiliar coaching staff.
The Sixers are currently sitting in 11th place (also) in total assists per game at 22.1, so how much better, turnovers aside, can this offense become once the Australian phenom returns to the hard wood? How much better will this team become once they add more scoring around these playmakers? They have the draft, as well as free agency to do so.
It's not a stretch to imagine that the Sixers could become one of the most entertaining teams to watch over the next decade. Joel Embiid (arguably) has the highest ceiling of any pro athlete in Philadelphia sports today. Competing with him for that top spot for Philly fame is Ben Simmons, who is compared by many to Magic Johnson. Try to imagine the impact that he'll have on this near-top-10 playmaking offense. Crikey.
This article originally appeared on