Terry Rozier Appearing Comfortable In Increased Role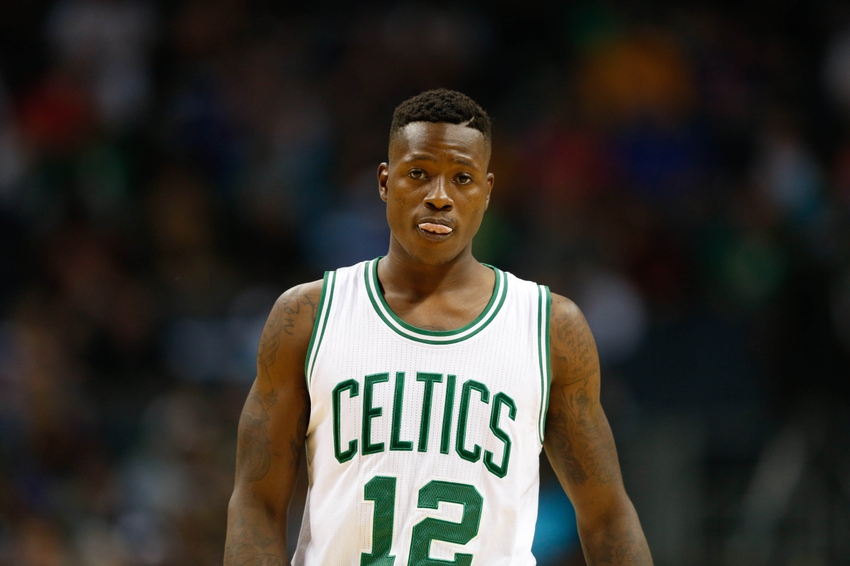 Celtics point guard Terry Rozier is proving his ability to handle an increased role in head coach Brad Stevens' rotation.
Following his stellar summer, Boston Celtics point guard Terry Rozier earned a staunch increase in respect from head coach Brad Stevens. This has been demonstrated by his tremendous spike in minutes played in the absence of presumed sixth-man Marcus Smart. Rozier has seen his playing time increase from eight minutes per appearance as a rookie to a considerable 24.0 minutes per outing over the Celtics first three games of 2016-17, silencing questions as to whether he is prepared to handle a brand new role in the league.
Despite the fact that Rozier's minutes could be taking a hit due to the return of Smart from an ankle injury that forced him to the sidelines as Boston opened the new year 2-1, Rozier has certainly emphasized his value to the team as a role player in this fresh campaign. Proving himself worthy of the third-year option that general manager Danny Ainge picked up on Monday afternoon, ensuring him of a third season with the Celtics in 2017-18, Rozier has handled a plethora of assignments in admirable fashion over the past three tilts.
In Boston's season-opening defeat of the Brooklyn Nets last Wednesday night, Rozier enjoyed a stellar +5 plus-minus ranking while impacting the contest in every sense in his nearly 28 minutes of action. In addition to garnering five points on 40 percent shooting from the field and 50 percent shooting from long range, he recorded a trio of rebounds, three assists, and two steals as well, showcasing his defensive intensity. Rozier did begin his stint with a measurable level of anxiety, however, he tempered the opening night jitters in remarkable fashion. By his second stint on the floor, he was serving as the professor of a fluid offensive classroom, one that was spreading the ball with ease and creating open looks for all five players on the floor.
More from Hardwood Houdini
While his minutes (just under 23) and his plus-minus rating (-6) decreased in the Celtics loss to the Chicago Bulls on Thursday night, Rozier enjoyed possibly his most impressive showing of the season to date. He compiled a game score of 9.9 while amping up his aggressiveness on the offensive end, grabbing eight points on 2-5 shooting from three-point range to accompany his four assists.
Even more impressive were his efforts on the other side of the floor. Rozier, who finished second among points guards in the entire NBA last season with a Total Rebounding Percentage of 10.8 percent, finished second among the Celtics reserve unit with four rebounds at the United Center. Additionally, he pick-pocketed the opposition twice for the second straight game, boosting his steal percentage to 2.7 percent.
Although he failed to pick up a steal in his team's defeat of the Charlotte Hornets on Saturday night, Rozier still managed to build his highest plus-minus rating to date (+6) while shooting 50 percent from the field and racking up three rebounds and two assists.
Now, with Smart in the rotation, expect Rozier's minutes to wind down to just under 20 per appearance. However, based on his outlook over the past three games, he deserves about five minutes more per game. This notion is supported by Rozier's breathtakingly-low turnover numbers. Despite having the ball in his possession for a substantial portion of the 50:30 in which he was on the floor over Boston's opening pair of games, he coughed up the rock on just a single occasion.
We must take in to account that Rozier's turnover-less showing against the Bulls was carried out in the face of some stellar defense being played by the likes of the lengthy Michael Carter-Williams and the savvy Rajon Rondo. If he can remain calm and collected against defensive pressure from crafty veteran backcourt mainstays, it bodes well for his confidence moving forward.
However, one aspect of Rozier's presence on the floor has been concerning. As Boston attempted to conclude their victory over the Nets, Brooklyn's reserve backcourt of Sean Kilpatrick and Isaiah Whitehead applied full court pressure on Rozier, and his lack of comfort in the situation was obvious. This led to his lone turnover of the outing and the collective holding of breath by the city of Boston as the Celtics nearly relinquished the 19-point lead that they held with five minutes remaining.
Whether this anxiety was simply brought upon by the lackadaisical nature of the team's performance at the time, or a sign of Rozier's lack of familiarity with pressurized, late-game situations in the NBA, it is certainly a trait worthy of monitoring moving forward.
This article originally appeared on