Tales from Drake Night: Durant, Curry, sink Raptors in Toronto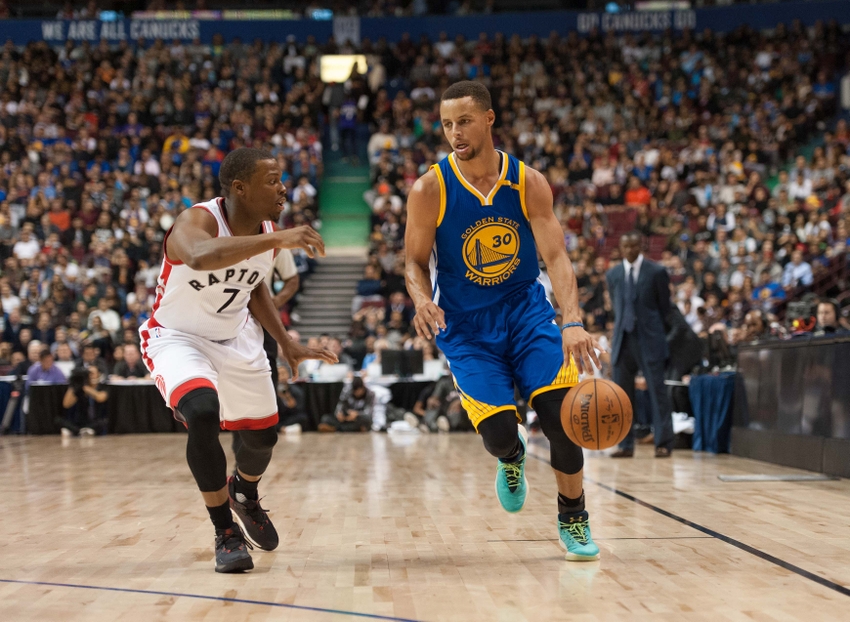 Raptors second quarter fade out against the Warriors costs them an 8-3 start to the 2016-17 season.
There's nothing like a twin bill to measure one's success. The Raptors took on reigning champions Cleveland in Ohio on Tuesday. Then laced up for a crack at the 2014 champions Golden State on home turf. They fell short against LeBron's Cavs 121-117 and went down by six-points to the Warriors at the Air Canada Centre last night. The Raptors could have beaten Cleveland and were lucky to not lose by more against the Warriors. What the double-header told us was that the Raptors are still a work in progress and they grapple with piecing four quarters of disciplined basketball together against good teams. But hey, the season is only three weeks old.
Let's put aside the Cleveland game for now. Against the Warriors, the Raptors played three competitive quarters and went missing in the second stanza. They battled to contain the Warriors' shooting from beyond the arc and couldn't deal with their slick movement. During the dismal 32-15 second quarter, Steph Curry and Kevin Durant seized control of the game combining for 20 points and finished the game with a combined tally of 63 points. The Raptors defence capitulated and the frustration showed when DeMar DeRozan and Kyle Lowry both got technical fouls for verbal abuse at the referee.
Raptors coach Dwane Casey conceded "mental mistakes" were to blame for his team's defensive structures falling apart, but didn't say whether or not the team suffered from fatigue due to back-to-back games.
"We got away from our defensive focus, we got screwed up on our switches and it cost us. Once a team like that gets on a roll, it's difficult to stop," he said. "These two games were a good test for us. They let us know how quickly mental mistakes will cost. Once we got, in the second half, focused in, locked in we started switching some things properly, talking, communicating, we got back in the game. You can't have lulls like that against great teams."
Don't rest against GSW
Casey is right: you can't have lulls against a team like the Warriors. According to ESPN, since 2013-14, Golden State are 107-1 when leading by 15 or more during any stage of their games. Good teams are able to keep leads and extend leads. The Raptors, even though they've become a playoff team with high expectations now, still struggle to consistently play a full game executing zone defence, one-on-one pressure and stopping run-ons.
"Our defense sucks," said Lowry, post-game, to reporters. "We played a high paced team yesterday (Tuesday) and today (Wednesday). We need to play a more defensive minded game."
And here come the excuses about last night: the players were exhausted, the NBA's scheduling is aimed at making life difficult for the only Canadian team, the scheduling is a conspiracy, Carroll was rusty after recovering from injury, the Cavs game took too much out of the team. The fact is, every NBA will face their own version of what appears to be an ungodly blip on the schedule, but when you're winning it doesn't matter. The Raptors need to find ways to win when they are fatigued just like the best NBA teams do.
It wasn't all bad for the Raptors. We're 11 games into a new season and both DeMar DeRozan and Kyle Lowry showed us why they were All-Stars last year with a combined 58-point effort. Cory Joseph battled hard for his 14-points in 21 minutes, scrapping for every loose ball. And Pascal Siakam contributed 10-points, 9 rebounds and continues to evolve into a player the Raptors need with every match. With five road games coming up across some 8778 kilometres, lethargy is going to become a factor. The Raptors have to learn to deal with weariness and it starts with the high altitude in Denver.
More from Raptors Rapture
This article originally appeared on