Taking a Look at Joel Embiid, A Month Into His Career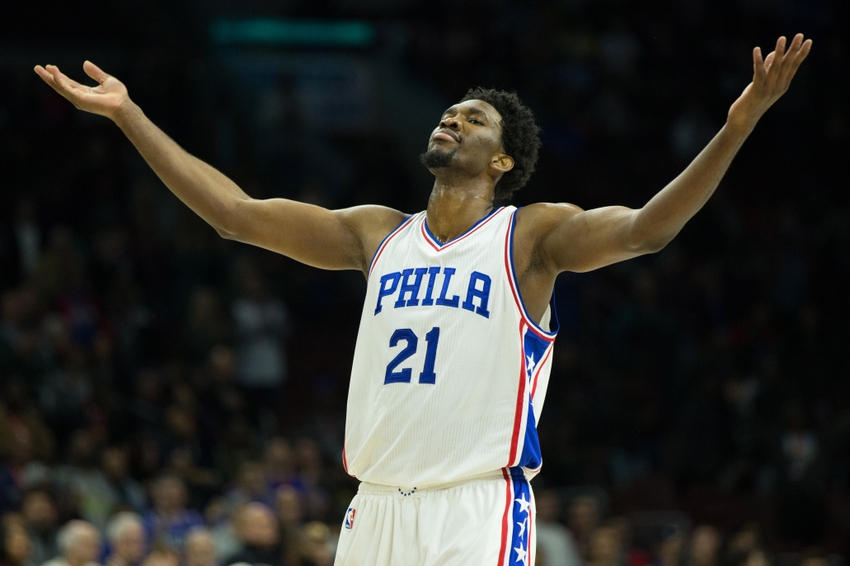 Philadelphia 76ers center Joel Embiid has had an extraordinary start to the season, but will it continue?
Joel "The Process" Embiid has had one of the best starts to an NBA career in recent memory. Coming back from 2 years of rehabilitation, Embiid has shown Philadelphia 76ers fans that he was definitely worth the wait. After breaking the navicular bone in his right foot twice NBA fans thought Embiid was Greg Oden 2.0, at this rate that statement is very far from the truth.
Embiid has shown his great versatility with 3-pointers, domination down low, and athleticism on the defensive end. Nobody expected this from Embiid since he hadn't played competitive basketball since early 2014 before the start of this season. Fans and analysts thought he'd take a while to get the rust off, if he still is he could be frightening once he's fully adapted to the NBA.
STATS
17.8 PPG, 7.6 RPG, 1.3 APG, 2.4 BPG, 22.6 MPG
48.5 FG%, 46.2 3P%, 77.8 FT%
These stats are just incredible considering that he's only playing 22.6 minutes a night. Once he gets in a rhythm, not on minute restrictions, Embiid can only get better. He shoots 3-pointers naturally, he is already confident in his shot. And he is already shooting very consistently for a first year player. He's become a trouble for other centers to figure out how to defend, since they usually don't have to go out to the 3-point line to challenege a player taller than 7-feet.
His potential is undeniable, he has brought the buzz back around the Wells Fargo Center. He scored 20 points in his league debut against OKC and Steven Adams, a very strong defensive center. Then he scored 22 points versus the defending champion Cleveland Cavaliers, going 4-4 from downtown. He capped the first month or so off with a career-high of 26 points versus the Phoenix Suns.
It would be quite a feat if Embiid carries out this excellent form throughout the season, but eventually he will hit the rookie wall. Once he begins to average more minutes maybe his stats will increase. But right now, there doesn't look a defender in the league that can defend Embiid.
More from The Sixer Sense
This article originally appeared on