Takeaways From Charlotte Hornets Victory Over the Minnesota Timberwolves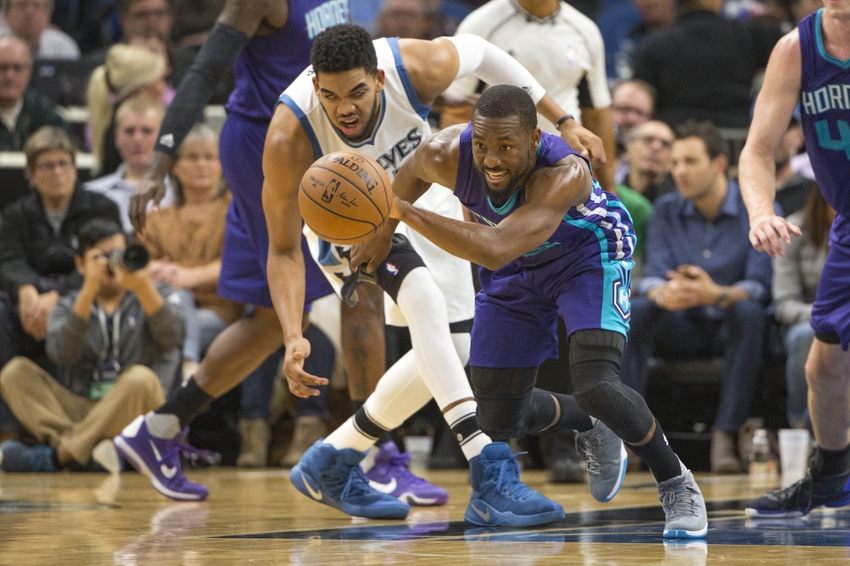 The Charlotte Hornets earned an 115-107 victory over the Minnesota Timberwolves on Tuesday with the strength of an impressive third quarter. 
After hard-fought losses to both the Toronto Raptors and the Cleveland Cavaliers, the Charlotte Hornets bounced back on Tuesday night, improving to 7-3 on the year. Kemba Walker continued to shine as he poured in 30 points, while Frank Kaminsky played one of the best games of his young career.
Kemba Walker's Play Might be the New Norm
Every season there are some players that get out to unsustainable hot starts thanks to some lucky bounces, soft schedules, or other things of the like. One of the hardest exercises during this early part of the year is determining which guys really improved their game over the summer. Take DeMar DeRozan for example. He's averaging 33.7 points so far but is doing so by taking and making inordinate amounts of mid-range jumpers. Those shots simply won't continue falling for the entire season.
Kemba, on the other hand, is taking fewer shots from the midrange than he ever has in his career. Just under 15% of his shots are coming from 3 to 16 feet compared to 22% over his six seasons in the NBA. Additionally, only 17% of his attempts are long twos (16 feet to the three point line). Finally, he is draining threes at a clip of 47.8%, compared to his career rate of 33.9%. Walker will undoubtedly cool down from beyond the arc after a while. Even still, he has mad real and substantial improvement from out there. In short, Walker is taking more efficient shots, and making them. That's a recipe for real improvement.
More from Swarm and Sting
The Hornets Need Cody Zeller to be Aggressive
Cody Zeller was largely absent from my game notes in the first half. The lone appearance he did make came on a sequence with about 4:30 left in the first half. He let Dieng into the lane and then hit him with a weak foul to create an and-one opportunity. The second half, and particularly the third quarter was completely different as is often the case for Charlotte. Zeller carried the Hornets offensively until Batum was able to get it going later in the third frame.
When Zeller is being aggressive he takes the shots he is given by the defense, moves the ball decisively, and provides an energy often seen from bench guys. The Hornets offense just hums along when Cody is decisive with the ball. A lot of teams in the NBA have one or two guys that while they aren't stars, are crucial to the team's offense. Zeller is that guy for the Hornets.
Kaminsky Still Has Hope as an Offensive Weapon
When he came out of Wisconsin, Kaminsky was advertised as a shooting big man without much more to offer. So far in his NBA career, he has disappointed as a shooter, hitting just 33% of his attempts from deep. However, ignoring the shooting woes reveals that Kaminsky has another useful NBA skill: his handle.
Kaminsky put his unusually good handle for a man his side to work on Tuesday night. The big man continually got the Wolves to bite on his pump fake and then used his unusually good handle to attack the closeout. As he made his way into the defense, Frank did a great job of finding the open guy. In the event nobody was open, Kaminsky simply threw up a floater which fell with great efficiency. One game doesn't erase the failures of his career thus far, but Kaminsky could be useful offensively if he tweaks his approach a little.
Want your voice heard? Join the Swarm and Sting team!
Little Things Set the Hornets Apart
In particular, Charlotte's off ball movement and screening were fantastic against Minnesota Timberwolves. The way BMarco Belinelli scampers around the perimeter is similar to what we see from guys like Klay Thompson, and JJ Redick. Marco does a great job running using planned screens to lose his man, but he really shines at improvisation. There were multiple times Tuesday night where Cody Zeller was setting a screen on someone else entirely, and Belinelli used the morass to pick off his defender.
Speaking of screens, Charlotte has to be one of the best pick-setting teams in the league. The Hornets' big men are especially adept at setting fundamentally sound screens without getting called for a moving pick. Michael Kidd-Gilchrist is a great screener for the small forward position as well. Nicolas Batum's overall craftiness extends into this part of the game as well, where he often gets away with moving screens, which like it or not, is a valuable skill.
The Hornets will get two days off before matching up against the division rival Atlanta Hawks on Friday night. The Hawks, at 8-2, will be a tough matchup as both teams hope to be considered among the East's top teams.
This article originally appeared on