Takeaways: Denver Nuggets Sneak Past the Magic Due to a Strong Fourth Quarter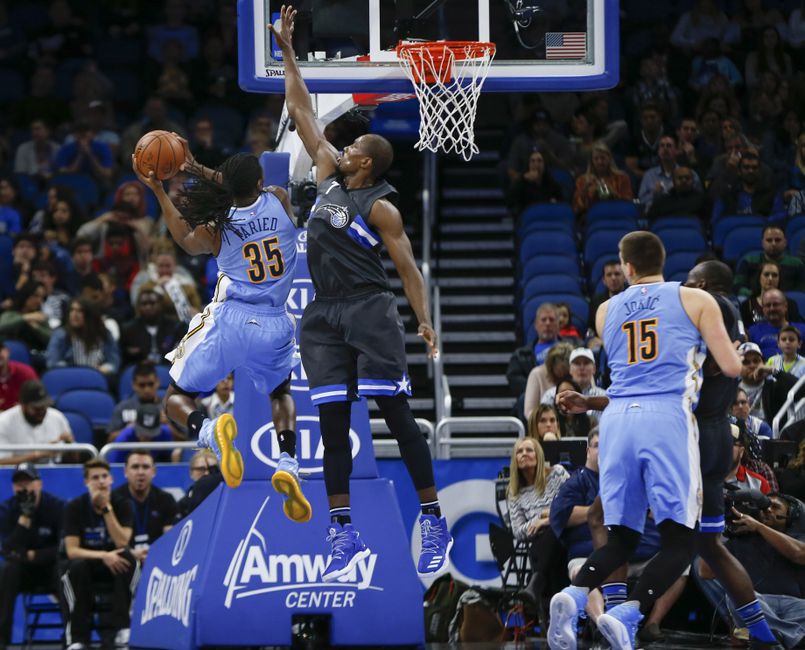 The Denver Nuggets ended a two-game losing streak with a strong victory over the Orlando Magic. Even with the win though, the Nuggets were deeply flawed.
After another tough road loss to the Washington Wizards two days ago, the Nuggets answered back with a fairly strong performance over the Orlando Magic. They got off to incredibly strong start -leading by seven heading into halftime- but almost fell apart in the second half.
If it weren't for an incredibly (*oddly) strong fourth quarter, the Nuggets would've likely increased their losing streak to three games. They were without both Wilson Chandler and Gary Harris due to injuries, which also made this win very surprising. This was also the Nuggets first game without Malik Beasley, who was assigned to the Sioux Falls SkyForce of the NBA Developmental League.
This game really looked like it was going to be another heart-breaker for the Mile High City. Thankfully, they regrouped in the fourth quarter to give themselves a much-needed win on the road. Without revealing too much now, here are a few takeaways:
The Rooster and the Manimal Really Stepped Up
Look, it doesn't really make much sense, but for some reason Danilo Gallinari and Kenneth Faried played much better without Wilson Chandler. It's probably not something worth thinking too much about, but it is a little interesting right? Maybe we'll see more instances like this, maybe we won't. Either way it's intriguing.
Even still, Gallo and Faried looked like they were playing better than they have for most of the year. Gallo only took, at most two ill-advised shots, converting an incredible 5-8 from the field and 2-3 from beyond the arc. For the first time this year, he looked like he was in control on the offensive. He was comfortable with his jumper, and he wasn't afraid to drive (as evidenced by his 10 free throw attempts).
The Manimal was greatly missed in the Nuggets loss to the Wizards, as he was out due to rest. But he definitely made his presence felt against the Magic. Faried put up a fantastic performance, perhaps even better that Gallo's, and the Nuggets may have actually lost had it not been for his strong fourth quarter performance.
He finished the night with 10 rebounds and 19 points, off of an astonishing 9-10 from the field. Faried also did a very good job at nullifying Serge Ibaka in the final four minutes of action, which was crucial in this victory.
Jurkic was Great…. Just Not Together
Do you ever just want something to work so bad, that you'll ignore all the facts that say it won't? Well, for most Nuggets fans that's Jurkic. There are so many signs telling us that it shouldn't happen, and maybe it's time we start listening.
For those who don't know, Jurkic is the big man duo of Nikola Jokic and Jusuf Nurkic. They're both incredibly skilled and are promising young bigs, who we just want to be good when they're together. Unfortunately, every time they're on the floor at the same time they are disturbingly ineffective. Seriously, they've been really, really bad. Like, I honestly can't stress how disappointing it's been.
Even after all the bad though, Nuggets fans have held hope that they could still find a way to work. But their win over the Magic showed just how much better they are apart.  Just look at their individual stat lines: 6 assists, 2 blocks, 6 rebounds and 14 points off of 6-11 from the field for Jokic; 8 rebounds and 17 points off of 8-11 from the field for Nurkic.
They did all that while barely sharing any minutes on the court together. If they can continue playing this well and the Nuggets keep winning -all while they aren't on the floor at the same time- then the Nuggets may need to seriously reevaluate their future. Hopefully I'm just over thinking all of this, but I honestly don't know with this team. But I guess we'll all see soon enough.
Denver Nuggets + Fourth Quarter Comeback= ???
The Nuggets actually had a good fourth quarter?? Really!?! Wait… and they actually came back after they blew a first half lead! For real??? Is this the bizarro world!?!? Nope, you definitely read that right, and I'm pretty sure this is all real. The Denver Nuggets actually completed a fourth quarter comeback, after losing a seven-point first half lead.
To say that they had an embarrassing third quarter would be an understatement. They managed to lose the aforementioned lead and ended up trailing by three points heading into the fourth quarter. But then something really weird happened. The Nuggets actually played a strong and energetic fourth quarter.
It's honestly still a little hard to believe, but it's true. They were led by strong performances by both Jokic and Faried. But the game was ultimately sealed by a three-point shot by Danilo Gallinari that put the Nuggets up 109-106, with about 4 minutes left of action. The Magic failed to regain the lead after that shot.
Games like these are going to be very important for Denver going forward. Even though the Magic aren't really that good of a team, and not necessarily a menacing opponent, it's still an incredible confidence builder for one of the youngest teams in the NBA. Especially considering the Nuggets have had such a difficult time closing out games this season.
This article originally appeared on