T'was The Night Before Media Day, Nerlens Noel Goes Off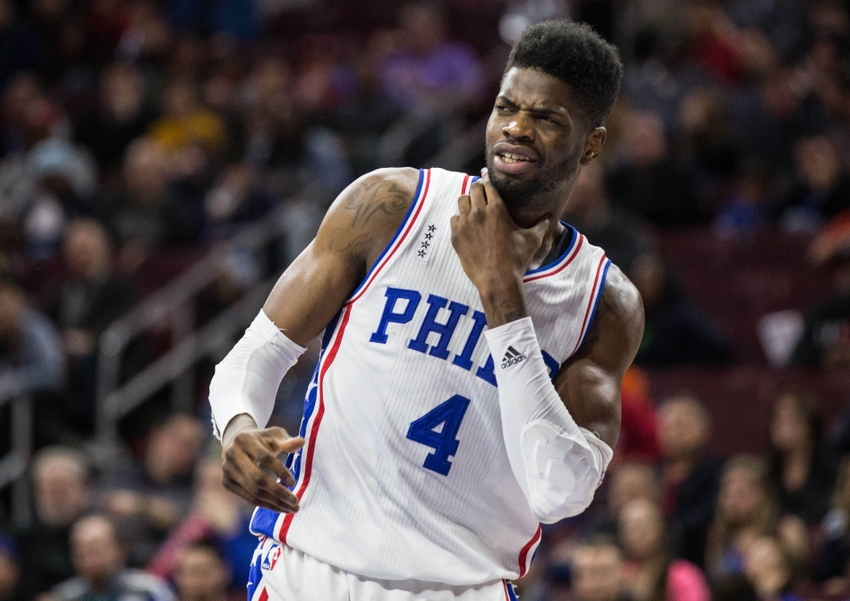 No In-Editor Preview for CINE Videos
Video Details
ID: fansided-nba/sixers-insiders-embiids-key
Source: CINE
T'was The Night Before Media Day, and Nerlens Noel Goes Off
Philly.com staff writer Keith Pompey was in the right place at the right time. When he nestled his microphone and pen up to Nerlens Noel, he got an earful. Fortunately, he managed to get it all down and publish one of the more mindset revealing articles I've read about the Philadelphia 76ers centers in some time.
Frustration has been building in the minds of both Jahlil Okafor and Nerlens Noel. Fighting hard for playing time last season, the team has complicated the matter further by adding a now healthy Joel Embiid into the mix.
In case you have missed the point, the team has not been shy about indicating that the starting center position is Embiid's to lose.
And so, the frustration of the situation has boiled over, on the eve before the Philadelphia 76ers media day. Was this an accident?
Hardly.
To get a feel for the frustration, here are some quotes from the young 76ers center:
I think it's just silly . . . this situation that we are in now with three starting centers," Noel said on the eve of the Sixers' media day. "With the departure of [former general manager and president] Sam Hinkie, I would have figured that management would be able to set something done this summer. Don't get me wrong. We all get along great on the court and off the court," Noel said. "But at the end of the day, it's like having three starting quarterbacks. It doesn't make any sense."

"I'm here to do my job and play as hard as I can play for the city of Philadelphia," Noel said. "I've always love the fans from the jump. It's probably one of the realest cities in the country with just genuine passion and love for the sport."
However else you interpret this situation, it is a young man who is rapidly reaching his limits.  He knows that his next NBA contract will likely be the most lucrative contract he will ever sign.  At the current pace, the Philadelphia 76ers may have reconciled with the conclusion that Noel will get a small portion of playing time at center this season.
However, that is a situation Noel is fighting hard to avoid.
However the situation plays out, it demonstrates the truly competitive nature of the sport, and the player. Unless some team comes in at the last minute and offers the Philadelphia 76ers a top draft pick (ala the Philadelphia Eagles' Sam Bradford trade), you can expect the team to at least make it to the Christmas Holidays with three frustrated centers on the roster.
Will it end happily ever after?  Perhaps. But I'm looking forward to witnessing Noel channeling his rage and frustration onto the basketball court.  He could have an incredible season if he does.
More from The Sixer Sense
This article originally appeared on