T.J. McConnell's Distribution Stats are Lending Him a Future in the NBA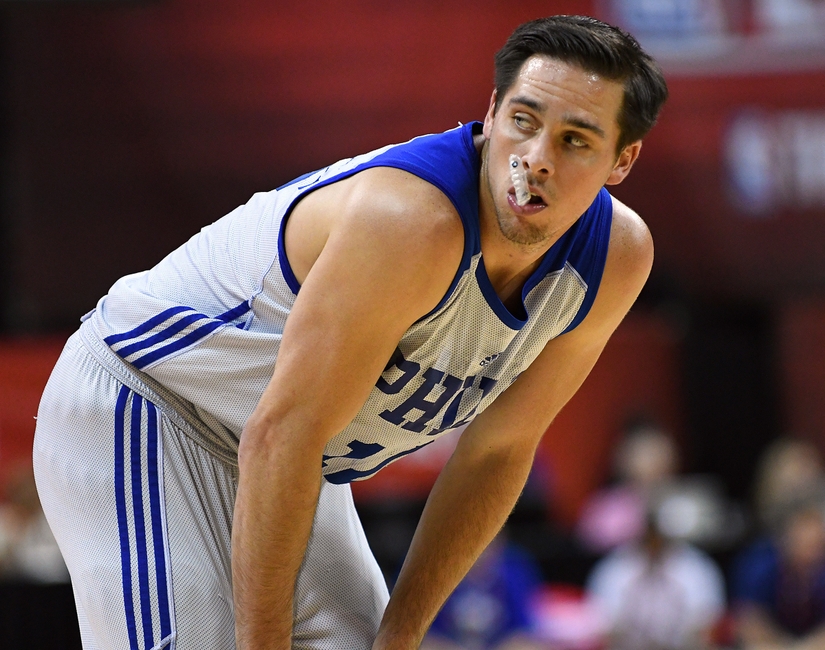 Timothy John McConnell has battled for every minute that he's played for the Philadelphia 76ers, but is it enough to keep him around in 2017? So far this season, his statistics are giving him a solid chance.
T.J. McConnell's abilities are vividly defined by his statistics so far this season. After Sunday afternoon's loss to the Cleveland Cavaliers, McConnell ranks ninth overall in assists per 48 minutes, with 11.3. He is also sixth in assist-to-turnover ratio out of all guards that average at least 4.0 assists per game, with 3.2.
T.J. is the NBA's version of a game-managing quarterback, but can observers of the game view him as a QB who has no wide receivers to catch the ball (I'm sorry for bringing that up, by the way, Eagles fans)? Translating this to basketball talk, are T.J. McConnell's best attributes on full display, despite having limited weapons around him over the last two years? If they are, then how good will he be once the Philadelphia 76ers have a bevy of scoring options on the roster?
Along with McConnell's efficient distribution numbers, he has also shown a grittiness, much like Matthew Dellavedova, who signed a four-year, $38-million deal with the Milwaukee Bucks this offseason. Never hesitant to dive face-first on the wooden court, much like the aforementioned "Delly," as of Monday morning, Timothy John ranks fourth in steals per 48 minutes with 3.7 per game.
So, what happens if he's still on the team next season and the 76ers have a brand new (and
More from The Sixer Sense
improved) selection of scoring options? Set aside the argument of whether or not McConnell will ever make the team, especially since the 2017 NBA Draft is stuffed with talented guards, wouldn't T.J. be the perfect backup, or maybe third string in the future?
After watching UCLA's Lonzo Ball carve up the Texas A&M Aggies Sunday night, along with point guards such as Markelle Fultz, Dennis Smith Jr., De'Aaron Fox, and Frank Ntilikina, McConnell will be accompanied by the weight of adversity. Thankfully, for his sake, he is no stranger to that.
T.J. McConnell was signed by the Sixers during the 2015 offseason, after an impressive showing throughout the NBA Summer League, followed up by an outstanding training camp and preseason. He was added by Philadelphia after playing four years in the NCAA, two with the Duquesne Dukes (2010-2012) and then two with the Arizona Wildcats (2013 to 2015).
The 76ers' first-overall pick in the 2016 draft, Ben Simmons, was pleased with what he saw while playing with McConnell is Las Vegas this past summer. He liked him so much that he decided to give him (us) this gift:
I guess it doesn't hurt to have the number-one pick in your corner. But, before we can begin speculating where T.J. will be in 2017, it will be interesting to see how things play out once Simmons returns to basketball action.
After hinting on Twitter, by the way of a "like," that he'd be back before the All Star break (yes, this is journalism in 2016), it's unknown how many minutes will be there for McConnell, also know as "Floor General" on Basketball Reference (You can't see me right now, but I'm making a weird face. I had no clue that name existed). Nonetheless, he'll be competing with Sergio Rodriguez, Jerryd Bayless, and then Simmons when he returns from his fifth-metatarsal fracture, which he suffered in training camp.
This article originally appeared on