Surprise Appearance From Cleveland Cavaliers' Big 3 Doesn't Rattle OKC Thunder
Zack Geoghegan/FanSided via Hoops Habit

Fansided
The Cleveland Cavaliers waited until the last minute to announce that everyone was playing, yet it didn't seem to bother the Oklahoma City Thunder.
The Cleveland Cavaliers followed up their 4-0 start to the month of February by losing to the Oklahoma City Thunder 118-109 Thursday night on TNT.
Going into the game, there was talk that Cleveland's Big 3–Kevin Love, Kyrie Irving and LeBron James–would all sit out Thursday night's game due to the Cavs playing in back-to-back road games. However, as tipoff approached, it was announced that the Big 3 would indeed play.
After watching Thursday night's game, it may have been better if they caught up on some rest.
The Cavaliers, especially the Big 3, looked gassed last night. Their transition defense was horrible all night, allowing 16 fast-break points–with 10 of them coming in the first quarter alone.
The Cavs also turned the ball over 16 times, which is two more than their season average, with six of those coming from Irving.
Despite the turnovers, Kyrie had an excellent night scoring and he was executing insanely precise dribble moves such as this one all evening.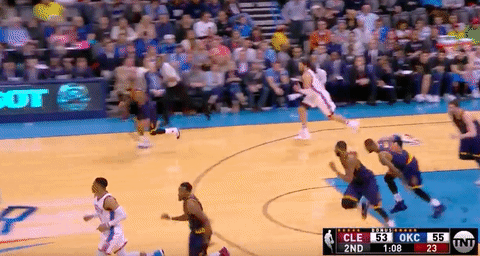 Irving finished the game with 28 points on 11-of-18 shooting, including 4-of-5 from deep.
However, Irving couldn't manage to stop Russell Westbrook, who Thursday night recorded his 26th triple-double of the season.
LeBron uncharacteristically missed two open dunks where he simply just missed. He wasn't stuffed by the rim or bodied by a defender, the ball just wouldn't find it's way through the basket.
Loose play and lazy passes such as the one below while also refusing to get back on defense on several occasions were detrimental when going up against a Thunder team that wants to run you up and down the floor.
LeBron and the Cavs were not on their game Thursday night and it was apparent that exhaustion had something to do with it.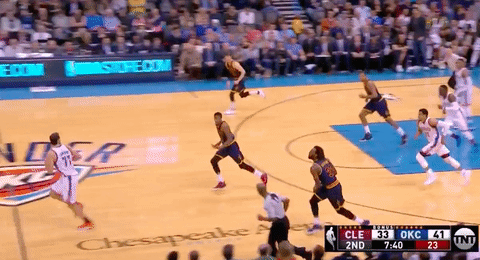 LeBron finished with 18 points, five rebounds, and seven assists, which is a superb stat line for anyone in the NBA but still below his averages for the season.
Luckily for the Cavs, they have a day off before taking on the 23-29 Denver Nuggets at Quicken Loans Arena on Saturday.
Some more notes from Thursday night's game:
Tristan Thompson's defense
Tristan Thompson's stat line may not get much praise, but his play on defense was stellar all night. Thompson was guarding Steven Adams for the majority of the game and did so effectively.
While Adams still scored 20 points and grabbed 13 rebounds, most of his points came against the few instances where Channing Frye or LeBron James was the closest defender.
Whenever Tristan was guarding Adams, he essentially took him out of the game.
Tristan did an excellent job on boxing out Adams and ensuring that he touched the ball as little as possible on offense. He made sure that Adams wasn't going to be a factor, leaving it up to Westbrook and Oladipo to get the win for the Thunder.
Tristan's 10 points and five rebounds aren't appealing when looking from the outside, but his fundamentals and energy is what allowed him to keep one of the best big men in the league at bay.
Overall, Tristan played an great game for Cleveland, but that doesn't mean that this homicide committed by Alex Abrines still didn't take place.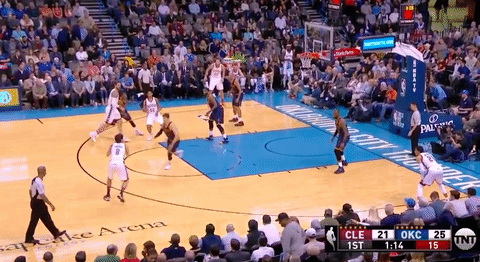 The signing of Derrick Williams
After signing a 10-day contract with the Cavaliers Thursday, Derrick Williams–the No. 2 overall pick in the 2011 NBA Draft–returned to the court after being waived by the Miami Heat just a few short days ago.
Williams, 25, was brought on the team to help add some of that playmaking ability that LeBron has been yearning for.
He scored 12 points in 22 minutes last night, shooting 3-for-3 from the field and going 6-for-8 from the free throw line.
At times, it felt as though Williams was invisible on the court, although being thrown into an actual game with a group of entirely new faces can make things uncomfortable.
Still, Williams showed some signs of being able to help the scoring load when Kevin Love or Channing Frye are off the floor.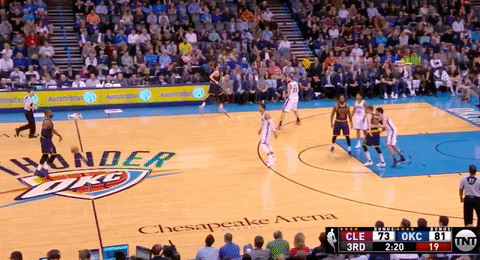 The easy schedule continues
After a tumultuous January, the Cavs have started February with a 4-1 record and have already played their toughest competition of the month.
With games coming up against the Nuggets, Timberwolves, Pacers, Knicks, Bulls, and the now Jabari Parker-less Bucks, the Cavs can glide through the rest of the month if they choose to.
It would have made sense to bench the Big 3 Thursday night from the coach's standpoint, going into a back-to-back, but with the game being nationally televised and high-profile, it was much more exciting this way from a fan's (and the NBA's) point of view.
With LeBron consistently being required to play a high volume of minutes, situations such as the one Thursday night would have been a perfect time to bench him. Although now that we know the Cavs would still end up losing, it almost feels as though it was all for nothing.
If the Cavs can take advantage of the rest of February, this loss will quickly be forgotten.
This article originally appeared on