Suns Squared: TJ Warren Deep Dive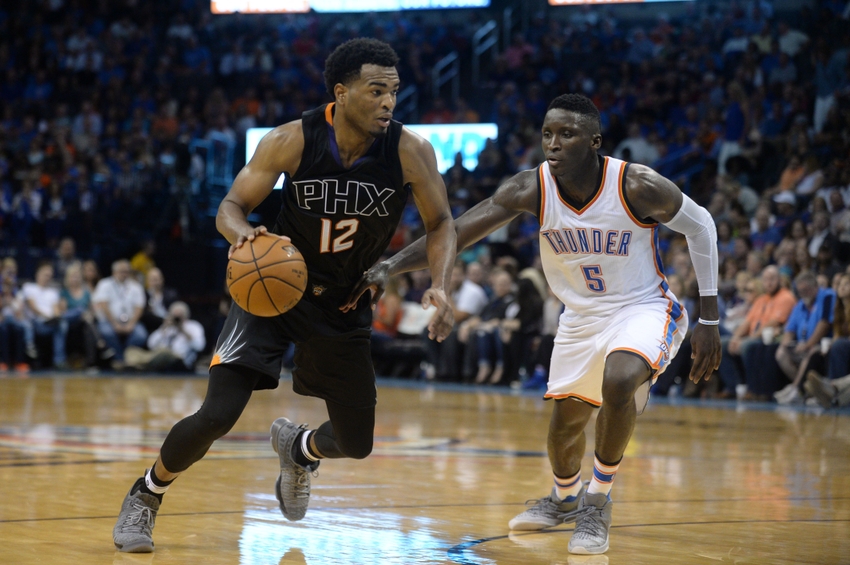 TJ Warren is off to a great start in his third season with the Suns, begging the question is he making the leap?
With Eric Bledsoe and Devin Booker the Suns have two budding stars, but as is the trend in the league now Big 3s are all the rage. Is TJ Warren making the proverbial 'leap' to form a big three with Bledsoe and Booker? With his rookie contract almost up, and salary cap numbers jumping up, an explosion of production can be lucrative for Warren and a great sign for the future of the Suns as a team. The details behind Warren's mainly offensive explosion are interesting and provide insight into whether these numbers will be the norm going forward or are just part of a hot streak that will cool.
The  Leap
TJ Warren has seen his minutes increase and is a starter for the first time in his career this season and has seen his numbers increase because of it. Warren's minutes, field goals attempted, free throws attempted, assists, steals, rebounds, and points have all increased on a per game basis. Also, the Suns' offensive rating has been 4.3 points better with Warren on the floor this year (source: NBA.com/stats)
The table above shows Warren's per game numbers and how they have changed season by season so far. The increases are all relatively normal given the huge jump in minutes (approximately 15 more minutes per game), however, the drop in FG% and 3P% could be worrisome in Warren's development. The silver lining is that isn't likely the permanent case (more on this later). Credit the table both above and below to basketball-reference.com.
Warren's advanced numbers show that the increase in minutes isn't the root cause of better numbers. His advanced numbers based on efficiency have all improved. These included Win Shares per 48 (.117 from .101), VORP (.3 from .2), Box Score Plus Minus (.6 from -1.2), and PER (18.3 from 15.7). All those stats are numbers from basketball-reference.com which are explained in detail on the basketball-reference.com glossary page. The short explanation is that they are all rate based numbers which are prorated based on minutes, possessions and games. Thus an improvement in all these would not be based solely on an increase in minutes.
Also, the decline in Warren's shooting numbers could be a result of the increase in Warren's usage rating from 19.9% last year to a heavy burden at 23.2% this so far this year. However decreases in Warren's BLK%, AST% and DRB% are worrisome as those could be indicative or some regression. They are offset by a decrease in Warren's TOV% and an increase in Warren's STL%. Those numbers are also rates based on Warren's minutes and wouldn't change solely because of minutes changes.
| | | |
| --- | --- | --- |
| Season | DRE | DRE per Min |
| 2014-15 | -10.64 | 0.119 |
| 2015-16 | 28.24 | 0.162 |
| 2016-17 | 24.19 | 0.198 |
This last table shows Warren's DRE and DRE per min over his 3 seasons. His DRE so far this year is slightly lower than last, which mainly could be a result of his depressed shooting numbers. His DRE, when calculated with shooting numbers from last year, would increase to 36.192, which would be in line with the leap we have seen in many of his other numbers.
Overall, Warren's improved numbers seem to indicate improved play that will hold on throughout the season and continue to improve as his career goes on. The one category of stats that does not display that so far are Warren's shooting numbers, I look to explain how those in the next section.
Exploring Warren's Shooting Numbers*
*(TJ Warren's Shooting specific numbers that I reference here all come from either Synergy Sports or NBA.com/stats: http://stats.nba.com/player/#!/203933/tracking/shots/)
Earlier I mentioned how Warren had underperformed so far last year in one category and that was shooting percentage. I believe that the lower shooting numbers (compared to his previous seasons) are linked to his increased usage and a cold streak to open the year. I base this belief on the idea of regression or normalization to the mean. This is a phenomenon where a variable will move closer to the average on each successive test especially if following a variable that was extreme in one way or the other.
A high-profile and extreme example of this would be the back to back performances of Steph Curry against the Lakers on 11/4 and then the Pelicans on 11/7. Against the Lakers, Steph went 0-10 from 3, a rare performance for Steph that broke his streak of 157 consecutive games with a made 3. Curry followed the performance, with a game where he went 13-17 from 3. This game broke the record for the most 3s in a game. Both performances represent the extreme a variable can be on either end, however, when combined they work out to 13-27 which is 48% from 3 much closer to what we have come to expect from Curry when shooting.
I want to apply this concept to Warren's start. He is shooting 50% from two but he is only shooting 27% from three after shooting 40% from 3 last year. So those low numbers could turn and I think they will. I believe this based on NBA.com data that shows the Warren is shooting 44.6% on Open shots (closest defender is 4-6 feet away) and an even worse 41.7% on shots that are classified as Wide Open (closest defender 6+ feet away). Last year Warren shot 48% and 50% on those same shots. The problem is intensified with shots greater than 10 feet from the hoop where Warren's numbers are 38.3% and 36.4% while last years those numbers 41.3% and 41.9%. Based on that information, it seems that Warren is just on a cold streak to start the season.
I want to look at how Warren is scoring and why I think that'll contribute to Warren's shooting numbers increasing. As the shot chart shows Warren is doing most of his work inside the arc and specifically at the Free Throw line and around the basket. That is also displayed in Warren's per game numbers, he is shooting 17.3 shots per game but only 2 of those are 3s. As Warren continues to work hard in the mid-range, in transition(1.46 points per possession) and off screens (1.15 points per possession), defenses will allow him to get more open shots from further and converting those will be key to the Suns' offense running well.
A final point I want to make is in two go-to plays that the Suns run for Warren. Both involved him coming up off a down screen and then either attacking from there or getting a ball screen as soon as he touches the ball and going from there.
As his continues to effectively get to the basket and score on mid-range jumpers out of this set teams will adjust and give him open outside shots. Warren should be able to get out of the shooting slump and really unlock his potential and show the breadth of his 'leap'.
Thus the numbers show not only that TJ Warren has made a 'leap' but also that he is in a good position to continue to improve his stats as the season goes on. If Warren continues to improve, combined with the play of Bledsoe and Booker, the Suns will have a formidably big 3 sooner rather than later.
More from Valley of the Suns
This article originally appeared on