Suns Squared: Devin Booker Report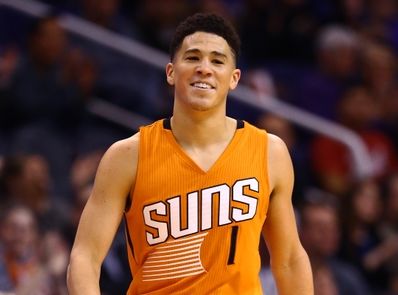 With Devin Booker 'struggling' to start the season, let's take a deeper look at his numbers.
Devin Booker is facing the proverbial sophomore slump so I wanted to look deeper into his numbers and specifically how they compare to where other elite scoring guards were at this point in their career. Booker is playing more minutes per game on average and scoring more but he is shooting worse in all categories. The rest of his box score numbers are virtually equal to where they were last year.
With Booker's decline in shooting percentages, it looks as if he is not filling his potential despite his good scoring numbers and flashes of brilliance. The players I compared Booker's first two seasons to are Klay Thompson, James Harden, and Kobe Bryant. These 3 are elite shooting guards with similar play styles to Booker. The graph below is a comparison of their effective field goal percentage over the first two season of their career.
The graph initially looks bad for Booker, but the importance is he is up there with arguably the 2 best active shooting guards in the NBA and in Kobe the 2nd best shooting guard of all time. Booker being close to any of them is a great sign for his growth. Also, Booker had usage rates of 23% and 26.6%, in these first years. which is higher than Harden in both years, and higher than Klay in the second year. The usage rate is important to note because Booker having more of a scoring and attacking burden on his shoulders than Harden and Klay did in their early years. Another important point when looking at this numbers is that with the exception of Kobe, Booker has been younger than Harden and Klay at this point in the season and is still one of the youngest players in the NBA.
Similarity Scores
The second metric I used to compare them is a process called similarity scores, which is a way of comparing two players by picking one metric and then seeing how their year by year values equate. The closer to 100 the number is, the more similar the 2 players. A full explanation along with the formula is found here: http://www.basketball-reference.com/about/similar.html.
I used PER, or Player Efficiency Rating, to do this. I would normally use win score or a different advanced metric but considering win score is not a rate, it would be skewed by Booker being only 19 games into the season.
Devin Booker PER Similarity Scores

Klay Thompson

89.62

James Harden

80.02

Kobe Bryant

72.11
The table shows that Booker's PER numbers thru his first two years are relatively comparable to Klay, Harden, and Bryant, with Klay being the most similar. I expected the Klay number to be the best as Booker drew multiple player comparisons to Klay in the run up to the 2015 draft when Booker was selected. Booker's numbers despite not being super flashy at first glance, are in fact comparable to other elite level guards in their first two years.
My big takeaway from this is that while Booker's numbers might look down, that is really not the case. The advanced numbers show him progressing at a rate on par with the elite players. It's important to keep in mind Booker is very young and shouldered with a huge burden early on. In this way, his situation is very comparable to Bryant's first couple of years. Like Bryant, Booker has shown flashes of brilliance early on but it will take him some time to really find his groove and become a force of nature, much like Bryant did in the early 2000s.
Follow Valley of the Suns on Twitter at @ValleyOfTheSuns and on Facebook at Facebook.com/PhoenixSunsBlog
Want your voice heard? Join the Valley of the Suns team!
More from Valley of the Suns
This article originally appeared on