Suns End Marathon Road Trip with Win in Orlando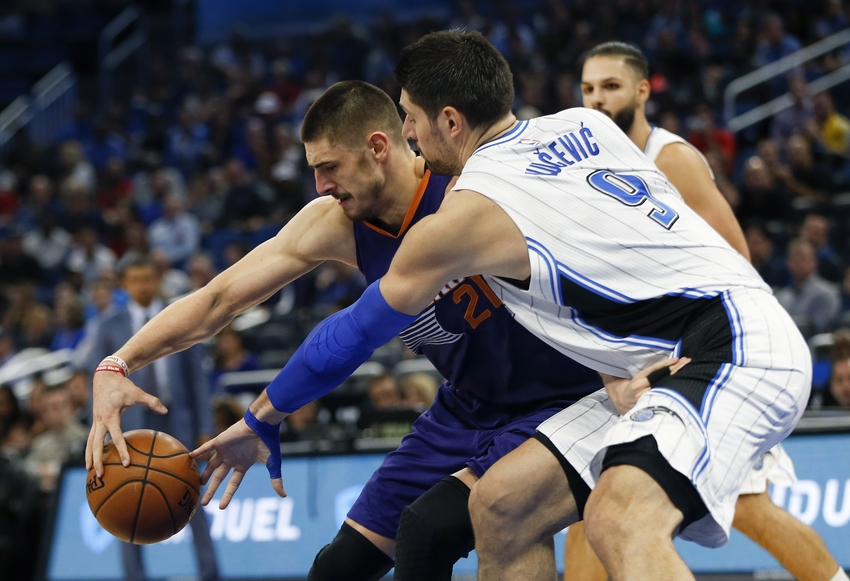 The Phoenix Suns salvaged what they could from a brutally long road trip with a 92-87 win in Orlando Wednesday night.
After arriving home, the team will have traveled 6,182 miles.  Some of Alexander The Great's conquests weren't that long.
But there was little "great" about this road trip that the Suns finished 2-4.  The competition wasn't that fierce, and the Suns showed a vastly inconsistent effort on the court from game to game.  But they did miss Center Tyson Chandler for four games, and T.J. Warren for 3 games.  (Warren was sent back to Phoenix with what's being called a minor head injury – but he's out indefinitely, according to team officials.  That never sounds good.  Chandler has been out on family leave after the death of his mother.  He should return after Thanksgiving.)
And it's always tough to win on the road in the NBA no matter who you are playing.
Still, there was plenty to be hopeful about after the win in Orlando.
Suns' Center Alex Len was very active from start to finish.  It may well have been Len's best game so far this season.
Len played a team high 35 minutes, and scored 17 points with 12 rebounds.  With extra playing time, Len is starting to look like a double-double machine.  No one will ever confuse his sky hook with Kareem's.   But if he can start making that shot on a more consistent basis, like he did tonight, maybe we will start using the word "Unstoppable" – well, I did say maybe.
Orlando's huge front court of Ibaka, Green and Vucevic was mostly neutralized by Len and a very promising showing by young Suns Power Forward Marquese Chriss.  Chriss was saddled by foul trouble early, but he showed a lot of energy and poise when he returned in the second half.  His hard work paid off with a 3-pointer, 10 points and 3 rebounds in just 17 minutes.  Chriss had a couple of nice blocks too.  In one sequence Chriss came up hustling from behind to knock the ball away from Orlando Point Guard Elfrid Payton.  He quickly changed directions and got a return pass before being fouled on a dunk attempt.  If he continues to show that kind of energy, combined with his obvious athletic skills, the Suns may expect more from Chriss as the season goes on.
We also saw a strong game from the bench tonight.  Maybe the numbers weren't there, but P.J. Tucker's stroke looks to be returning to form after off-season back surgery.  Tucker finished the night with 10 points on 4-9 from the field, and 2-4 from three point land.  Add in his 7 rebounds, and it was the kind of night we can only hope Tucker can continue.
Tyler Ulis and Jared Dudley also played with a lot of energy.  Ulis helped end a 19-4 Orlando run from 4 minutes left in the 2nd quarter until 8 minutes left in the 3rd with his boundless energy.  For a rookie point guard, Ulis has amazing court vision and seems to find the open man every time he penetrates.  Ulis' 2 assists and 4 points don't tell the whole story.  His high octane energy is just what the Suns need off the bench.  So far, he's a keeper.
Evan Fournier kept the Magic in the game with his 25 points, most of them in the second half.  But Phoenix was able to hold off every Orlando charge late in the game.
Although he was MIA most of the night, Brandon Knight (12 points, 3 assists) hit a huge 3-pointer with one-second left on the shot clock and just 1:30 left in the game, that made it 88-80 Phoenix.
Eric Bledsoe finished his 16 point evening with two free throws with 16 seconds left to preserve the win.
All five Suns starters scored in double figures, six if you count Tucker's 10 points off the bench.
Next up for the Suns:  Minnesota in Phoenix Friday Night.  The Suns get a chance to do their laundry as they play their next three games at home.  Their next road game isn't until December 3rd.  Whew!
Observations and Notes:
The Suns went small with three guards in the starting lineup, Eric Bledsoe, Brandon Knight, and Devin Booker.  With T.J. Warren out, I like it.  It reminds me of some of coach Mike D'Antoni small ball lineups.  And it worked well against all that tall timber in Orlando.
Despite getting off to a good start, in one sequence, Knight was shoved to the floor by Vucevic as the Orlando Center brought down the offensive rebound and put it back in for an easy two.  Knight pleaded his case to the referee, but instead was given an offensive foul at the other end, sending him to the bench with two early fouls.  Who says the NBA referees like make-up calls?
It was great watching Dragon Bender get some playing time.  It was amazing to watch the big guy take the dribble coast to coast… only to blow the layup.  Oh well.  Baby steps.
Orlando's Serge Ibaka had no points and only 2 rebounds with 5 minutes left in the 2nd quarter.  Is that what the Magic traded for?  Or is it that what Oklahoma City got rid of?
The Suns only shot 5 free-throws in the first half.  Curious for a team that drives to the basket so often like they did Wednesday night.
Suns had only 5 turnovers in the first half, but had 16 giveaways halfway through the 4th quarter.  Coach Watson has to find a way to clean that up.
Booker's day-glow orange shoes light up the court, even when his shooting doesn't.  But I love them.  Where can I buy some?  Won't the boss love it when I wear them to work?
Follow Valley of the Suns on Twitter at @ValleyOfTheSuns and on Facebook at Facebook.com/PhoenixSunsBlog
More from Valley of the Suns
This article originally appeared on